Whatever your level of experience, kayak fishing allows you to reach new waters you would have otherwise never reached from the shore. Even if you typically fish by boat, kayaks have a unique way of getting into areas that a larger vessel wouldn't fit into. If you're in the market for a new fishing kayak, check out the following information to equip you with the knowledge you need to get the right craft that will empower you on the water.
Top 7 Best Fishing Kayaks for Bass Fishing
Are you in the market for a new fishing kayak and unsure where to start?
This article breaks down some of the best options available today based on your specific needs and priorities.
Whether you want an affordable option for casual kayak fishing on lakes and rivers, a high-performance kayak built for ocean fishing and rough waters, or a compact kayak ideal for tight storage spaces and exploring shallow waters, you'll find a top pick here.
Stop wasting time comparing specs and get ready to find a fishing kayak that will take your angling to the next level. The open water is calling—let's get you outfitted and out there.
Best Overall: Bonafide SS127 Fishing Kayak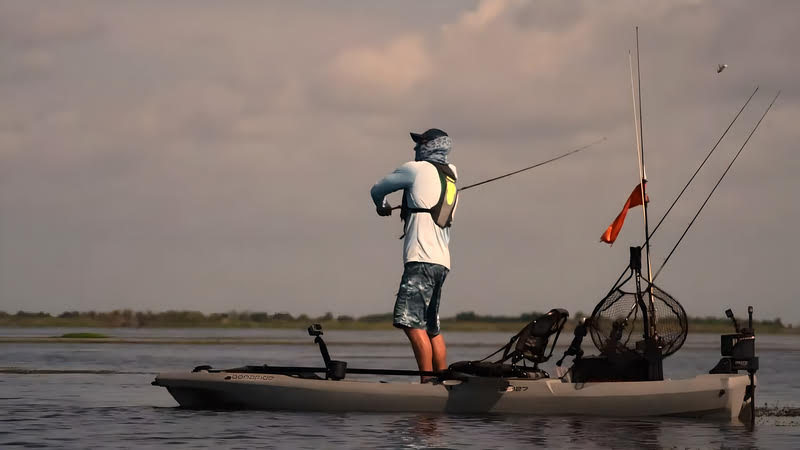 Length: 12′ 7″
Width: 33.75″
Fitted Hull Weight: 69 lbs
Fully Rigged Weight: 94 lbs
Deck Height: 15.5″
Capacity: 475 lbs
Stealth Bomber-Inspired Hull Design
Slicing through the water, the Bonafide SS127 stands out with its stealth bomber-inspired hull design.
Developed by Luther Cifers, who previously designed kayak fishing accessories, this unique hull balances stability with maneuverability, making it an excellent choice for anglers who require a versatile kayak.
Angler-Friendly Features
Casting with ease, the SS127 offers numerous thoughtful features designed specifically for anglers.
Among them are a rod holding bow hatch, an integrated transducer mount for fish finders, and an adjustable high seat.
The bungees on the stern well accommodate storage crates, making it easy to keep your fishing gear organized and accessible.
Stability and Comfort
Conquering the waves, the SS127 excels in stability, allowing you to stand and turn with ease while fishing.
The adjustable seat provides cushioning and support, ensuring your comfort during long fishing trips.
Flush-mounted gear tracks and a padded deck offer rigging options as well as additional comfort, making it a top choice for anglers who prioritize both stability and comfort.
Storage and Customization
Organizing your gear is a breeze with the SS127's ample storage options.
The waterproof pod stores electronics and tackle, while the bow hatch holds rods and gear securely.
The stern well is designed to hold a livewell or crate with bungees, and the broad, flat stern can accommodate a rudder, motor, or even a Power-Pole.
Customization is effortless, thanks to the kayak's intuitive design.
Transportation and Performance
On the move, the SS127 is easy to transport, weighing in at around 69 pounds. However, it does get a bit heavy for a single person once equipped with the seat and all of the gear making it a little difficult for a single person to move around by themselves.
Its performance is particularly impressive in smaller bodies of water, where maneuverability and skinny water performance matter most. Although the sit-on-top design provides a roomy cockpit, it offers little protection from the elements.
Proper storage and carrying accessories are required due to its 13-foot length and 100-pound weight.
However, the stability and features demonstrate its worthiness as the best overall fishing kayak.
Durability, Comfort, and Stability for Larger Anglers
Supporting you and your catch, the SS127 is made from durable polyethylene, ensuring that the hull lasts for years. The seat has a backrest and footpegs, providing comfort for hours on end.
Despite its good maneuverability, the SS127 has a slower speed, particularly when paddling into the wind. The flexwings improve tracking, making it an excellent choice for anglers weighing up to 300 pounds.
Enhanced Fishing Features
Reeling in success, the SS127 is outfitted with easy-to-grip handles, ample storage, and enhanced features for fishing.
Gear tracks allow you to mount electronics, and a dry hatch provides extra storage. The foam decking prevents slipping and spooking fish, while a paddle strap secures your paddle for quick access.
Although the SS127 lacks a pedal drive, its stability and features make it an excellent choice for tall or large kayakers looking for the best overall fishing kayak.
Shop Online for the Bonafide SS127
Best For Price: Perception Outlaw 11.5 Kayak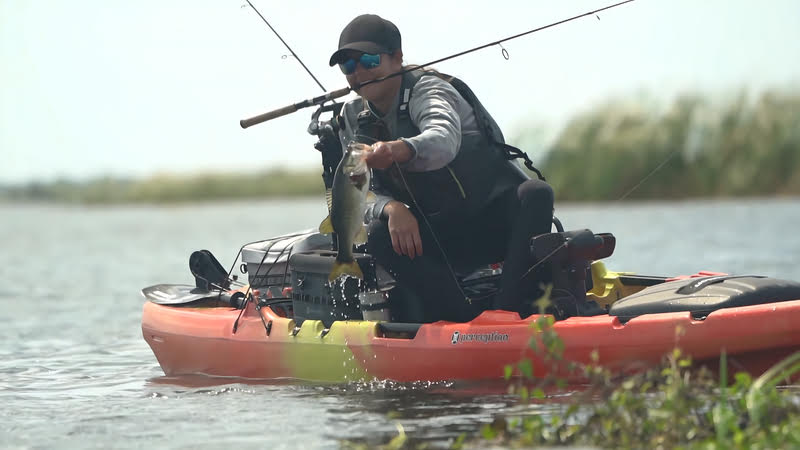 Length: 11′ 6″
Width: 35″
Fitted Hull Weight: 77 lbs
Deck Height: 11.75″
Capacity: 425 lbs
Budget-Friendly Features
Affordability meets performance and style with the Perception Outlaw 11.5 kayak.
This budget-friendly kayak offers an impressive array of features for its price point, making it an excellent choice for anglers seeking a quality fishing kayak without breaking the bank.
Packing a punch for the price, the Perception Outlaw 11.5 comes with a comfortable lawn chair seat, ample storage, and pre-molded spots for mounting ram mounts and rod holders.
With its wide 35-inch beam and high sides, this kayak provides stability and helps minimize splashing, ensuring a pleasant experience on the water.
Storage and Accessibility
Space for all your gear is not an issue with the Outlaw 11.5.
The kayak features two large tank wells with mesh covers that also serve as paddle parks. Under the seat, there's enough room to fit a 35-liter cooler, and the kayak's double barrel rod holders securely hold spinning rods and baitcasters.
Comfortable Seating
Paddling in style, the Outlaw 11.5's large, comfortable lawn chair seat offers excellent support for long fishing trips.
The seat also has a stow position for stand-up fishing, making it easy to switch between seated and standing positions as needed.
Stability and Maneuverability
Navigating with ease, the Outlaw 11.5's wide beam and high sides provide excellent stability on the water.
While its top speed may be limited to around 4 to 4.1 miles per hour due to its design, many anglers find the trade-off between stability, storage, and affordability to be worthwhile.
Customization Options
Making it your own, the Outlaw 11.5 offers a flat deck at the bow and stern, allowing for the addition of accessories such as a trolling motor.
There's also a spot in the stern deck area to install a trolling motor, power poles, or anchor trolley, allowing you to customize your kayak to suit your fishing needs.
Weight and Transport
Carry without a worry, as the Outlaw 11.5 is easy to transport, weighing in at just 77 pounds.
The molded-in handles make it simple to lift and carry the kayak to and from your favorite fishing spots.
Comparing the Outlaw 11.5 to Competitors
Standing out from the crowd, the Perception Outlaw 11.5 offers a great value for its affordable price point.
Its comfortable seat, ample storage, and high-quality construction make it a solid choice for anglers seeking a budget-friendly fishing kayak.
When compared to competitors, the Outlaw 11.5's seat comfort and ease of use are notable strengths, making it a top choice for those looking for an affordable yet high-quality fishing kayak.
Shop Online for the Perception Outlaw
Best Performance: Old Town Sportsman PDL 120 Pedal Sit-on-Top Kayak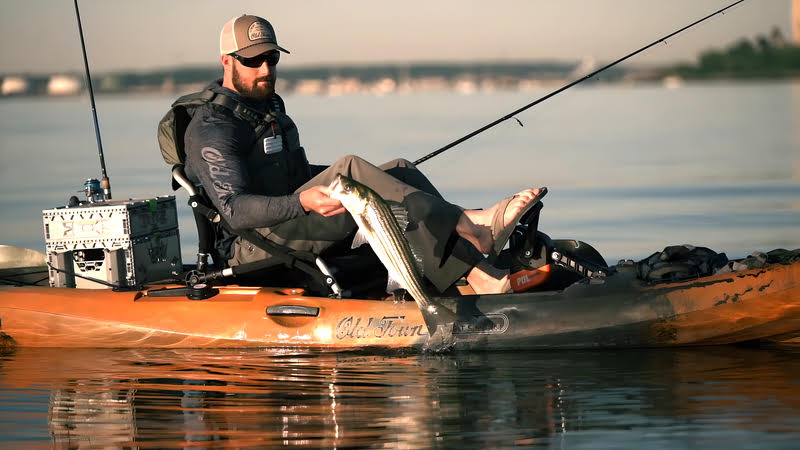 Length: 12″
Width: 34″
Fitted Hull Weight: 84 lbs
Fully Rigged Weight: 100+ lbs
Deck Height: 15″
Capacity: 500 lbs
Ample Storage for Gear and Rods
Organized and ready to fish, the PDL 120 offers plenty of storage options for all your fishing gear.
It can accommodate up to six rods in flush-mounted and horizontal holders, and there is ample space for tackle, nets, and cameras.
The pedal drive can be removed to create more space for a child or pet, making this kayak a versatile choice for anglers with various needs.
Comfortable and Insulated Seat Straps
Pleasurable all-day fishing is ensured with the PDL 120's comfortable and insulated seat straps.
The padded straps provide support and comfort during long fishing trips, allowing you to focus on reeling in your catch without worrying about discomfort.
Stability and Flip Test Results
Staying upright and secure, the PDL 120 is incredibly stable and difficult to tip over.
Even when flipped during a pool test, the crate and net held items securely, showcasing the kayak's excellent stability.
This means you can confidently cast and retrieve your catch without worrying about capsizing.
Adaptable for Shallow Water
Versatility in various environments is offered by the PDL 120's adaptable design.
The plastic floor insert can be converted to a paddle kayak, making it suitable for shallow or vegetated areas where a pedal drive might not be ideal.
This feature allows you to fish effectively in a range of different conditions.
Efficient Pedaling and Paddling
Glide with minimal effort, as the PDL 120 is designed for efficient pedaling and paddling.
Despite its weight of over 100 pounds, the kayak's maneuverability and performance make it easy to propel through the water.
The 25-foot turning radius ensures that you can easily navigate tight spaces and make quick adjustments when needed.
Easy Fish Finder Integration
Locating fish with precision, the Old Town Sportsman PDL 120 kayak has a pre-installed transducer mount and scupper hole for easy fish finder installation and wiring.
The universal transducer mounting system and pre-installed scupper hole allows quicker installation of your Humminbird Helix 7 or similar fish finder.
The transducer is protected in a hull compartment, and the wires can be run through the scupper hole to the front hatch, ensuring a clean and organized setup.
Customization and Rigging Options
Tailoring to your needs, the PDL 120 offers numerous customization options.
Adjustable Yak Attack Omega Pro rod holders allow you to customize your trolling and fishing setup, while medium-weight rods work great with the kayak, although heavy rods may require longer extensions.
The PDL 120 demonstrates best-in-class performance for anglers with its exceptional features like storage, rigging, rod holders, and customizability to maximize fishing efficiency.
Shop Online for the Old Town Sportsman
Best Transportability: Point 65 N Kingfisher Angler Modular Fishing Kayak
Length: 11′
Width: 31″
Fitted Hull Weight: 70 lbs
Deck Height: 15″
Capacity: 287 lbs
Modular Design for Easy Transport
Assemble and disassemble in seconds with the Point 65 N Kingfisher Angler kayak's unique modular design.
This innovative feature allows the kayak to be easily separated into two pieces for storage and transportation. The bow and stern sections connect with a secure latch system that firmly attaches the two halves while still allowing them to be separated for transport.
The result is a convenient, travel-friendly kayak that can withstand the rigors of fishing in rough waters.
Lightweight and Compact
Carry and store with minimal effort, thanks to the Kingfisher Angler's lightweight and compact design.
Weighing only 70 lbs and with a capacity of 287 lbs, this modular kayak offers exceptional portability without sacrificing performance.
When completely disassembled, the Kingfisher's 48 x 18 x 15 inches size allows it to fit in tight spaces such as hatchback trunks or stacked in closets.
Impulse Drive Pedal System
Efficient propulsion on the water is achieved with the optional ImpulseDrive pedal system. This feature improves the kayak's performance, allowing you to focus on fishing rather than paddling.
However, it's important to note that the dual rudders can be slow to respond, which may require some getting used to.
Comfortable Game Chair Seat
Ensuring a pleasant fishing experience, the Kingfisher Angler features a comfortable game chair seat that provides support and cushioning for long days on the water.
The seat is adjustable, allowing you to find the perfect position for casting and reeling in your catch.
Storage and Accessory Options
Customize and organize your gear with the Kingfisher Angler's numerous storage and accessory options.
These include:
Flush mount rod holders
Gear tracks
A padded deck
Bungee cords
A transducer pocket for a fish finder
The kayak also features bow and stern hatches with removable gear bins, providing ample storage for your fishing equipment.
Dual Rudders for Steering
Control and maneuverability are enhanced by the Kingfisher Angler's dual rudders. These allow for precise steering and easy navigation through various water conditions.
While the rudders' responsiveness may take some getting used to, their addition contributes to the kayak's overall transportability and convenience.
Travel-Friendly Benefits
Take your kayak wherever you go with the Kingfisher Angler's travel-friendly design.
The modular construction ensures easy transport and storage, while the lightweight and compact size make it perfect for anglers who need a portable fishing vessel.
With the Kingfisher Angler, you'll never have to worry about missing out on the perfect fishing spot due to transportation limitations.
Shop Online for the Point 65 N Kingfisher
Best Compact: Native Watercraft Slayer Propel Max 10 Pedal Fishing Kayak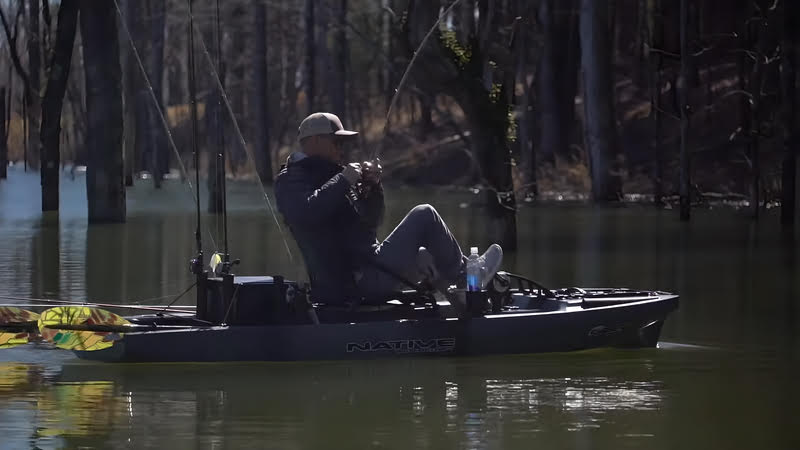 Length: 10′
Width: 34.15″
Fitted Hull Weight: 75 lbs
Fully Rigged Weight: 97 lbs
Deck Height: 14.65″
Capacity: 400 lbs
Compact Design with Maximum Features
Big performance in a small package.
The Native Watercraft Slayer Propel Max 10 is a compact, lightweight, and versatile pedal fishing kayak that offers impressive features without taking up much space.
At only 10 feet long, it is easy to handle and transport, making it an ideal choice for anglers with limited storage or transportation options.
Propel Pedal Drive
The proven Propel pedal drive allows for easy pedaling with instant forward/reverse, maximizing efficiency on the water.
The drive is durable, removable to adjust for conditions, and maximizes truck bed space. The Propel Pedal Drive allows for paddling in shallow or vegetated areas where pedaling with a propeller type system may not be possible.
Ample Storage and Rigging Options
The Slayer Propel Max 10 offers ample storage and rigging options to keep your gear organized and accessible.
Features include:
A dry storage bow compartment for batteries and electronics.
A removable center compartment providing wiring access.
Rod holders, a cup holder, and gear tracks molded in.
An adjustable seat, mesh backrest and under-seat drawer for comfort.
A large rear tank well to secure coolers and bait buckets.
Foldable paddle storage integrated into the stern.
Stability for Standing and Casting
Deep hull grooves and a stable hull design provide the confidence to stand and cast comfortably without fear of capsizing. The Slayer Propel Max 10 allows you to fish efficiently in a variety of positions.
Enhanced Upgrades for Comfort and Efficiency
Upgrades to the latest model include new grips, an enhanced drive system, a new seat, and additional storage options through tackle organizers on both sides and underneath.
These improvements demonstrate Native Watercraft's commitment to maximizing comfort, efficiency, and functionality for anglers.
Transportation and Space-Saving Benefits
The lightweight, compact size and removable drive make the Slayer Propel Max 10 easy to transport and store.
Weighing only 82 lbs. and with a maximum capacity of 350 lbs., this kayak fits in the bed of most trucks and can be stored in small spaces. The Slayer Propel Max 10 goes wherever you go without hassle.
Perfect for Inshore Waters
With a compact size suited for inshore waters and estuaries, the Slayer Propel Max 10 is ideal for shallow water anglers.
Its lightweight, compact size allows you to easily navigate skinny waters and access prime fishing spots that larger kayaks cannot. The Slayer Propel Max 10 opens up a world of possibilities for inshore anglers with limited space or transportation options.
Shop Online for the Native Watercraft Slayer Propel Max
Best Inflatable: Sea Eagle 350fx Fishing Explorer Inflatable Fishing Kayak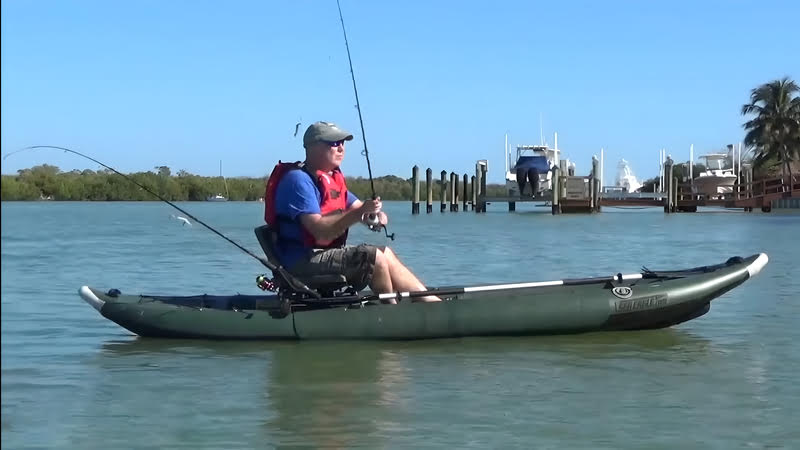 Length: 11′ 6″
Width: 39″
Fitted Hull Weight: 51 lbs
Capacity: 575 lbs
Durable and Versatile Inflatable Design
Built to withstand the elements, the Sea Eagle 350fx Fishing Explorer is an excellent choice for anglers seeking a durable and versatile inflatable kayak.
Its hull features a nearly indestructible and reinforced 2000 Denier protective material, ensuring it can handle rough conditions and last for years.
With its suitability for up to Class IV whitewater, this kayak is designed to tackle various water environments with ease.
Quick Inflation and Deflation
Ready for action in minutes, the Sea Eagle 350fx inflates in just 7 minutes, allowing you to get on the water quickly.
When your fishing trip is done, deflation is just as fast and convenient.
This rapid inflation and deflation process means you can spend more time fishing and less time setting up your kayak.
Lightweight and Compact for Easy Transport
Carry your kayak with ease, as the Sea Eagle 350fx weighs only 31 pounds when deflated, making it simple to transport to and from your favorite fishing spots.
Its compact measurements of 31 by 19 by 10 inches when deflated ensure it won't take up much space in your vehicle or garage, offering convenience and portability without sacrificing performance.
Stable and Comfortable Seating
Paddling in luxury, the Sea Eagle 350fx features a comfortable seat with back support, pads, and storage. The adjustable interior can accommodate different sizes, and there's plenty of room for your gear.
The kayak's stability and comfort make it an outstanding choice for anglers who value a pleasant fishing experience.
Built-In Fishing Features
Outfitted for angling success, the Sea Eagle 350fx comes equipped with:
Six built-in rod holders
An adjustable foot brace
A 40-inch fish ruler
Front and rear spray skirts
Built-in gear holders
Reinforced black tubes
This ensures you have everything you need for a successful fishing trip.
Performance on Flat and Rough Water
Adaptable to various conditions, the Sea Eagle 350fx performs well on both flat and rough water.
It may not be the fastest kayak on the market, but its stability, durability, and fishing-specific features make it an excellent choice for those looking to maximize their angling experience.
Comparisons to Other Inflatable Kayaks
When compared to other inflatable kayaks like the NRS Pike, the Sea Eagle 350fx excels as a solo kayak but may not be the best option for long multi-day trips.
Regardless, its value for solo anglers on small to medium-sized lakes is undeniable.
Shop Online for the Sea Eagle 350fx Fishing Explorer
Best Shallow Water: Hobie Mirage Compass Sit-On-Top Kayak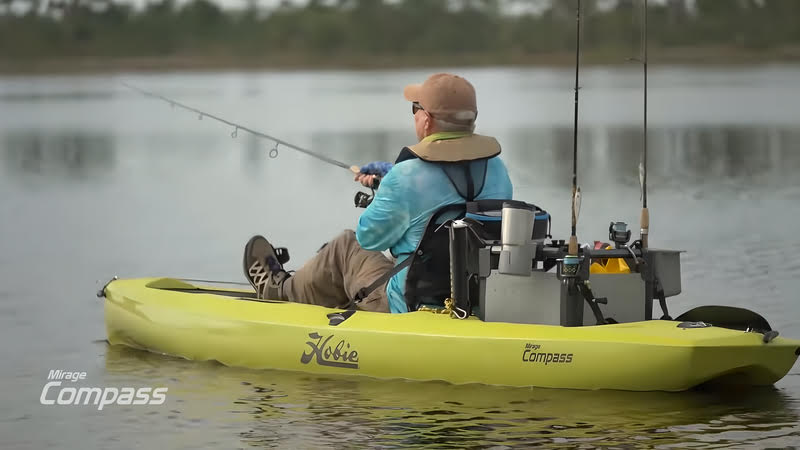 Length: 12′
Width: 34″
Fitted Hull Weight: 68 lbs
Fully Rigged Weight: 87 lbs
Deck Height: 13.5″
Capacity: 400 lbs
Affordable Shallow Water Option
Navigate with confidence in shallow waters with the Hobie Mirage Compass Sit-On-Top Kayak.
This kayak is specifically designed for anglers who prefer fishing in shallow water environments, offering a range of features and benefits that make it a top choice in this category.
Exploring without breaking the bank, the Hobie Mirage Compass provides an affordable option for shallow water fishing at less than $2,000.
This price point allows you to enjoy the benefits of Hobie's renowned quality and performance in a kayak tailored to your shallow water fishing needs.
Lightweight and Easy to Maneuver
Gliding through waters effortlessly, the Mirage Compass weighs 87 pounds fully rigged, making it lighter than the 144-pound Pro Angler.
This lighter weight makes the kayak easier to tow and maneuver both on and off the water.
The MirageDrive propulsion system, Hobie's signature feature, pushes the kayak to speeds of 5 miles per hour, while cruising takes little effort at 3 miles per hour.
Ergonomic Steering Handle
Control at your fingertips, the Mirage Compass features a new ergonomic steering handle that allows users to turn using only their fingertips on the small knob.
This provides an easy grip and precise control over the kayak's direction, ensuring you can navigate shallow waters with confidence.
Comfortable and Supportive Seat
Fishing in comfort all day, the Mirage Compass comes with a seat that is comfortable both on and off the kayak.
The adjustable seat provides cushioning and support, allowing you to enjoy your fishing trip without worrying about discomfort.
Stability in Shallow Waters
Confidently casting in challenging conditions, the Mirage Compass offers exceptional stability, allowing you to stand up to reel in or sight fish large specimens.
This stability is particularly beneficial when fishing in shallow waters, where sudden movements can easily spook fish.
Lowrance Ready Transducer Mounting Plate
Stay ahead with advanced technology, as the Hobie Mirage Compass comes with the Hobie Lowrance Ready transducer mounting plate.
This feature allows you to easily mount a fishfinder on either side of the kayak using the Hobie H-tracks, and run the power cable anywhere you need it.
Note that the kayak is not pre-drilled for power cords and transducer cables.
Upgradeable Mirage Drive System
Customizable propulsion options are available with the Mirage Compass, which comes with a standard Mirage Drive without reverse.
This standard Mirage Drive and lower price point allow Hobie to compete well in the evolving lower-priced pedal drive market.
If desired, you can upgrade the Mirage Drive system to include reverse functionality, further enhancing your fishing experience.
Hobie's Durability and Quality
Investing in a long-lasting kayak, Hobie designs their kayaks with high durability and quality in mind, allowing the models to remain relevant for many years.
It's essential to check for leaks before purchasing a used Hobie to avoid expensive repairs after the sale.
With proper care and maintenance, your Mirage Compass kayak will serve you well for years to come.
Additional Hobie Kayak Options
Exploring more affordable alternatives, Hobie also produces the Compass Duo and Oasis tandem fishing kayaks, which are toned down versions of the Outback.
If you're interested in a more budget-friendly option, consider the Hobie Passport series, which incorporates the Hobie Mirage pedal drive system at a lower cost.
Exceptional Shallow Water Performance
Mastering the art of shallow water fishing, the Hobie Mirage Compass Sit-On-Top Kayak excels in this environment thanks to its efficient Mirage drive, comfortable seating, and impressive stability.
With its affordable price point and exceptional performance, the Mirage Compass is a top choice for anglers seeking the best shallow water fishing kayak.
Now that you have explored the best fishing kayaks in various categories, it's time to make your decision and invest in a kayak that will enhance your angling experience and help you land more fish.
Whether you prioritize affordability, performance, transportability, or shallow water capabilities, there's a kayak on this list that's perfect for you.
Happy fishing!
Shop Online for the Hobie Mirage Compass
What Type of Fishing Kayak is Right for you?
There are many factors to consider when choosing a kayak for fishing, including budget, the type of water you plan to fish from the kayak, and personal preferences.
First and foremost, your fishing kayak needs to keep you safe. Choosing the right water vessel for you takes time, and while what is right for the seasoned kayaker might not be right for the novice, there are some basic things to consider. When it comes to fishing kayaks, you want the safest kayak you can afford.
Fishing kayaks come in all sizes. When you are choosing a fishing kayak, consider what you plan to do with it. Are you interested in fishing lakes, ponds, rivers, or the ocean? How large are these bodies of water? A fishing kayak that works great on small ponds may be too small for the ocean.
Size matters – and so do the size of your fishing buddies. Some fishing kayaks let you bring a buddy along, although keep in mind that a kayak's weight capacity is not necessarily the same as a human occupant capacity. If you plan to bring a friend along, find out how much weight your fishing kayak can handle.
Durability is a critical factor when choosing a fishing kayak. Like all sports equipment, fishing kayaks will eventually fall victim to the wear and tear of the sport. Fiberglass kayaks are usually more durable th
Most fishing kayaks will have room for fishing gear and even a few passengers, but the primary purpose of fishing kayaks is fishing, so choose one that will get you to your favorite fishing spot with a minimum amount of fuss. A fishing kayak with a lot of speed will get you and your fishing gear there much faster and with less effort.
Comfort is essential when choosing a fishing kayak. Some fishing kayaks are set up for fishing while others are made for both fishing and camping. Keep in mind that you will be on the water for extended periods of time, so try out various kayaks to get a feel for their comfort.
There are many different types of fishing kayaks available. They come in a variety of sizes and offer a wide range of features.
Sit-on-top fishing kayaks have a large cockpit that rests above the water level. This style of fishing kayak is best for calm waters, such as lakes, rivers, and ponds. Sit-on-top fishing kayaks are great for anglers who want to cast from the water. They will not take out in heavy waves, and they are generally more affordable than a lot of other fishing kayaks.
Sit-in fishing kayaks (also called "Confined" kayaks) are more common, and are designed for use in a wide variety of conditions. These kayaks are closed in on all sides, and are more stable than sit-on-tops. If you're new to the sport, a sit-in kayak will feel more familiar, as it's similar to a canoe or a small motorboat.
A tandem fishing kayak is a two-person kayak that shares a hull. Tandem fishing kayaks are great for anglers who want to bring a friend along or for beginning kayakers who need stability. This style of kayak can be a little more difficult to manage when paddling, however.
Inflatable fishing kayaks are extremely lightweight and portable. With a high-pressure hand pump and a few minutes to spare, you can inflate your fishing kayak and get out on the water in no time. These kayaks are ideal for fishermen who are on the go, as they can easily be transported in the trunk of a car or even on a bus or plane. Inflatable kayaks are also more affordable than fiberglass kayaks. For these reasons, inflatable fishing kayaks are becoming increasingly popular for anglers of all ages and experience levels.
Recreational fishing kayaks are built for fun and are available in many bright colors. They are shorter and more nimble than the fishing kayaks above, and they are designed for small bodies of water such as ponds.
Sit-on kayaks are great for fishing in small ponds, lakes, and rivers. They are generally stable and will allow you to cast from the water, as well as to paddle from shore.
Sit-in kayaks are perfect for larger bodies of water, such as the ocean, or for trips where you will be in the water for a long time. These are faster than sit-on kayaks and are more stable, as well.
There are also tandem kayaks that are made for two people. This is a great option for anglers who want to go out on the water with another person.
Things to Consider before Purchasing a Fishing Kayak
When you're ready to buy a fishing kayak, there are some things to consider. Will you be using your kayak for fishing from shore or from a boat? How much do you want to spend? Do you want to paddle or pedal? Keep these questions in mind as you narrow down your search for the perfect fishing kayak.
Kayaks can range in price from a few hundred dollars to thousands of dollars, depending on the features you want. Tandem kayaks are more expensive than single-person kayaks, as well. It's also important to remember that kayak prices can vary based on the manufacturer.
You should also consider the type of water you will be on while fishing. The type of water you fish will determine the type of kayak you need. If you plan on fishing from a boat, you will need a sit-on or sit-in kayak. If you plan on fishing from a pier or from shore, you will need a sit-on kayak. Most kayaks will have a "fishing mode," which makes it easy to cast in the water from your kayak.
Length is also important to consider. When you're looking for a fishing kayak, you should think about the distance you will be fishing and the size of the kayak you will be on. If you will be fishing within a shorter distance a shorter kayak should work fine. If you're going to be going on longer trips a longer kayak may work better for you.on a small boat, you should choose a shorter kayak that is easier to maneuver. If you're fishing on a larger waterway, you should choose a longer kayak.
How to Choose a Fishing Kayak
You have plenty of choices when it comes to fishing kayaks. While it can be easy to get overwhelmed with all the different choices, you should seek advice from friends, personal experience, and from sales associates at your local kayak shop.
If you already have a boat and are simply looking to expand your fishing from the water, you should consider your boat size as well as where you will be fishing. Do you fish from a small boat and are limited to the shoreline? If so, a sit-on-top kayak will be a good choice for you. Do you fish in a large boat and are planning to fish from the shore? In this case, a sit-in kayak will be a better option.
If you plan to fish mainly from the shore, a sit-on-top kayak will give you options. If you often fish from a pier, a sit-on-top will give you the best opportunity for casting.
If you plan to fish from the water, then you should consider the type of fishing you do. If you will be doing deep-sea fishing, then you should choose a sit-in kayak that offers more stability and a lot of room. If you will be fishing in ponds or lakes with a smaller boat, then a sit-on-top will be best.
Finally, if you plan to fish from the shore and from the water, you should choose a convertible fishing kayak. These kayaks can be used as sit-in or sit-on-tops.
If you have never fished from a kayak, you may think you will be able to easily maneuver one. However, a kayak will not turn as easily as a boat, and the paddles are not as easy to use. Take some time to learn to work with your kayak, and to practice of the water before you venture out far from shore.
Once you decide what type of kayak you want, pay close attention to the design. You will want a kayak that is durable, but lightweight as well. You will also want your kayak to have comfortable padding and a seat that is easy to adjust.
Finally, while you should avoid purchasing a kayak based solely on the features it offers, it is important to choose one that suits your needs. If you purchase a kayak that is too small or too large for your needs, you will not get the most benefit from your kayak. However, if you spend a little extra money to purchase a kayak that has the right features, you will be able to get the most from your kayak.
Now that you've explored the top fishing kayaks, it's time for you to choose one and hit the water.
Whether you're on a budget, want maximum performance, need portability, or prefer shallow waters, there's an option for you.
Stop wasting time and money renting kayaks or borrowing a friend's—invest in your own.
Once you find a kayak that suits your needs, you'll have everything you need to start reeling in trophy fish.
You'll wonder why you didn't buy one sooner.
So go ahead—pick a kayak, grab your gear, and get out on the lake or river.
Adventure awaits, and so do the fish.
What are you waiting for?
Happy fishing!
As an Amazon Associate I earn from qualifying purchases.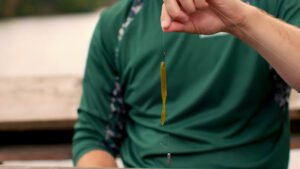 Discover the drop shotting technique, a favorite among professional bass anglers, that presents bait in an irresistible way to bass. Learn the rig setup, gear selection, and advanced strategies to improve your bass fishing skills. Read now!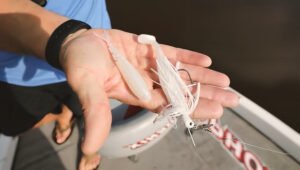 Boost your bass fishing success with chatterbaits – the revolutionary bait that mimics real-life baitfish movements. Learn the versatile techniques and optimal fishing conditions for using chatterbaits to entice bass strikes. Find out how to choose the right gear and tackle for maximum effectiveness. Discover solutions to common challenges and the importance of responsible angling. Read now to elevate your bass fishing strategies with chatterbaits!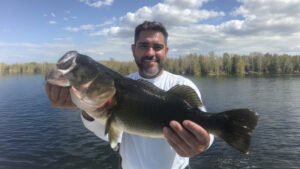 Enhance your angling skills and increase your summer fishing success by understanding bass behavior during the hot summer months. Learn how temperature, light, cover, and forage availability influence bass movements and feeding patterns. Discover the best fishing techniques and lure selection for catching bass in the summer. Read now!