Whatever your level of experience, kayak fishing allows you to reach new waters you would have otherwise never reached from the shore. Even if you typically fish by boat, kayaks have a unique way of getting into areas that a larger vessel wouldn't fit into. If you're in the market for a new fishing kayak, check out the following information to equip you with the knowledge you need to get the right craft that will empower you on the water.
What Type of Fishing Kayak is Right for you?
There are many factors to consider when choosing a kayak for fishing, including budget, the type of water you plan to fish from the kayak, and personal preferences.
First and foremost, your fishing kayak needs to keep you safe. Choosing the right water vessel for you takes time, and while what is right for the seasoned kayaker might not be right for the novice, there are some basic things to consider. When it comes to fishing kayaks, you want the safest kayak you can afford.
Fishing kayaks come in all sizes. When you are choosing a fishing kayak, consider what you plan to do with it. Are you interested in fishing lakes, ponds, rivers, or the ocean? How large are these bodies of water? A fishing kayak that works great on small ponds may be too small for the ocean.
Size matters – and so do the size of your fishing buddies. Some fishing kayaks let you bring a buddy along, although keep in mind that a kayak's weight capacity is not necessarily the same as a human occupant capacity. If you plan to bring a friend along, find out how much weight your fishing kayak can handle.
Durability is a critical factor when choosing a fishing kayak. Like all sports equipment, fishing kayaks will eventually fall victim to the wear and tear of the sport. Fiberglass kayaks are usually more durable th
Most fishing kayaks will have room for fishing gear and even a few passengers, but the primary purpose of fishing kayaks is fishing, so choose one that will get you to your favorite fishing spot with a minimum amount of fuss. A fishing kayak with a lot of speed will get you and your fishing gear there much faster and with less effort.
Comfort is essential when choosing a fishing kayak. Some fishing kayaks are set up for fishing while others are made for both fishing and camping. Keep in mind that you will be on the water for extended periods of time, so try out various kayaks to get a feel for their comfort.
There are many different types of fishing kayaks available. They come in a variety of sizes and offer a wide range of features.
Sit-on-top fishing kayaks have a large cockpit that rests above the water level. This style of fishing kayak is best for calm waters, such as lakes, rivers, and ponds. Sit-on-top fishing kayaks are great for anglers who want to cast from the water. They will not take out in heavy waves, and they are generally more affordable than a lot of other fishing kayaks.
Sit-in fishing kayaks (also called "Confined" kayaks) are more common, and are designed for use in a wide variety of conditions. These kayaks are closed in on all sides, and are more stable than sit-on-tops. If you're new to the sport, a sit-in kayak will feel more familiar, as it's similar to a canoe or a small motorboat.
A tandem fishing kayak is a two-person kayak that shares a hull. Tandem fishing kayaks are great for anglers who want to bring a friend along or for beginning kayakers who need stability. This style of kayak can be a little more difficult to manage when paddling, however.
Inflatable fishing kayaks are extremely lightweight and portable. With a high-pressure hand pump and a few minutes to spare, you can inflate your fishing kayak and get out on the water in no time. These kayaks are ideal for fishermen who are on the go, as they can easily be transported in the trunk of a car or even on a bus or plane. Inflatable kayaks are also more affordable than fiberglass kayaks. For these reasons, inflatable fishing kayaks are becoming increasingly popular for anglers of all ages and experience levels.
Recreational fishing kayaks are built for fun and are available in many bright colors. They are shorter and more nimble than the fishing kayaks above, and they are designed for small bodies of water such as ponds.
Sit-on kayaks are great for fishing in small ponds, lakes, and rivers. They are generally stable and will allow you to cast from the water, as well as to paddle from shore.
Sit-in kayaks are perfect for larger bodies of water, such as the ocean, or for trips where you will be in the water for a long time. These are faster than sit-on kayaks and are more stable, as well.
There are also tandem kayaks that are made for two people. This is a great option for anglers who want to go out on the water with another person.
Things to Consider before Purchasing a Fishing Kayak
When you're ready to buy a fishing kayak, there are some things to consider. Will you be using your kayak for fishing from shore or from a boat? How much do you want to spend? Do you want to paddle or pedal? Keep these questions in mind as you narrow down your search for the perfect fishing kayak.
Kayaks can range in price from a few hundred dollars to thousands of dollars, depending on the features you want. Tandem kayaks are more expensive than single-person kayaks, as well. It's also important to remember that kayak prices can vary based on the manufacturer.
You should also consider the type of water you will be on while fishing. The type of water you fish will determine the type of kayak you need. If you plan on fishing from a boat, you will need a sit-on or sit-in kayak. If you plan on fishing from a pier or from shore, you will need a sit-on kayak. Most kayaks will have a "fishing mode," which makes it easy to cast in the water from your kayak.
Length is also important to consider. When you're looking for a fishing kayak, you should think about the distance you will be fishing and the size of the kayak you will be on. If you will be fishing within a shorter distance a shorter kayak should work fine. If you're going to be going on longer trips a longer kayak may work better for you.on a small boat, you should choose a shorter kayak that is easier to maneuver. If you're fishing on a larger waterway, you should choose a longer kayak.
How to Choose a Fishing Kayak
You have plenty of choices when it comes to fishing kayaks. While it can be easy to get overwhelmed with all the different choices, you should seek advice from friends, personal experience, and from sales associates at your local kayak shop.
If you already have a boat and are simply looking to expand your fishing from the water, you should consider your boat size as well as where you will be fishing. Do you fish from a small boat and are limited to the shoreline? If so, a sit-on-top kayak will be a good choice for you. Do you fish in a large boat and are planning to fish from the shore? In this case, a sit-in kayak will be a better option.
If you plan to fish mainly from the shore, a sit-on-top kayak will give you options. If you often fish from a pier, a sit-on-top will give you the best opportunity for casting.
If you plan to fish from the water, then you should consider the type of fishing you do. If you will be doing deep-sea fishing, then you should choose a sit-in kayak that offers more stability and a lot of room. If you will be fishing in ponds or lakes with a smaller boat, then a sit-on-top will be best.
Finally, if you plan to fish from the shore and from the water, you should choose a convertible fishing kayak. These kayaks can be used as sit-in or sit-on-tops.
If you have never fished from a kayak, you may think you will be able to easily maneuver one. However, a kayak will not turn as easily as a boat, and the paddles are not as easy to use. Take some time to learn to work with your kayak, and to practice of the water before you venture out far from shore.
Once you decide what type of kayak you want, pay close attention to the design. You will want a kayak that is durable, but lightweight as well. You will also want your kayak to have comfortable padding and a seat that is easy to adjust.
Finally, while you should avoid purchasing a kayak based solely on the features it offers, it is important to choose one that suits your needs. If you purchase a kayak that is too small or too large for your needs, you will not get the most benefit from your kayak. However, if you spend a little extra money to purchase a kayak that has the right features, you will be able to get the most from your kayak.
As you can see, there are plenty of things to consider when you're ready to buy a fishing kayak. You should plan your budget, the type of water you will be fishing, the type of fishing you plan on doing, and the features you need. Once you know what you want in a fishing kayak, you will be able to choose the one that is perfect for your needs.
As an Amazon Associate I earn from qualifying purchases.
Instant Access To Our Private Selection...
We love sharing our expertise with others, but some times there's information and special deals we can't share openly. If you're looking for a little advantage out on the water sign up today and get instant access to our private selection of 10 lures we don't publicly share.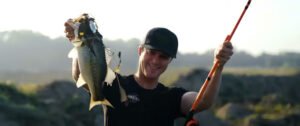 Are cold fronts chilling your fishing game? Fear not! Our latest article reveals the secrets to conquering cold fronts and reeling in those elusive bass! Discover how to adapt your techniques, lures, and fishing spots to changing weather conditions and fish behavior. Master the art of finesse fishing, explore the best locations for cold front fishing, and learn how to select the most effective lures during cold fronts. Read our full guide now and become the Bassmaster you were born to be!
Are you on the hunt for a high-quality spinning reel that performs well for freshwater bass fishing? Curious if the Shimano Sustain FJ Spinning Reel is worth the investment? Read our comprehensive review to find out! We take a close look at the reel's features, performance, and durability, so you can make an informed decision.
Looking for a high-performance spinning reel for freshwater bass fishing? Wondering if the Daiwa Certate LT Spinning Reel lives up to its reputation? Our in-depth review covers everything you need to know. Find out if the Certate LT is worth the premium price tag – read our review now.