Shimano Curado Series Review: K, DC, MGL 70 K, MGL 150, 300 K, and BFS 2022 Models
The Shimano Curado baitcasting reel is an excellent choice for anglers looking for a reel that offers smoothness, durability, and precision casting control. The Curado series is available in multiple different versions, each with its own unique set of features. The base model, the Curado K, provides everything you need in a quality baitcasting reel, while the top of the line Curado DC offers the most features and refined performance. Check out our thoughts on the Curado series.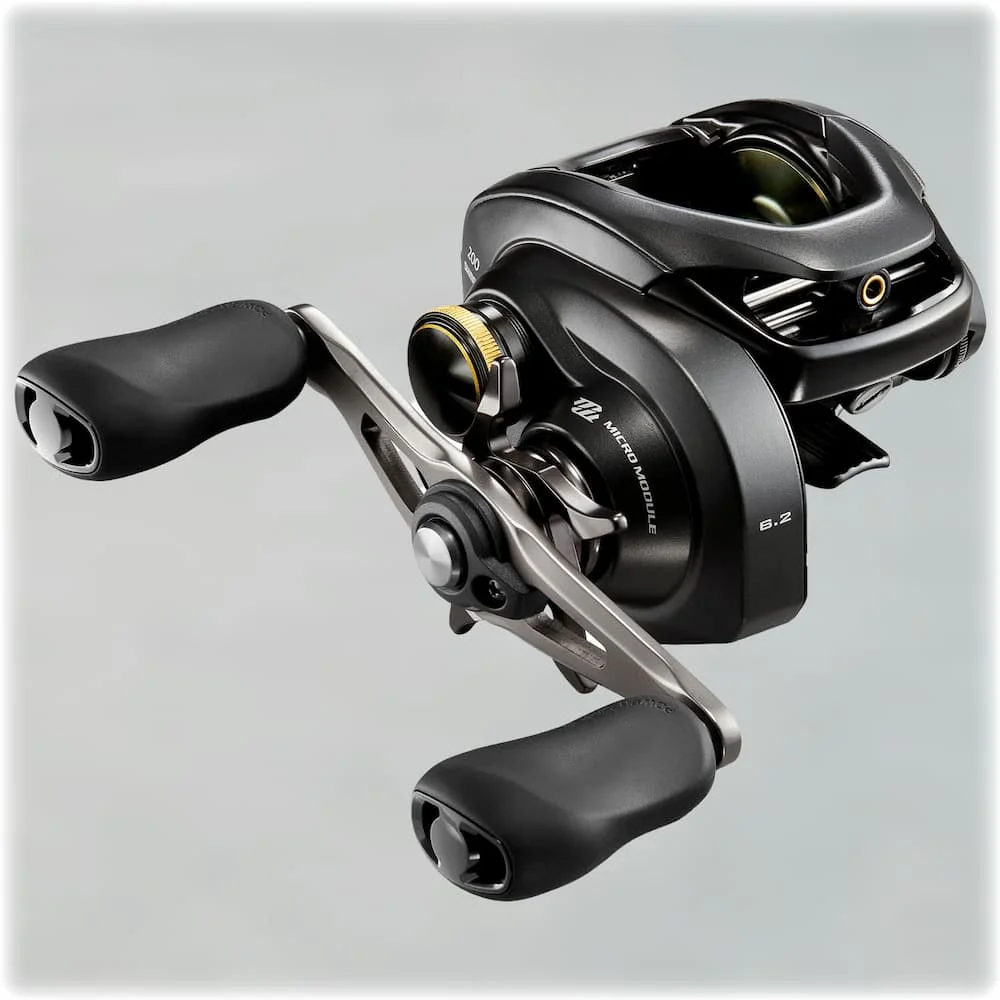 The Curado series of reels is one of Shimano's most popular and important reel series.
They currently offer the Curado in multiple different versions, including the Curado K, DC, MGL 70 K, MGL 150, 300 K, and BFS. Each of these iterations brings something unique to the table, while also maintaining the solid foundation that Shimano has created with the Curado.
This reel series provides everything you need in a baitcasting reel. The lowest price point in the series provides an excellent starting point, while the top of the line Curado DC offers anglers a premium reel with great fit and finish, and a robust set of features.
The Curado K is a nice blend of value and performance, perfect for anglers looking for a top of the line baitcasting reel that can handle just about anything thrown at it without spending as much as the more expensive models.
We will take a look at each of the Curado models and what makes them unique. Then we'll dive into the shared features that sets this baitcasting reel apart.
We will take a look at each of the Curado models and what makes them unique. Then we'll dive into the shared features that sets this baitcasting reel apart.
The Curado K is the base model of the Curado series. Providing the solid foundation that has set the Curado series apart. Strong body design, double shielded 6 bearing system, reliable drag construction, SVS braking system, extra tough gear design, and more.
The Curado K is equipped with the primary features you need for top of line bass fishing performance. We will cover some of the core features in more detail below.
The Curado K is the perfect option if you're looking for versatile performance, reliable reel design, and in a price range under the other models.
The Curado DC is the top of the line reel in the Curado series. Offering the most features, and the most refined performance. The Curado DC is equipped with a Digitally Controlled braking system. This system measures and controls the braking pressure every 1/1000th of a second. This allows for precise adjustment and eliminates backlashes, for smooth, long distance casting.
Other features include an externally adjustable cast control, Shimano's X-Ship system for smoothness and durability, a robust 11 pound max drag, Cross Carbon Drag system, and more.
The Curado MGL 70 K is a more compact and lightweight option, perfect for anglers looking for a reel with less bulk and a smaller profile.
The Curado MGL 70 K is designed for anglers fishing with light fishing line, finesse baits, and lighter lures. While it doesn't have the same line capacity as the other Curado reels, it does have a Cross Carbon Drag system that can handle up to 12 lbs of drag.
This reel is perfect for anglers that are looking for a smaller, lightweight reel with great performance specs.
Offering extended castability and power, the Shimano Curado MGL 150 is perfect for fishing larger baits. Featuring a MagnumLite spool, this reel is designed for anglers looking to cast further and with more accuracy.
With a robust 13lbs of max drag, the Curado MGL 150 can handle fish of all sizes. The Curado MGL 150 is also equipped with Shimano's advanced technologies for smooth, efficient, and durable performance.
The Curado 300 K is a beefed up version of the Curado K. It's designed for anglers that are looking to fish bigger baits, for bigger fish.
This reel offers a deep 300-size spool, long handle with wide-grip knobs, 22lbs max drag, and more.
Packed with features, the Curado 300 K is a great choice if you're looking for a heavy-duty striper or inshore fishing reel.
The Curado BFS is the ultralight finesse version of the Curado series. Designed with a shallow spool and ultralight weight for casting lightweight lures with ease.
The Curado BFS utilizes Shimano's Finesse Tune Brake (FTB) system to reduce the spool's weight. This system is designed to automatically adjust to slow down the spool only when braking is needed. This makes for a smooth and consistent experience when casting lightweight baits.
The Curado BFS is perfect for anglers who want to downsize their baits to increase their success on the water. The ultralight weight and shallow spool make for an easy, smooth casting experience with any lightweight lure.
We're currently looking for a good source for the BFS model.
Michael's Shimano Curado K Review: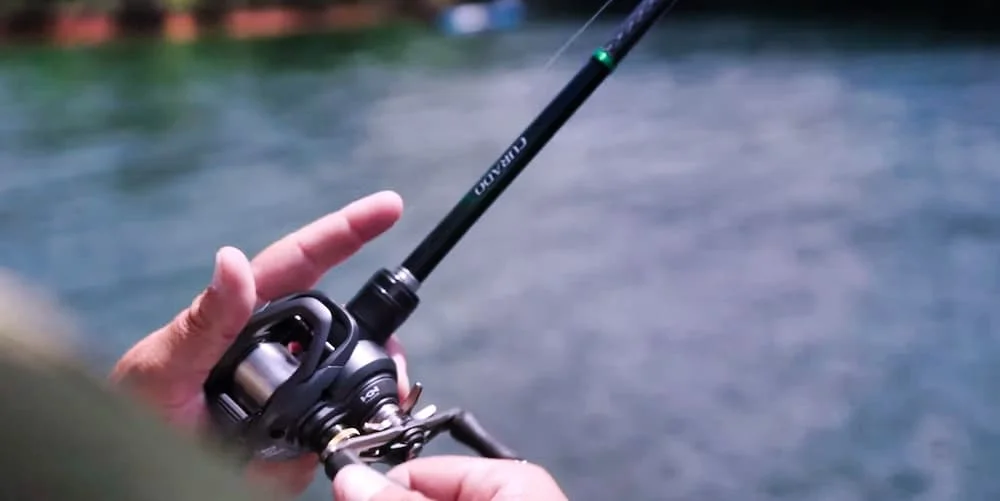 As one of the preeminent reel manufacturers in the industry, Shimano offers a full line of excellent baitcasting reels with the Curado series. The Curado line of reels falls into Shimano's upper tier of baitcasters.
No matter which model Curado you choose, this series features all of the most advanced Shimano technology.
Super Smooth Spool Design
Shimano has long been known for making exceptionally smooth baitcasting reels and the Curado is no exception. The Curado line is equipped with Shimano's proprietary Super Free Spool design.
The Super Free Spool design reduces the amount of friction the spool shaft experiences during the cast by incorporating a ball bearing support for the pinion gear when the clutch is disengaged. This results in zero friction on the spool shaft, making for longer and more accurate casts.
The reduced friction allows you better casting control over a wide variety of lure weights and types.
The Curado also has incorporated the Shimano Stable Spool Design which reduces vibration in the spool providing increased balance and uniformity.
All of this together provides the Curado with a smooth cast, retrieve, and provides the functionality needed to allow you to use a diverse set of presentations with the same reel.
Strong and Lightweight Frame
The Curado baitcasting reel's hagane body is constructed with a strong and lightweight Power AL frame. This frame is made from a lightweight aluminum alloy that is stronger than traditional aluminum. This allows the reel to be smaller in size, while still being robust enough to handle the normal wear and tear of bass fishing.
The frame is designed to provide an increased level of rigidity. This helps to prevent "hook-bounce" that sometimes occurs when reeling in larger fish that put a lot of pressure on the reel's handle.
Ergonomic Compact Design
The Curado is designed with an ergonomic compact profile. This makes the reel easier to palm and balance within your hand, which can be especially important when casting lightweight lures.
The Curado series is available in both right and left-hand retrieve models and comes in multiple gear ratios, ranging from 4.7:1 all the way up to 8.5:1.
The reel's lightweight, compact design is also a big benefit for anglers that have to carry their gear a long distance to the fishing spot.
Xtra Gear Durability
Shimano has also beefed up the gear durability on the Curado series of reels.
The Main drive gear is CNC-machined from high-grade aluminum and now comes equipped with Shimano's advanced MicroModule gear. This system increases the number of hard gear teeth for seamless power transfer with every movement of the handle.
The micro module gear design provides enhanced performance and greater gear longevity.
High Bearing System For Smooth Handling
Another standout feature of the Curado series is its high bearing system.
Each model of the Curado series comes equipped with a high number of stainless steel ball bearings and an additional Super Stopper Anti Reverse roller bearing.
This combination of high performance bearings with the Super Stopper ensures smooth and consistent performance on every cast.
The bearings are shielded from both sides, which provides a better seal for the reel's internal bearing. This affords greater levels of corrosion resistance as well as sustained bearing performance.
Without the salt, sand, and other outside particles getting into the bearing system, it's able to run more fluidly without the need to continuous cleaning or multiple applications of lubrication.
Comfortable Handle And Knobs For Better Control
The new Curado models feature a redesigned and more ergonomic handle. The handle is now longer and stronger and provides better control than previous iterations.
The soft grip knobs are larger and more comfortable to hold on to. Even for extended periods of time.
This provides anglers with better handling and control during line retrieve and is especially helpful when a large bass is hooked on the line, and you need the extra leverage reeling it in.
Solid Cross Carbon Drag System
The Cross Carbon Drag system used in the Curado series is made of two layers of carbon fiber that are fused into a solid disk. This disk is then sandwiched between an aluminum/carbon combination. The result is a drag system that is incredibly strong and durable.
The Cross Carbon Drag is adjustable with a maximum drag of 11 lbs.
The drag can also be adjusted while you are fishing, allowing you to make micro adjustments on the fly, even while fighting to bring one in.
Upgraded Braking System
The brake system incorporates Shimano's new SVS Infinity braking system. This system provides a much wider range of control due to having both internal brake weights and an external dial on the casting control side plate.
A stop on the spool allows for precise adjustments, especially when switching between light and heavy baits.
This greater precision of control allows for quicker adjustments and less frustration.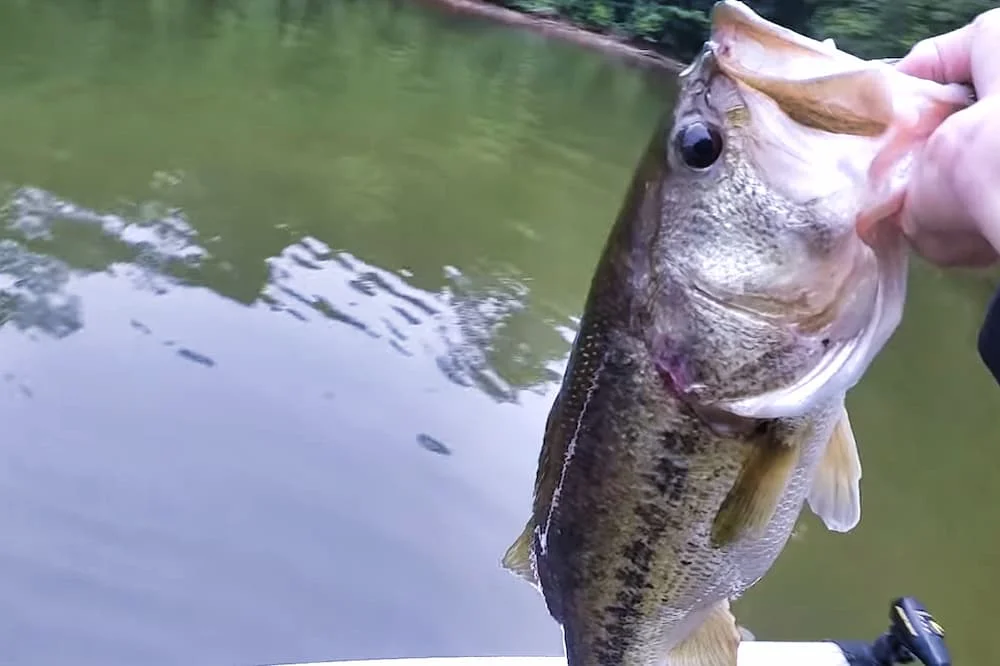 Curado DC Review by Roger
Superior cranking power and smoothness with more refined gear design
Smooth and consistent drag pressure
Excellent reel build quality and solid in hand
Very comfortable to palm and use
External cast control adjustment knob is a bit small
Slight backplay in handle
Less max drag than comparable competitor's baitcasters
Ronald's Thoughts On The Curado BFS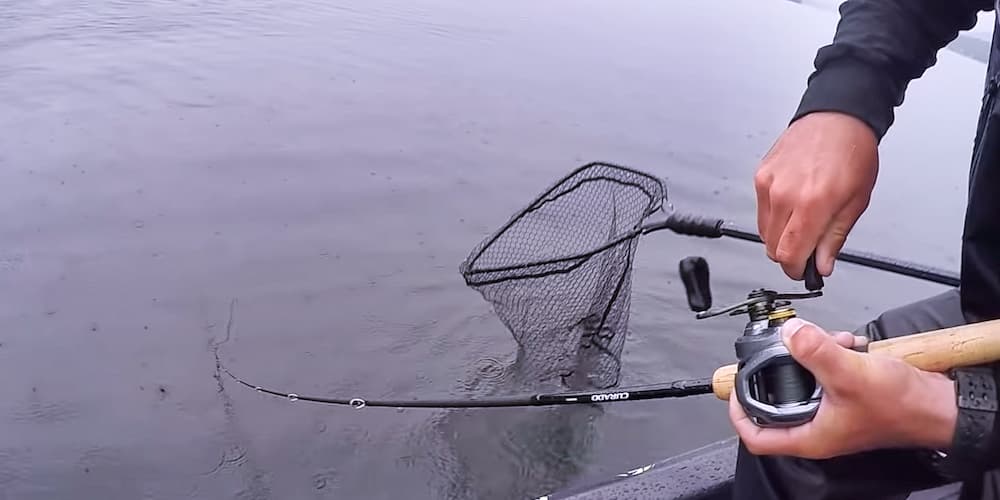 We've given the Shimano Curado ratings in four categories. They are as follows:
Price: B
Build: A+
Feature Set: A
Design: A
The Shimano Curado Series earns an overall score of: A-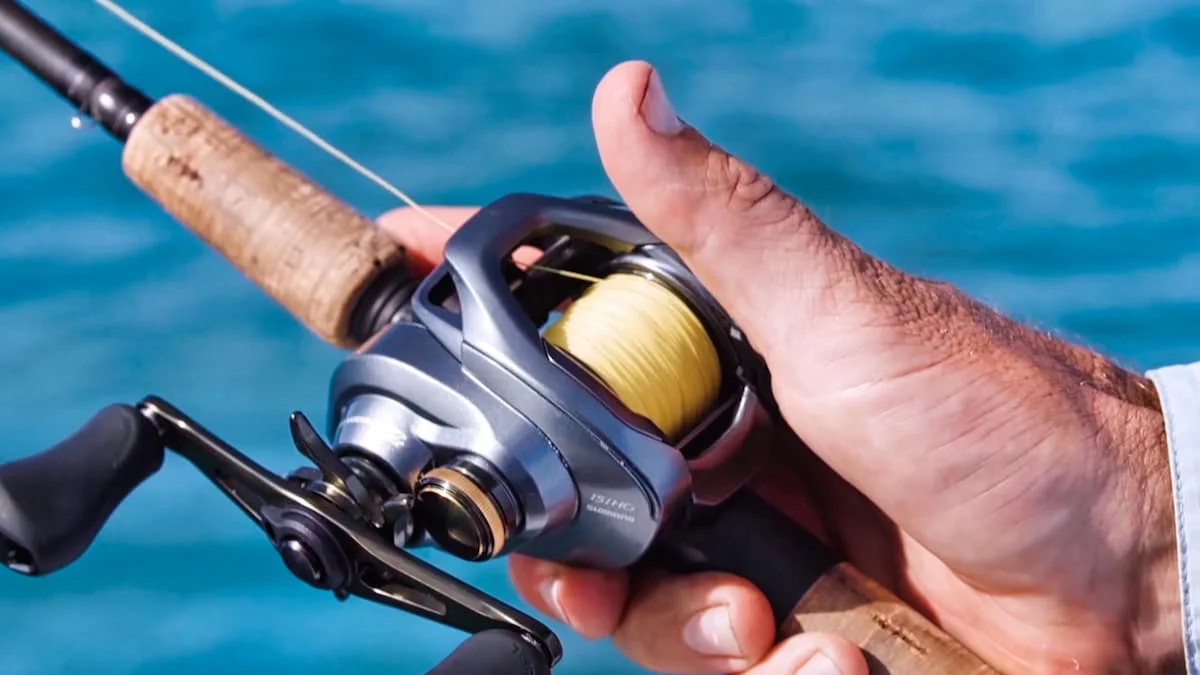 The Curado reel series from Shimano is an excellent option for anglers looking for a high-quality, feature-rich reel. With models ranging from the affordable Curado K to the more premium Curado DC, there is a reel in this lineup for everyone.
The Curado reels are built with high-quality components and are designed for smooth and consistent performance. They also offer a great level of comfort and control, making them ideal for casting a variety of baits.
If you are looking for a top-of-the-line baitcasting reel, the Shimano Curado series should definitely be on your short list.
As an Amazon Associate I earn from qualifying purchases.
Instant Access To Our Private Selection...
We love sharing our expertise with others, but some times there's information and special deals we can't share openly. If you're looking for a little advantage out on the water sign up today and get instant access to our private selection of 10 lures we don't publicly share.