10 Best Spinning Rods for Bass Fishing
Despite being one of the most important factors for fishing success, many people overlook choosing the right fishing rod. Want to maximize your success on the water? Take a few moments to find the perfect bass spinning rod.
Why Choose A Spinning Rod Over A Baitcasting Rod?
When bass fishing, it's important that you use the right equipment for the job, so you can maximize your fishing efforts, reduce headaches, and enjoy your time on the water.
The fishing rod is one of the most important pieces of any fisherman's arsenal.
Rods come in various sizes, lengths, and designs. There are literally thousands of different fishing rods on the market today. For bass fishing, the main two categories of rods will be casting and spinning rods.
A casting rod is used with a baitcasting reel and is preferred by most serious and professional bass anglers. A spinning rod is used with a spinning reel and is typically favored by beginners and hobbyists.
While you may be able to use a baitcasting reel with a spinning rod, you will not be able to use a spinning reel combo with a casting fishing rod.
So, when you're looking for Bass fishing rods, make sure you select one to match the type of reel you have or are wanting to purchas
Top 10 Bass Spinning Rods
Abu Garcia Veritas Spinning Rod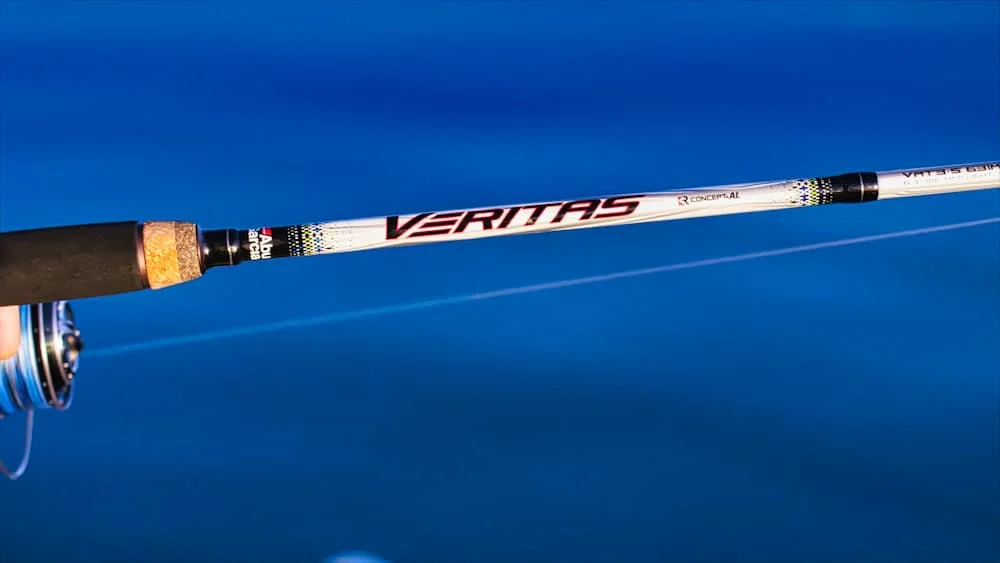 The Veritas rod family has been around for decades, but it's never been stronger. Abu Garcia redefined the Veritas to make it stronger, lighter, and more sensitive. The Veritas Spinning Rods are the perfect blend of power and finesse.
These premium rods are constructed using 30-ton rated carbon fiber and finished with 3M Powerlux resin that is extremely strong and lightweight. The Powerlux resin increases strength, reduces weight, and improves the rod's impact and fracture resistance. Powerlux 100 is an ultra-thin resin system that evenly distributes nanoparticles between the carbon fibers which prevents cracking in the rod material.
Through the use of a hidden blank reel seat and proprietary Titanium alloy guides, the Veritas rods offer a performance-driven design. The premium titanium alloy guides have been positioned using ROCS technology to maximize cast distance.
The custom-created reel seat is comfortable and helps eliminate pressure points. The EVA split grips provide a comfortable feel and non-slip grip during all-day fishing.
Abu Garcia Veritas combine strength, sensitivity, and a lightweight design to give you an edge in the water. Including a three-year warranty, Abu Garcia continues to set the bar for anglers looking for a strong, light, and durable performance.
Shop Online for the Abu Garcia Veritas PLX Spinning Rod
"This is the first Abu Garcia rod I have owned. I read many reviews on it and decided to take a chance.
It is a great rod. Lightweight but extremely sturdy. I've been using it for a few months now and I am very pleased.
The rod is durable and the action feels great. I have caught plenty of largemouth bass and it has not let me down.
I have been recommending the Veritas to all of my friends. It was definitely worth it!"
Size: 6'3″ up to 9'6″
Power: Medium-Light up to Medium-Heavy
Action: Medium-fast up to Extra-Fast
Ugly Stik Elite Spinning Rod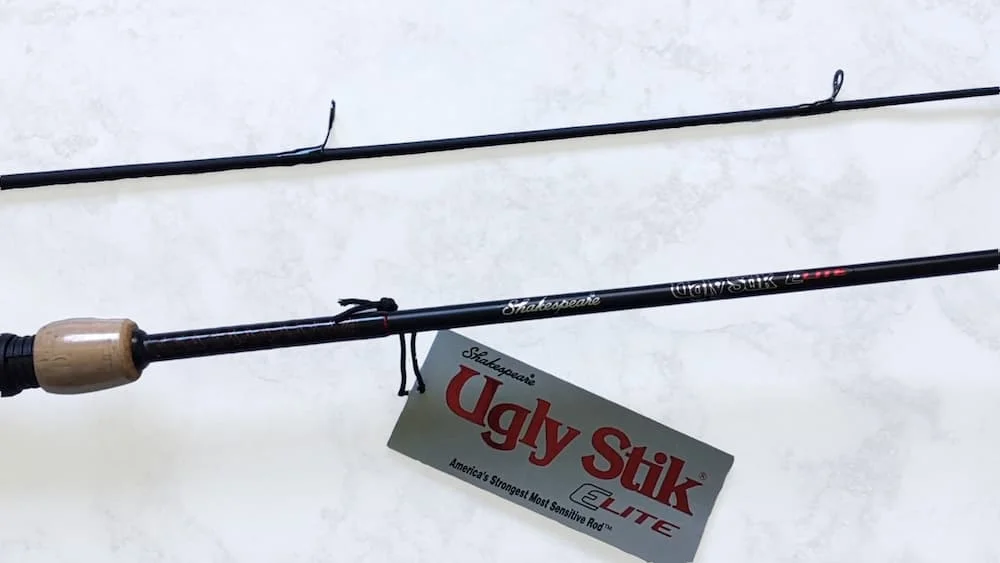 Put a Shakespeare Ugly Stik Elite Spinning Rod in your hands, and you'll instantly feel the incredible strength and sensitivity.
Stik Elite is a graphite rod that utilizes Ugly Technology, so it's lighter and more sensitive. The rod is also stronger and more durable thanks to its 35% more graphite content.
The stainless steel guides offer maximum durability and eliminate insert pop-out with Ugly Tuff's one-piece stainless steel guide design.
The Ugly Stik Clear Tip is made of extra strong fiberglass for where you need it most.

The Ugly Stik Elite Spinning Rods have an exposed blank style reel seat with a cushioned hood that holds your reel securely in place while increasing your contact with the rod. This allows you to crank in the bass with your favorite spinning reel, without fear of it coming loose.
Ugly Stik Elite Spinning Rods have high-quality cork grips for sure and comfortable handling, even in wet conditions.
It comes in a variety of styles, lengths, and actions that are perfect for your fishing needs.
The Elite is light, sensitive, and handles like a dream.
Shop Online for the Ugly Stik Elite Spinning Rod
"I really don't know how anyone can make a better spinning rod. The Ugly Stik Elite is the all-around best spinning rod I have ever used.
I have been fishing for about 40 years, been on all kinds of fishing trips, catch and release, catch and keep, and I have fished with a lot of different rods. In the process, I have learned what rods work best for me and what ranges of fish I can get out of them. I currently own 6 Ugly Stiks, Elites, and GX2s.
I'm a stickler for quality and when I want the best, I use the Ugly Stik."
Size: 4'6″ up to 7'6″
Power: Ultra-Light up to Medium-Heavy
Action: Medium-fast up to Extra-Fast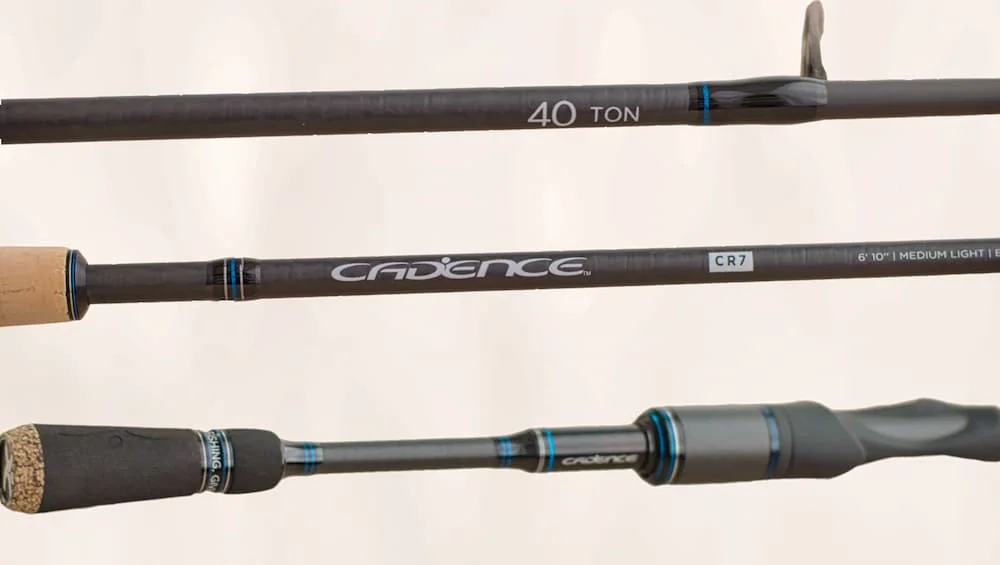 The Cadence CR7 is a strong and lightweight 40-ton graphite spinning rod. With stainless steel guides and SIC inserts, this rod is extra sensitive with high-level casting performance.
The component quality, different lengths, and action variations make this spinning rod a perfect addition to any angler's fishing arsenal.
The Cadence CR7 rods can easily handle just about any bass species you'd be fishing for, including that trophy bass.
High quality and dependable equipment don't have to put a huge dent in your budget. The Cadence CR7 spinning rods are available at a very affordable price.
Shop Online for the Cadence CR7 Spinning Rod
"I've been testing the CR7 through the fall and into the winter, and have been impressed with its performance.
It has a nice well-balanced lightness to it, and is comfortable to use, even after hours of fishing.
I was a little skeptical, since I had heard very little about Cadence before getting this rod, but I've been impressed with the quality.
If you're looking for a great spinning rod at a great price, the Cadence CR7 will not disappoint. Low-cost, but with the performance of a rod that's twice the price.
It's a great rod, and I've been recommending it to my buddies."
Size: 5'10" up to 7'6″
Power: Medium-Light up to Medium-Heavy
Action: Medium up to Extra-Fast
Ugly Stik Tiger Elite Spinning Fishing Rod
The Ugly Stik Tiger Elite Spinning Rod is an excellent heavy duty fishing rod and the perfect tool for frogging, bass fishing with a frog topwater lure or inshore fishing for stripers.
It is also effective for trout, pike, walleye, and other species. The Tiger Elite is perfect for the bass angler looking for a spinning rod designed to handle a wide variety of bigger fish.
Ugly Stik Tiger Elite Spinning Rods feature Ugly Tech construction, the strongest and most durable rod construction available. The Ugly Tech blanks are constructed with a high-modulus graphite/fiberglass core and an E-glass outer layer, providing strength and sensitivity.
The Ugly Tuff one-piece stainless steel guides are designed to eliminate insert pop-outs. The shrink wrap EVA handle is comfortable and offers a sure grip. The Tiger Elite comes with a 7-year warranty against manufacturer defects.
Shop Online for the Ugly Stik Tiger Elite Spinning Rod
"This rod is definitely worth it. I bought this for myself as a Christmas gift a couple of years ago and I love it. I got the 7′ 1-piece and it is awesome.
I use it mostly for offshore fishing, but have also started using it for frogging and it works great. I've caught numerous large fish on it and it hasn't let me down yet."
Size: 6'6″ up to 7′
Power: Medium up to Heavy
Action: Fast
St. Croix Mojo Bass Graphite Spinning Fishing Rod with IPC Technology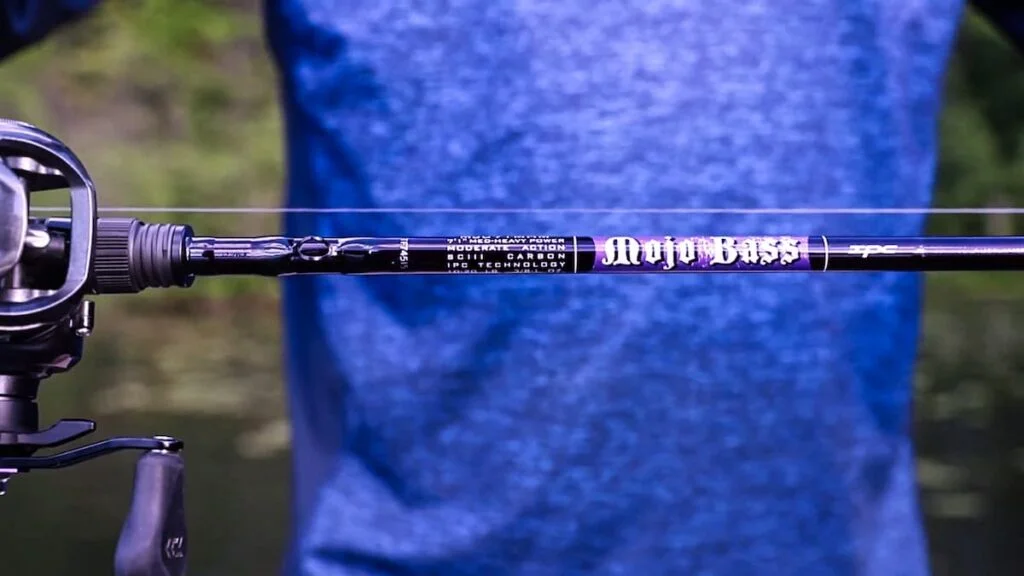 The St. Croix Mojo Bass Fishing Rod is designed to handle everything Mother Nature can throw at you, as well as help you launch a winning attack on the bass in your lake.
Thanks to their advanced Integrated Poly Curve (IPC) tooling technology, these technique-specific bass spinning rods benefit from high-modulus SCIII graphite, which makes them not only incredibly durable but also highly sensitive and lightweight.
High-quality Fuji DPS reel seats with black hoods securely hold your reel in place in any condition. The Kigan Master Hand 3D guides feature aluminum-oxide durable rings and slim frames that reduce weight for effortless casting performance that'll get you to the fish faster.
With an updated formulation of Black Cherry Metallic finish on these rods' blanks along with a new design of premium-grade cork handle split grips, the St. Croix Mojo Bass Spinning Rods are truly what you need to land your next trophy bass!
Shop Online for the St. Croix Mojo Bass Spinning Rod
"I have been fishing since I was a kid. I know what a difference a great rod can make, and I have had my share of less-than-great rods. I bought the Mojo bass graphite spinning rod, and it is honestly the finest rod I have ever handled.
I have caught bass up to 6 pounds with this rod, and the 6'10" med light is an excellent weight for fishing mid-weight bass.
The rod is light and flexible but with good strength. It is easy to cast and has the sensitivity to know when you've got a fish on the line. I would recommend this rod to anyone who loves bass fishing."
Size: 6'8″ up to 9'6″
Power: Medium-Light up to Medium-Heavy
Action: Medium up to Extra-Fast
Shakespeare Ugly Stik GX2 Spinning Rod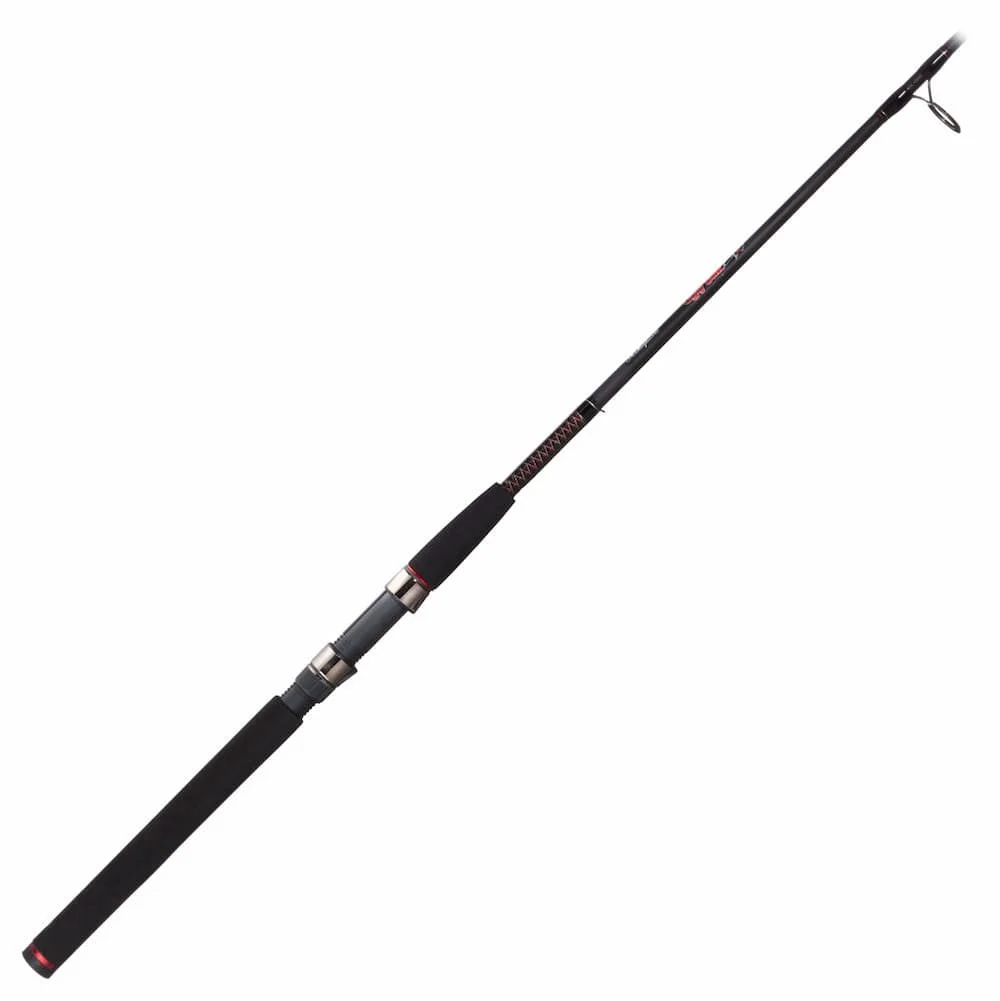 Shakespeare Ugly Stick GX2 Spinning Rod features improved components, eye-catching cosmetics, and a lighter feel for more comfortable fishing.
Built to take a beating and give you the strength you demand, the Ugly Stik GX2 is a spinning rod that will last for years to come. Whether you're fishing in rough waters or looking for a powerful casting rod, the Ugly Stik GX2 delivers.
It's got a sturdy, yet sensitive graphite/fiberglass rod build that's tough enough to handle big fish but light enough for long days on the water.
The rod's stainless steel single-piece Ugly Tuff guides can be used with any type of line, including braided lines.
The Clear Tip design helps improve durability and make casting easier, and the EVA grip provides added comfort. With its great performance, modern looks, and legendary strength, the Shakespeare Ugly Stick GX2 Spinning Rod is a rod you'll reach for again and again.
Shop Online for the Ugly Stik GX2 Spinning Rod
"I've been fishing for ten years and this is my favorite bass rod. I own 4 of them for my different rigs. I have them in light, medium, and heavy. I just throw them in the back of the truck and go.
I've caught huge largemouth and smallmouth on these rods. They have the right amount of power needed to fight large bass, but also the sensitivity to know when a fish is biting.
I am seriously impressed with their durability. I have never had one break on me or even come close to breaking."
Size: 6'8″ up to 9'6″
Power: Ultra-Light up to Medium-Heavy
Action: Fast
Dobyns Rods Fury Spinning Rod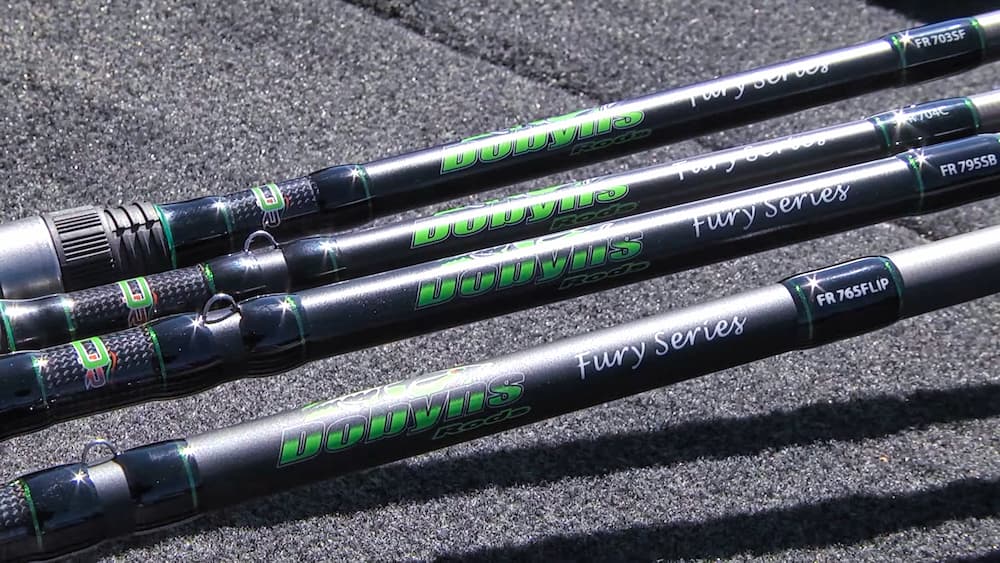 The Dobyns Fury Series' lineup of spinning rods are presentation designed so that you have the right rod, strength, length, action, and power for fishing strategy you're using.
Fury spinning rods feature lightweight high-modulus performance balanced graphite blanks that offerer maximum sensitivity & strength with a range of techniques.
Cork grips with Hypalon butts offer all-day comfort. Lightweight high-modulus graphite blanks are performance balanced for sensitivity and strength. Fuji reel seats are lightweight and secure. Kevlar wrapping is used for securing a full range of quality guides.
The Fury rods are all technique-specific providing the well-balanced performance anglers have come to know with Dobyns Rods.
Shop Online for the Dobyns Rods Fury Spinning Rod
"I don't normally write reviews, but I wanted to share my experience with the Dobyns Fury Spinning Rod. Dobyns Rods are fairly new to me, I've only ordered a few rods and hadn't heard of them before.
I've had this Fury Spinning Rod for about 6 months now, and I've fallen in love with it. I've used it for both trout and bass fishing. I've mostly used it in and around lake Claytor here in Virginia. This is what I use this rod for, and I absolutely love it.
The one big thing that I love about this rod is how well it fishes, it was such a nice surprise. The rod casts really well, and I really don't have any complaints about it."
Size: 7′
Power: Medium-Light
Action: Fast
St. Croix Bass X Spinning Rods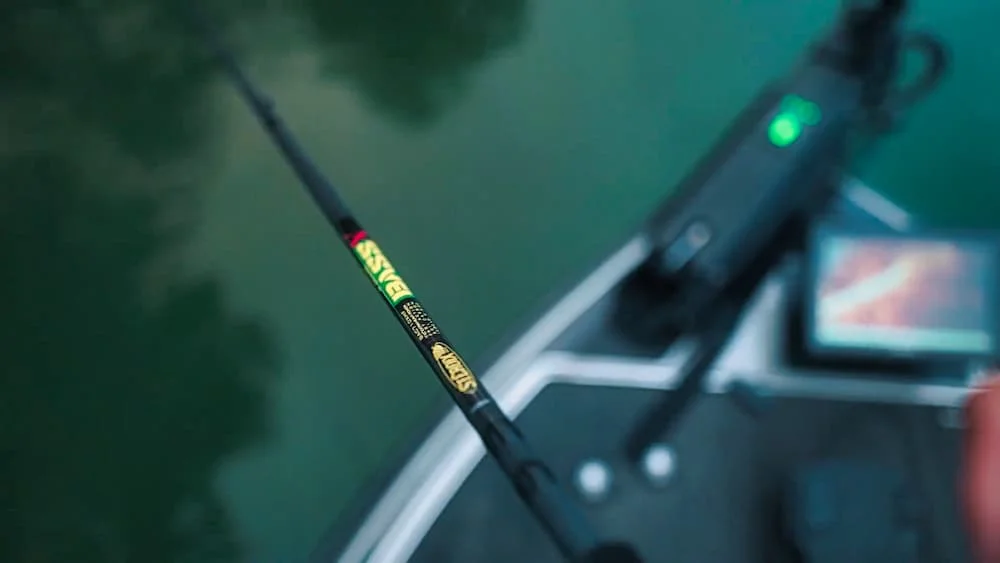 The Bass X Series delivers an exceptional level of performance at a phenomenal value. Built on the timeless, quality St. Croix design, each model in the Bass X Spinning Rod lineup is loaded with high-value features.
The Bass X Spinning Rod provides an incredible balance of lightweight durability and affordability. The SCII graphite blank is lightweight and features a double-coated Flex-Coat slow cure finish to provide corrosion and abrasion resistance that will last.
It also features strong, aluminum-oxide black-framed guides offering a lightweight, responsive feel.
The Bass X is also equipped with high-quality Fuji DPS reel seats and a durable, lightweight split-grip handle with high-quality cork giving you a comfortable, secure grip.
Choose the Bass X Rod for unbeatable balance and uncompromising quality at a very affordable price.
Shop Online for the St. Croix Bass X Spinning Rod
"This rod is a hit or miss for some people. I personally love it because it's light and sensitive, and it has the power to pull big bass out of deep water. I have caught several nice bass on it. The rod seems to be sensitive for picking up the lightest grab, and powerful enough to fight an aggressive fish.
There are a few downsides. The fishing reel seat loosens easily so you have to keep tightening it. Also, the handle is a little too short IMO. These aren't dealbreakers for me but are worth mentioning.
Overall, the positives outweigh the negatives with this one."
Size: 6'8″ up to 7'1″
Power: Medium-Light up to Medium-Heavy
Action: Fast up to Extra-Fast
Entsport Rattlesnake 2-Pieces Graphite Spinning Rod with 3 Top Pieces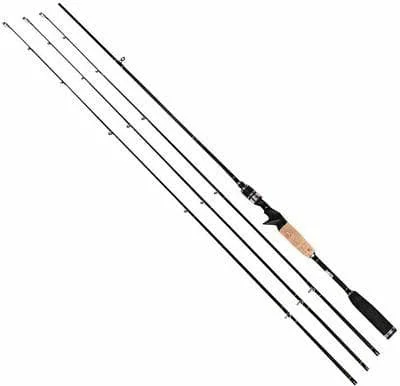 A unique spinning rod, the Entsport E Series Rattlesnake is a graphite spinning rod that includes 1 base and 3 different tips that feature various levels of power.
Essentially, it's a 3 in 1 spinning rod designed for any type of bass fishing.
The medium and medium-light tips provide a perfect trout or bass finesse rod. The medium-heavy tip is great with Carolina and Texas rigs.
Having three rods in one makes this a great all-purpose rod.
Having a quality handle, that is made with split cork, this rod is very comfortable and durable.
The 6+1 guides offer a smoother and more comfortable cast, and the stainless steel frames and ceramic inserts do a great job of reducing friction while maintaining sensitivity.
If you're tired of carrying around multiple different rods in various power and action, the Rattlesnake may be a great option for you.
Shop Online for the ENTSPORT E Series Rattlesnake Spinning Rod
"I bought this rod mostly to use as a backup rod. So far I've been able to use the rod with each tip at least once. The three tip design may be a little gimmicky, but each of them performed reasonably well.
I was able to pull in some small and largemouth bass on them. I don't know how well they'd hold up to any large fish, but overall for a backup rod, I think it'll work just fine."
Size: 7′
Power: Medium-Light, Medium, and Medium-Heavy
Action: Unspecified
Piscifun Serpent One Piece Spinning Rod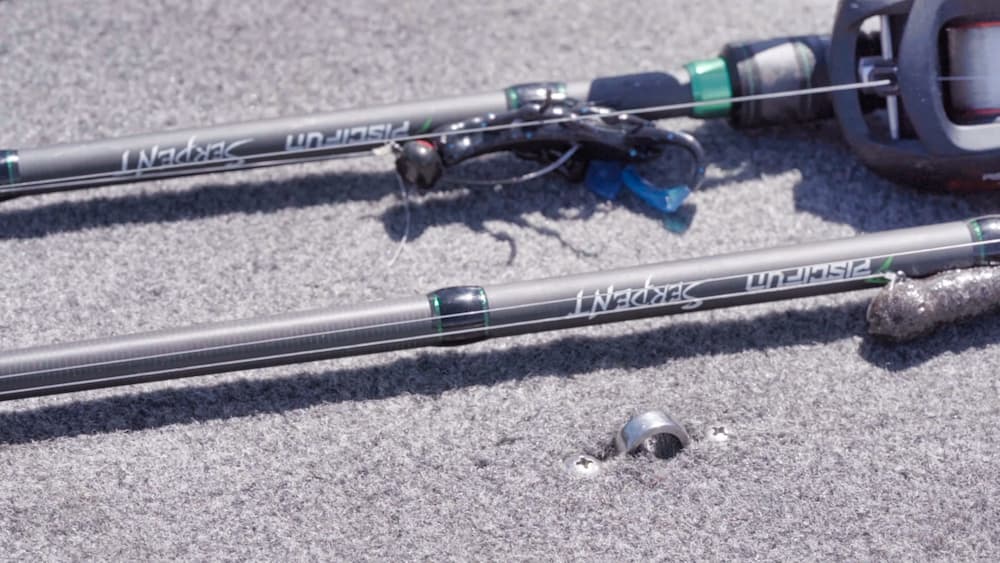 The Piscifun Serpent One Piece Spinning Rod is a spinning rod designed for all fishing techniques.
The rod material, an IM7 Toray high modulus carbon fiber blank, is built using Piscifun's X wrapping process. The result is a strong, lightweight, and sensitive rod.
The high-quality Fuji frame and Fuji "O" Style Insert ensures smooth and efficient casting with all line types. The ergonomically positioned fishing reel seat provides comfort for hours of fishing.
The Serpent also features Fuji Guides, a premium anti-slip grip, and a tournament-level performance. This rod is tournament ready and is backed by Piscifun's Total Worry-Free Warranty.
The Piscifun Serpent One Piece Spinning Rod is a high performance, high quality, tournament-level spinning rod that offers the perfect balance of power, sensitivity, and casting ability. It is perfect for fishing a variety of gamefish from large bass to small panfish and everything in between.
Get the best price on the Serpent spinning rod directly from Piscifun.
Shop Online for the Piscifun Serpent Spinning Rod
"For those of you looking for a great rod for bass in the Midwest, you can't go wrong with these rods. I've used two of these rods for the past 3 years now and I've never been let down. The sensitivity is amazing, especially when you're hanging Jig Heads on your soft plastics.
The single-piece length is awesome and the abilities to cast are second to none.
The only downside is that the grip doesn't have the best texture. This is a little something that took me a while to get used to. The grip is a little on the larger side which is good for bigger hands though.
Overall, I'd give this rod a 7/10."
Size: 6'6″ up to 7'2″
Power: Ultra-Light up to Medium
Action: Extra-Fast up to Fast
What To Look For When Buying A Bass Spinning Rod
What type of spinning rod you choose will depend greatly on the type of fishing you want to do. It's quite disappointing to get a new rod and discover it won't work the way you had expected it to.
If you're not sure what length, power, or action will work best for you, read below to get the information you need to help you make the right selection.
Generally, bass fishing rods run between 6 to 8 feet from the tip to the butt. With shorter rods, you'll be more limited on your casting distance, while longer rods will enable you to cast farther.
Shorter body rods will typically have less bend to them, which can make them great for fighting larger bass. If you do not need to cast long distances short body rods can work great and provide you with the extra strength to reel in that trophy bass.
Longer rods will give you more reach and allow you to cast longer distances. Longer rods can be great for getting lures into those areas where the bass are hiding or providing enough distance for diving crankbaits or other lures that require a long cast retrieve.
Spinning rods are usually made of fiberglass, graphite, or some kind of hybrid combination of both.
Graphite rods are usually lighter and more rigid than fiberglass rods. Their lightness makes them easier to use throughout a long day. Their rigidity makes them more sensitive to bites, but also makes them more prone to break.
Fiberglass rods are usually the heavier of the two and are typically more durable. They are extremely flexible, with some claiming to be unbreakable.
Hybrid rods are a variation of the two that are typically a combination of both fiberglass and graphite. These can provide the best of both worlds between the two materials and be great when you want a more versatile spinning rod.
Rod power is the force necessary to bend the spinning rod. Rod power is typically described by the categories of: light power, medium power, and heavy power rods. A rod with light power will flex more easily, while a rod with heavy power will not bend as easily.
Light power rods will typically work best when you're using lighter baits and smaller lures and fishing for smaller fish. The responsiveness of the light power will make it easier to detect a bite when using a finesse bait.
Medium power rods are ideal when fishing for bass using crankbaits, jerkbaits, spinnerbaits, or any other reaction-based bass lure or bait.
Heavy power spinning rods are best used when fishing with jigs, frogs, topwater lures, or other fishing techniques that don't require that much bend in the rod.
The term "action" refers to the bending characteristics of the rod, specifically how much of the rod bends. This is measured from the tip of the rod to the butt. Rods can be classified as having fast, medium, or slow action.
Slow action rods are more flexible with most of the rod's body bending under pressure. They are typically designed for fishing lighter weight lines and finesse baits.
Medium action rods fall in the middle, typically bending toward the center of the fishing rod. They offering a nice balance of versatility that many hobbyist anglers prefer.
Fast action rods are stiffer, and typically only bend toward the tip of the rod. Bass anglers tend to prefer a fast action rod since they are designed for fishing for larger bass using heavier lines and bigger baits.
Rod handles are the last piece of the puzzle when it comes to finding the right rod. Rods can have a cork, foam, or even rubber handle. When selecting your rod, make sure the handle is compatible with the size of your hands.
For beginners, you may want to choose a shorter rod handle. This will reduce your casting distance but will make it easier to handle.
With a longer rod handle the more casting distance you'll have. The more casting distance you'll have, the more area the rod will cover and the more likely you'll be able to catch a big bass fish.
You may see differing information online on whether a particular rod is compatible with a braided fishing line. Most of the rods on this list state that they are braid ready.
However, you'll notice that many of these rods come with stainless steel guides which is the primary point of contention.
Many anglers state that your rod needs to be equipped with ceramic guides in order to use a braided fishing line. This is due to a problem with braided lines being too strong for the stainless steel guides and wearing grooves into them.
It appears that this is historically accurate, however, with newer advances in braid fishing line technology and modifications in rod guide construction this doesn't apply as strictly as it did previously.
The rods on this list that state they are braid ready should work just fine with a braided fishing line.
There are a couple of items though that can help prevent damage to your rod guides when fishing with braided line.
1. Before purchasing braided fishing line try to determine the shape of the line. What you'll find is that some braids are more circular while others are more trapezoidal.
You'll want to choose a braided fishing line that is more circular over the trapezoidal-shaped braids as the latter has edges and will be more likely to cut grooves in your fishing guides.
2. Be mindful of where you're fishing at. Dirty water and saltwater in combination with braided fishing line will be more likely to contribute to grooves in your guides.
This is due to the dirt, grime, salt, etc rubbing across the guide as the line is being retrieved. Since braided fishing line is much stronger than other lines, the force of the particles in the water against the guides will be amplified and thus potentially cause grooving.
Braided fishing line is a great advancement in fishing line technology and should be included in your fishing arsenal. Utilizing these tips will allow you to take full advantage of this great fishing line while also protecting your fishing rods.
When purchasing your rod online, I would recommend looking over your rod very closely after delivery. Make sure you don't see any signs of shipping damage to the rod.
Perform a stress test on the rod by bending it as it would bend after hooking a bass. Look at the reel again for any stress marks or fractures after the stress test.
If you see any signs of damage, contact the seller and request a replacement.
Many large retailer's shipping quality control has gone down the toilet. I have purchased rods and other products that have come in large oversized boxes, with little to no padding or protection.
When purchasing from Amazon, this is the only time I would recommend selecting a seller that's not fulfilled by Amazon's fulfillment centers. The smaller Amazon sellers generally do a much better job at safely packing their products. It may not get to you within 2 days, however, it should arrive in much better condition.
Hopefully, this list of the best bass spinning rods will help you narrow down your selection. Whether you choose a heavy or ultralight rod, each rod on this list was selected for being high-quality spinning gear.
Once you've made your choice, the next step is selecting the right reel for your rod in order to make a great spinning combo. Our number 1 choice of spinning reels is the Shimano Stradic FL. Read more in our article – Top 9 Bass Spinning Reels.
As an Amazon Associate I earn from qualifying purchases.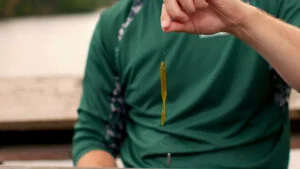 Discover the drop shotting technique, a favorite among professional bass anglers, that presents bait in an irresistible way to bass. Learn the rig setup, gear selection, and advanced strategies to improve your bass fishing skills. Read now!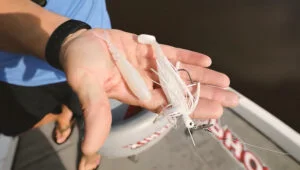 Boost your bass fishing success with chatterbaits – the revolutionary bait that mimics real-life baitfish movements. Learn the versatile techniques and optimal fishing conditions for using chatterbaits to entice bass strikes. Find out how to choose the right gear and tackle for maximum effectiveness. Discover solutions to common challenges and the importance of responsible angling. Read now to elevate your bass fishing strategies with chatterbaits!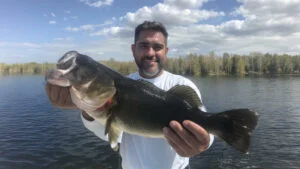 Enhance your angling skills and increase your summer fishing success by understanding bass behavior during the hot summer months. Learn how temperature, light, cover, and forage availability influence bass movements and feeding patterns. Discover the best fishing techniques and lure selection for catching bass in the summer. Read now!