10 Best Spinning Reels for Bass Fishing
Looking for a new spinning reel for bass fishing? We cover the 10 top spinning reels that work perfectly for bass fishing.  Find your perfect reel below!
Why choose a spinning reel for bass fishing?
Spinning reels may not be as popular among tournament bass anglers as baitcasting fishing reels, but that shouldn't deter you from getting one.
Why?
The answer is simple: they're dependable, versatile, affordable, and easy to use!
Spinning reels have a lot of advantages, especially for hobbyists or new bass fishermen. They provide a solid and dependable drag system, they're easy to learn how to use and are often relatively inexpensive.
You can even get some decent models for under $50.
If you are looking for a baitcasting reel, you can check out our list of the top options by clicking here.
Top 10 Best Spinning Reels for Bass
Not quite sure what you're looking for in a spinning reel? Click here to skip below and read more about choosing the best spinning reel for your application.
So what are the best spinning reels for bass fishing? Let's take a look.
Piscifun Alloy X Spinning Reel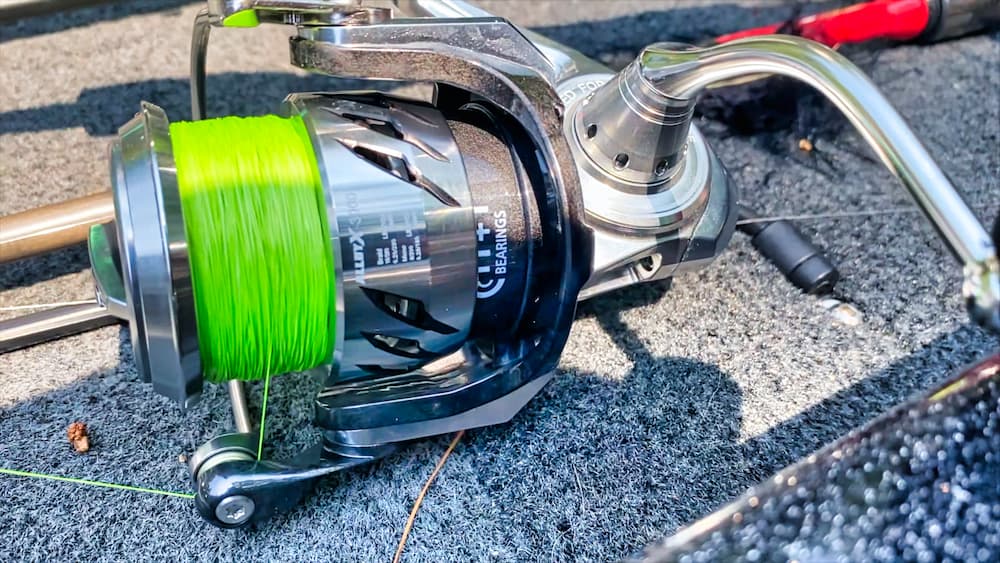 The Surprising Challenger | Rating:
If you're looking for one of the newest and best-performing spinning reels on the market, you'll want to check out the Piscifun Alloy X Spinning Reel.
One of Piscifun's recent additions, the Alloy X has been a surprising breath of fresh air.
The body of the Alloy X is designed using a single piece of aluminum alloy that is precisely shaped through a computer numerical control machine. This design method provides additional room within the body of the reel for larger more robust gear components. This improved engineering is one of the facets that enable this reel to really excel.
Even with this enhanced body design, Piscifun didn't sacrifice the reel's light weight. with the precision of the CNC machining, they were able to remove unnecessary parts that would have otherwise weighed the reel down.
Due to this, they were able to keep the Alloy X weighing in at 8.4 ounces. While not the lightest reel on this list, it's also not the heaviest and the  overall power of the reel definitely makes up for it.
The Alloy X is equipped with a much stronger carbon fiber drag system than any other of our recommended reels. Clocking in at a whopping 26-pound max drag.
The drag system is easy to use, simple to adjust, and performs exceptionally well.
Casting and retrieving on the Alloy X is smooth and free of any problems. The shielded 12 bearings system (11 bearings + anti-reverse bearing) allows incredibly smooth casts and retrieves.
We didn't have any problem getting some major distance on our lures or when bringing them back in. The retrieve is smooth and consistent even with bigger fish on the line.
A nice little feature of the Alloy X was the decision to cast the bail in a one-piece design. We didn't notice this making much of a difference, however, we are fans of reducing parts down as much as possible. Fewer things to potentially break.
During our tests, we tried our best to find the breaking point for this reel, but we couldn't. It held up well even to some massive bass bedded in the roots. It took some diligent work, but they didn't even stand a chance.
While we primarily fish for freshwater bass species, the Alloy X is saltwater rated and has inshore fishing models for the saltwater angler.
To say we've been pleasantly surprised by the Alloy X is an understatement. We're incredibly happy with this reel and believe you will be too.
While the name Piscifun doesn't carry the weight of Shimano or Penn, the quality and performance of the Alloy X proves that the bigger brands shouldn't underestimate Piscifun.
Shop Online for the Piscifun Alloy X
Size: 2000
Gear Ratio: 5.5:1
Mono Line Capacity (yards/lbs): 125/8, 180/6, 240/4
Braid Line Capacity (yards/lbs): 100/15, 180/10, 210/8
Max Drag: 26 lbs
Weight: 8.4 ounces
SHIMANO Stradic FL Spinning Fishing Reel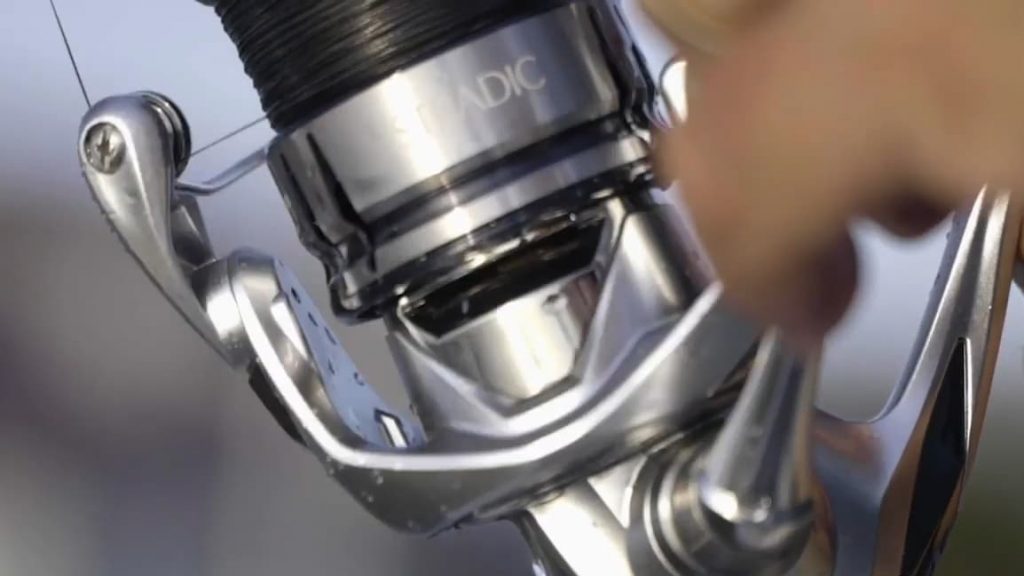 Unstoppable Power | Rating:
The Shimano Stradic FL is a powerful bass fishing reel that just keeps on going. It is Shimano's newer model and a step up in features, performance, and design from the Shimano Stradic FK Spinning Reel.
Its Hagane body is twice as strong as the previous Stradic model, thanks to advances in material and process technology. The new Hagane body is made using Shimano's cold forging process, an advanced casting technology that creates a denser, stronger, and more rigid metal delivering a stronger body build than what was previously possible.
With all this power you would assume that the reel would be incredibly heavy, but the weight for the 2500 is only 7.9 ounces.
The Stradic FL features Shimano's SilentDrive and Dyna-Balance technologies delivering excellent noise and vibration reduction during both the cast and retrieval process. Making this an incredibly smooth reel to use.
The 6.1 shielded ball bearing system, Super Stopper II Anti-Reverse, along with the wide range of settings in the Cross Carbon drag system make this the perfect reel for pulling in the biggest bass while still maintaining a smooth and stable retrieval.
If you're okay with spending a little more on your bass spinning reel, you can't go wrong with the Shimano Stradic FL Spinning Reel.
Shop Online for the Shimano Stradic FL
"This reel is awesome! I bought the Stradic FL for fishing bass and love it. I have mine paired with a 6'5″ spinning rod and it is perfect. I can cast a 1/4 oz jig 20+ yards effortlessly.
I like the size because it fits well in my hands. I bought the 2500 sized reel 6 months ago and have since caught loads of largemouth bass with it.
It cost a lot more money than I had previously spent on a reel, but it has been worth it. The drag system is great and makes it easy fighting even large bass. The reel is really lightweight and easy to use.
I would recommend this reel to anyone willing to spend a little more on their fishing gear."
The recommended size for bass fishing:
Size: 2500
Gear Ratio: 6.0:1
Mono Line Capacity (yards/lbs): 120/10, 140/8, 200/6
Braid Line Capacity (yards/lbs): 100/30, 145/15, 150/10
Max Drag: 20 lbs
Weight: 7.9 ounces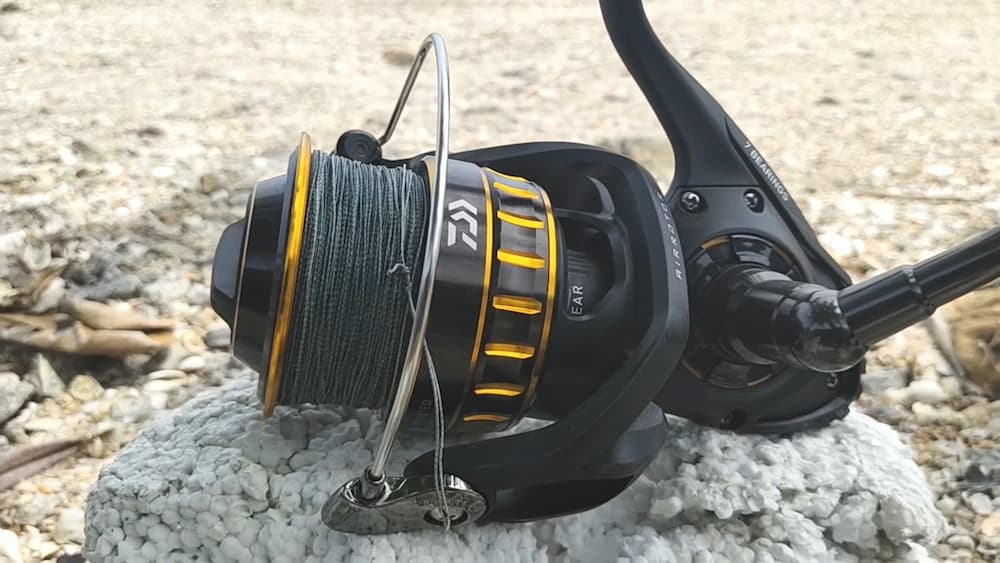 A Solid Performer | Rating:
It's hard to believe the price on the Daiwa BG spinning reel, especially when you're familiar with the quality and the reputation of the Daiwa brand. This is one of the many reasons the BG is such a popular reel among bass anglers.
The BG is built on a Daiwa's Hardbodyz frame, which is a combination of lightweight ABS and Zytel polymers. The result is a very strong and solid reel. The reel is slightly heavier and larger than some of the other reels on this list, however, the durability and functionality of the reel more than makeup for this.
The BG has a 7-bearing Digigear (6+1) ball-bearing system. The Digigear system is typically only found in much higher-end reel models.
The BG has a very smooth retrieve. You may notice some oscillation during your first couple of reels, which is normal. But after just a bit of use, the oscillation will go away.
The reel has a braid-ready dynamic cut spool plus outstanding anti-reverse capabilities.
The BG also includes Daiwa's unique Carbon ATD drag system. Carbon ATD uses carbon washers in the drag system, which is supposed to give you more consistency in the drag system. The drag system works great when you're fighting a larger bass.
The price is amazing for everything you get with this reel, and most bass fishermen agree the Daiwa BG is a durable powerhouse among spinning fishing reels.
The BG is a freshwater or saltwater spinning reel. With larger models designed to handle saltwater fish.
Shop Online for the Daiwa BG
"I have several of the Daiwa BG reels, and they all work fantastic.
I'm an avid bass angler and use them on all of my rods. I have had high-end reels from other companies, but I always come back to the Daiwa BG.
They just work, and they work well. I have never had a problem with the drag, and the anti-reverse is excellent."
The recommended reel size:
Size: 2500
Gear Ratio: 5.6:1
Mono Line Capacity (yards/lbs): 140/10, 170/8, 210/6
Braid Line Capacity (yards/lbs): 120/30, 170/20, 190/15
Max Drag: 13.2 lbs
Weight: 9.3 ounces
Penn Battle Spinning Reel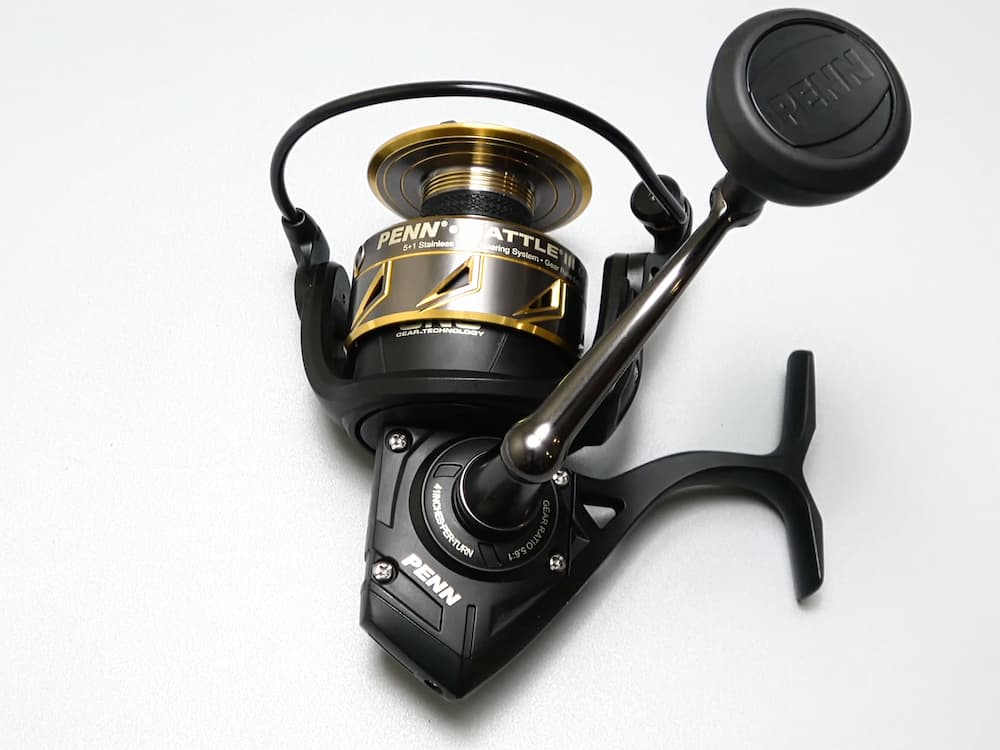 Battle-Tested Performance | Rating:
The Battle is one of Penn's best selling spinning reels. It is one of the most popular mid-range bass spinning reels on the market offering a wide range of sizes.
The Battle's design is based on the original Penn Battle, but they've made some improvements.
If you're a beginner in bass fishing, this is a great reel for you as you'll get some great features and performance without a massive investment.
It has a very smooth HT-100 Versa-Drag washer system to give you a solid drag pressure. The Versa-Drag washers are keyed into the spool, which is different from ordinary reels. The drag is smoother and more consistent with less start-up inertia.
The reel features Penn's Superline Spool equipped with a rubber lining providing braid-ready support without the need for a different line backing.
The Battle comes equipped with 5 stainless steel ball bearings, and an instant anti-reverse bearing, which have been sealed to protect them from water and debris. The instant anti-reverse bearing is a great feature to have when fighting a big fish.
The smaller models are agile enough to handle all of your bass fishing needs, with the larger versions strong enough to handle saltwater fishing.
The Battle is an excellent reel if you are looking for an all-around performer.
Shop Online for the Penn Battle III
"I purchased this reel to replace a Pflueger President spinning reel that had seen better days.
I was looking for a reel that would be a good all around reel for both saltwater and freshwater fishing. This reel has been great so far for me. I've fished with it on multiple bass fishing trips.
I've been using it with a 7'6″ medium action rod and this spinning combo works great together.
The reel is heavier than the Pflueger was, but it doesn't feel too heavy and is well balanced. I also like that it has a higher gear ratio than other reels I was researching.
The drag system is also great, I've been able to reel in some big bass fish without any problems. I'm really happy with this reel and would recommend it to others."
The recommended spinning reel size:
Size: 2000
Gear Ratio: 6.2:1
Mono Line Capacity (yards/lbs): 240/4; 180/6; 125/8
Braid Line Capacity (yards/lbs): 210/8; 180/10; 165/15
Max Drag: 10 lbs
Weight: 9.8 ounces
Daiwa SS Tournament Spinning Reel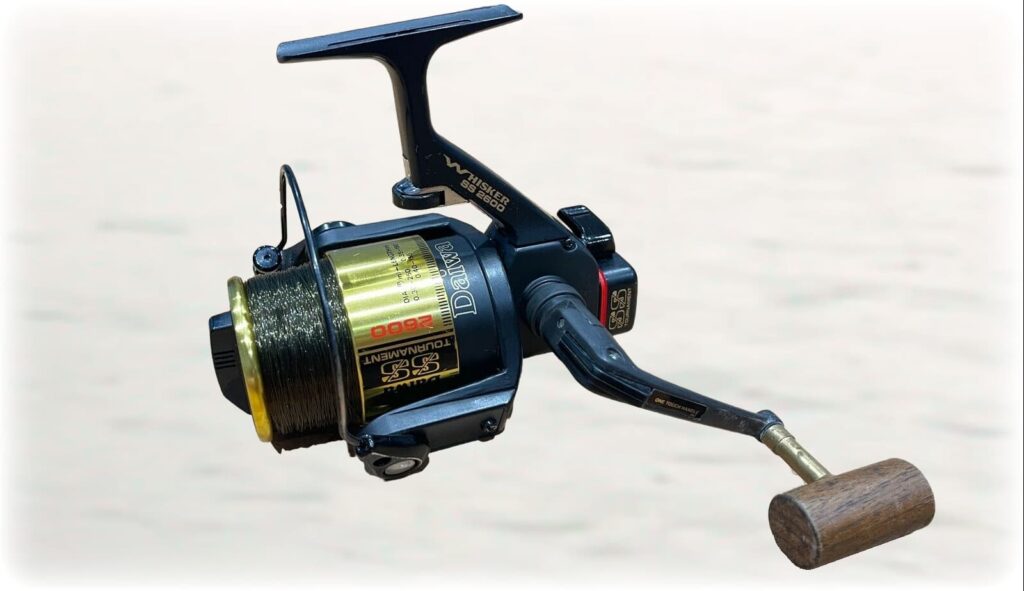 The Long-Lasting Classic | Rating:
The Daiwa Tournament SS Spinning Reel is an iconic bass fishing reel. It has been around for what seems like forever and has gone mostly unchanged in the last 30 years. Though, they have added some upgrades in the last few years.
It was once one of the most popular spinning reels, though in recent years its popularity has dwindled as more modern reels have hit the market.
The Tournament SS is a powerful spinning reel with a legendary drag system. The Tournament SS has a very smooth retrieval which makes the reel a pleasure to use for a long day on the water.
The Tournament SS is a long-casting spinning reel and you can get some great distance on your casts. This makes the reel ideal for offshore fishing.
The Tournament SS is very durable. The body has a nice solid feel that you don't get in many of the more modern reel designs.
The spool on this ultralight spinning reel is built with aerospace-grade aluminum that helps lighten the reel a bit while still maintaining strength.
It's equipped with a 3 stainless steel bearing system, that despite the lower number than other modern reels, delivers a surprisingly fluid experience.
The Tournament SS is primarily a freshwater reel, but it can handle light saltwater exposure.
It features an extra-large bail wire that closes every time after a cast without fail. As well as an infinite anti-reverse system.
Overall, the Daiwa SS Tournament Spinning Reel is a reliable classic that fits the saying, "They don't make them like they used to."
If you're not interested in all of the bells and whistles of the newer reels and just want something that's going to last you for years to come then this is the reel for you.
Shop Online for the Daiwa SS
"I have used these Daiwa Tournament SS reels for years, and I still love them. I have two of them, one for my primary and a backup.
I have had some reels that I have had to replace in a year, but my oldest Tournament SS reel is about 15 years old and it still works well.
They don't have all of the bells and whistles of some of the newer reels, but it is no big deal. They are very well made and durable. I have abused them and they still work great.
I would recommend this reel to anyone who wants a reel that will last a long time."
The recommended bass reel:
Size: SS700
Gear: 4.9:1
Mono Line Capacity (yards/lbs): 145/4, 110/6, 75/8
Max Drag: 8.8 lbs
Weight: 7 ounces
Pflueger Supreme Spinning Reel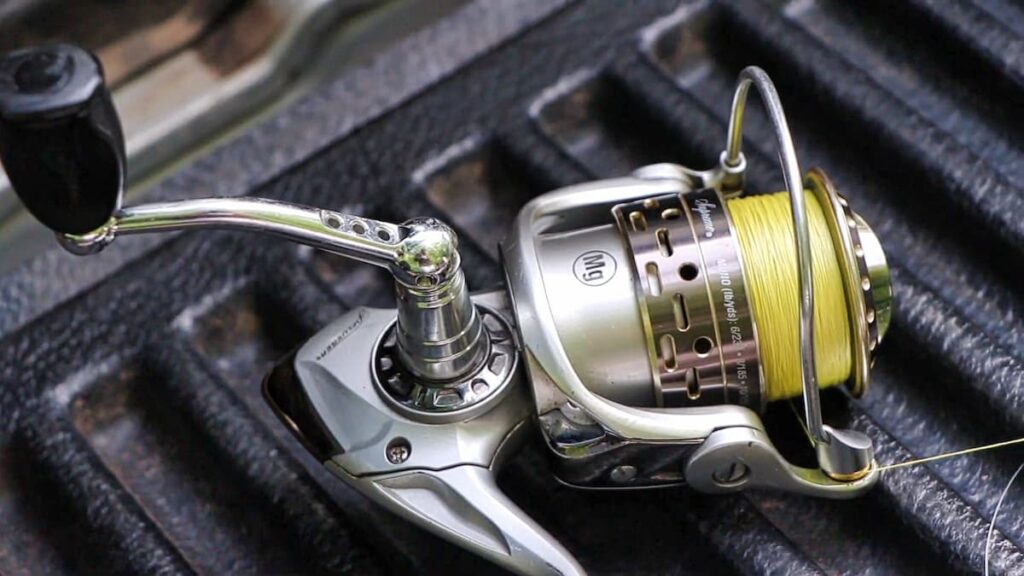 Good All Around Spinning Reel | Rating:
Pflueger Supreme spinning reels are noted for their ultra-low weight. The Supreme series reels are the lightest in the Supreme line, models starting at 6.6 ounces.
With a machined aluminum spool and a magnesium body, rotor, and side plates, it's easy to see where all the weight savings went. Magnesium, a lightweight metal that is much lighter than aluminum but just as strong.
The quality doesn't stop at the materials though, the machining of the reel is very precise and the welds are very clean.
The reel has an instant anti-reverse bearing. This means that you don't have to push a button to release the tension on your line. All you have to do is reel in, and it will release it for you. It's a much more convenient system.
The braid-ready aluminum spool is machined and ported to provide enough space in the spool for braid to lay properly. The spool has an anodized coating, which helps to prevent corrosion. It looks great too.
The Supreme also has a line roller made of titanium, which helps reduce the chance of line twist and makes your line lay out smoothly when reeling and casting.
The low profile bail wire has a sure-click system. This makes the bail open and close with a distinct "click". This means that you'll know when your bail is fully open, which is very important for avoiding backlashes.
When you start to reel, the resistance feels very smooth. This is thanks to the eight shielded stainless steel ball bearings and the instant anti-reverse bearing.
There is a soft EVA knob on the handle. This provides a comfortable yet durable grip. The handle has a lot of great ergonomic features. It features a large foregrip, which makes it easy to grip when you're fighting a strong trophy fish.
Finally, Pflueger designed this reel to be a real workhorse. They made it up to the task of handling just about any kind of fishing condition. The carbon-inlay drag sets it apart from other reels, and it performs beautifully.
With the Supreme's heavy-duty construction and powerful drag system, you can be certain that you'll be ready for any type of bass fishing you're wanting to do.
Shop Online for the Pflueger Supreme
"I have used the Supreme spinning reel for a few years now and could not be more satisfied. I have had some friends who have had problems with theirs, but I have had zero problems with the reel and it has served me very well.
I use the Supreme for any type of fishing. I have caught many different fish from bass, to walleye, to catfish, to salmon.
This is a great reel for the price and I would buy it again in a heartbeat."
The recommended size spinning reel:
Size: 30X
Gear Ratio: 6.2:1
Mono Line Capacity (yards/lbs): 255/4, 145/6, 130/8
Braid Line Capacity (yards/lbs): 275/6, 190/8, 160/10
Max Drag: 10 lbs
Weight: 7.5 ounces
Lew's Mach Crush Speed Spin Spinning Reel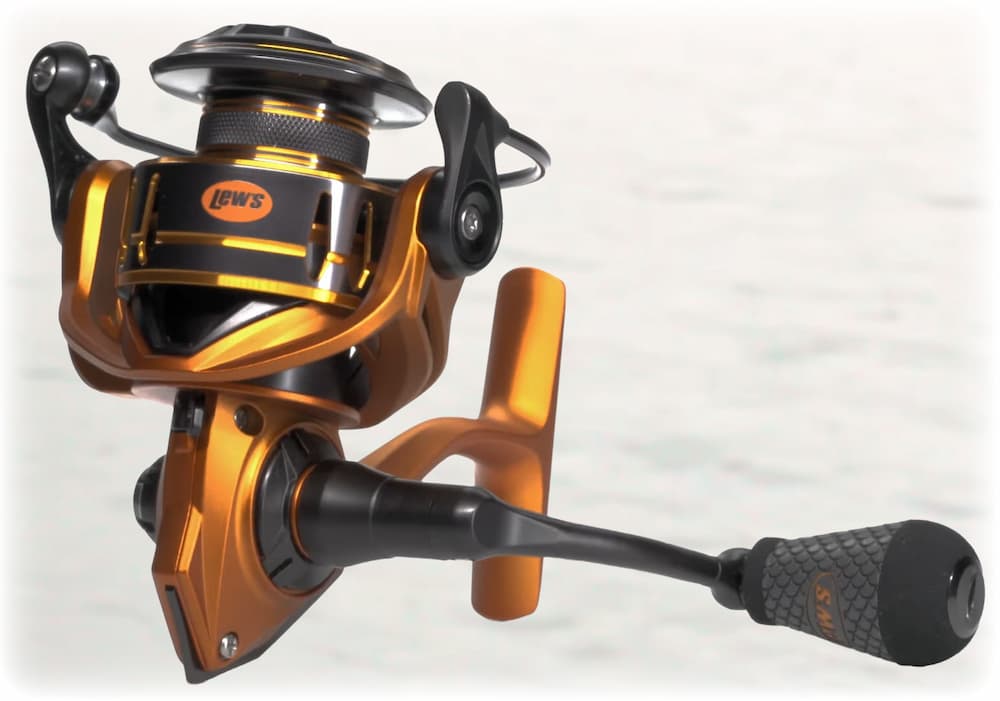 High Strength to Weight Ratio | Rating:
The Lew's Mach Crush spinning reel is a high-quality reel with a lightweight skeletal rotor made out of c40 carbon and a 6-disc carbon built drag system which is strong enough to endure the rigors of catching large bass.
The Mach Crush is a lightweight spinning reel, but the body and rotor are built with a high strength to weight ratio, which is great for when you're casting a lot of line.
The Mach Crush has 11-bearings built into the reel, which is more bearings than most other reels.
The reel has a directional clutch bearing in the Zero-Reverse system, which helps the reel continue spinning smoothly when you are fighting a fish. You don't have to worry about the reel freezing up on you when reeling in a larger bass.
The Mach Crush has an S curve oscillation system, which allows the spool to spin smoothly for a perfect payout for every cast.
The machined aluminum spool allows for smooth spooling of the line. The spool has a chamfered knurled edge, which provides a great non-slip feel in your hand.
The machined aluminum reel handle is lightweight but comfortable. The side plates are made out of aluminum and have a nice machined finish.
The spool is also removable on this reel, which allows for easy cleaning.
If you want a lightweight bass fishing reel, then the Mach Crush is a great option.
Shop Online for the Lews Mach Crush
"I was looking for a good spinning reel for use while bass fishing. I wanted a reel that could handle 10-12 lb test line. I did a lot of research and the Mach Crush Speed Spin reel met all my requirements.
It's a very smooth reel with a great drag system. I have caught bass up to 7 pounds with it and it's performed great. It casts very well and is very smooth. I love the oversized crank handle which allows me to crank up fish a lot faster than other reels.
I have used this reel on bass and crappie and it has performed flawlessly. I am very pleased with this reel."
The recommended spinning gear size:
Size: MCR200A
Gear Ratio: 6.2:1
Mono Line Capacity (yards/lbs): 120/8
Braid Line Capacity (yards/lbs): 120/30
Max Drag: 14 lbs
Weight: 8.4 ounces
Penn Pursuit III Spinning Fishing Reel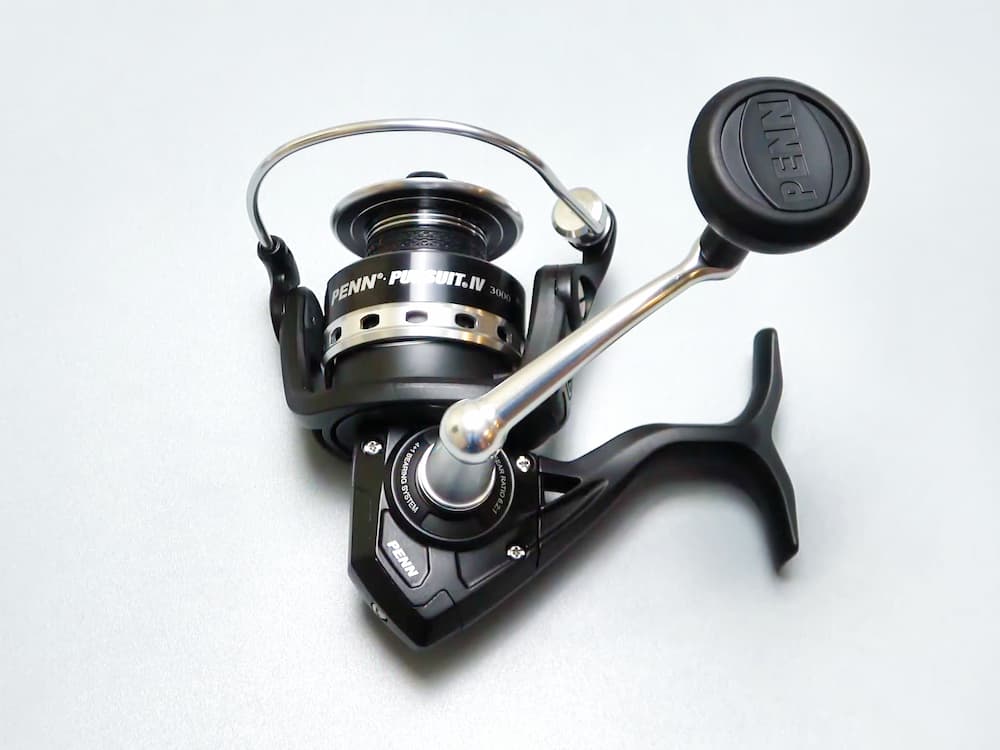 Affordable and Dependable | Rating:
Penn's Pursuit III is one of the most affordable bass fishing reels on the market, and you would never guess it from the quality of these reels.
The reel was designed to bring quality and functionality to the entry-level category without a lot of complicated features.
Penn has been known for years as a leading bass fishing reel manufacturer and has developed a reputation for quality and dependability.
At an entry-level price, you might expect a lower quality reel. The reality is that the Pursuit III is a powerful and durable reel to help you catch some of the most impressive bass. This is why it is a favorite among beginner bass fishing enthusiasts.
The Pursuit III has a corrosion-resistant graphite body and an ergonomic handle for easy handling.
This Penn reel includes 4 shielded stainless-steel ball bearings that ensure a smooth operation and an Instant Anti-Reverse bearing to eliminate back play.
The reel also has a removable anodized aluminum spool making it a bit easier to clean and maintain.
It is equipped with line capacity rings that let you know how much line you have out and how much line is left on the spool.
The reel has a very dependable HT-100 carbon fiber drag system that is designed to battle the abuse from large bass.
This Penn spinning reel is perfect for the beginner because it's easy to use and affordable. If you're looking for a beginner level spinning reel, this is it.
Shop Online for the Penn Pursuit
"I was on the fence about this reel for awhile because I'm not a big Penn fan. But I ended up buying a Pursuit III 2500 spinning reel last year and it has been great.
I've caught many bass with it – up to 9 lbs. It is smooth, sturdy, and does not feel like it will break.
It is still in great condition after a full year of use and I'm looking forward to using it for many more years to come."
The recommended size for a bass fisherman:
Size: 2500
Gear Ratio: 6.2:1
Mono Line Capacity (yards/lbs): 255/6, 175/8, 140/10
Braid Line Capacity (yards/lbs): 240/10, 220/15, 160/20
Max Drag: 10 lbs
Weight: 9.8 ounces
SHIMANO Sienna Spinning Fishing Reel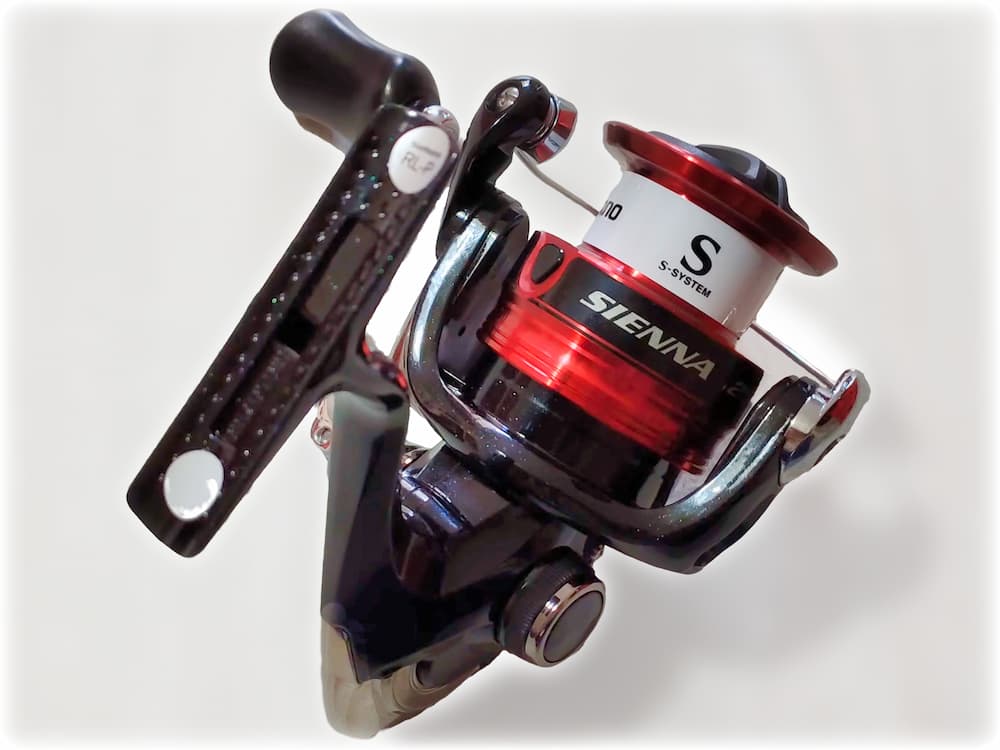 Most Affordable Reel | Rating:
When designing the Siena Spinning Reel, Shimano made a reel specifically for the hobbyist bass fisherman.
The best feature of this reel is its price. However, that doesn't mean you are getting a subpar reel for the price. Sienna is a well-balanced and well-built reel that just happens to be affordable.
It's very versatile and should meet the needs of most hobbyist anglers.
Compared to similarly priced reels, this Shimano spinning reel is an absolute steal. It's well balanced and has a solid drag system.
The Sienna incorporates Shimano's Propulsion Line Management System. This system is designed to make it easier to cast and helps to prevent the line from twisting while coming off. It is great for longer casts and reducing line twist, especially in windy conditions. It also helps with accuracy. The line management system is not the strongest in the industry, but it's still better than not having it.
The Sienna is equipped with 3+1 bearings featuring the Super Stopper II system, Shimano's push of the button anti-reverse system.
The rotor has little to no back play or wobble and it feels fairly smooth when casting and reeling.
It's not the best spinning reel on this list but is an excellent choice for any bass angler who wants a good quality spinning reel on a budget.
Shop Online for the Shimano Sienna
"I can't say enough good things about this reel. I mainly use it for bass fishing in my backyard lake but have also used it for trout fishing. I had a big fish hooked last week and it didn't even phase it.
The reel is affordable and the drag set is perfect for the kind of fishing I do. I also purchased one for my son who is new to fishing.
The drag and clicker sound are really strong, they're not as quiet as I would like but they are a bit of a trade-off for the great price. I recommend this to those looking for something attractive and durable yet won't break the bank!"
The recommended size for bass freshwater fishing:
Size: SN2000FGC
Gear Ratio: 5.0:1
Mono Line Capacity (yards/lbs): 165/6, 105/8, 95/10
Braid Line Capacity (yards/lbs): 140/10, 115/15, 95/20
Max Drag: 9 lbs
Weight: 8.8 ounces
Okuma Ceymar Spinning Reel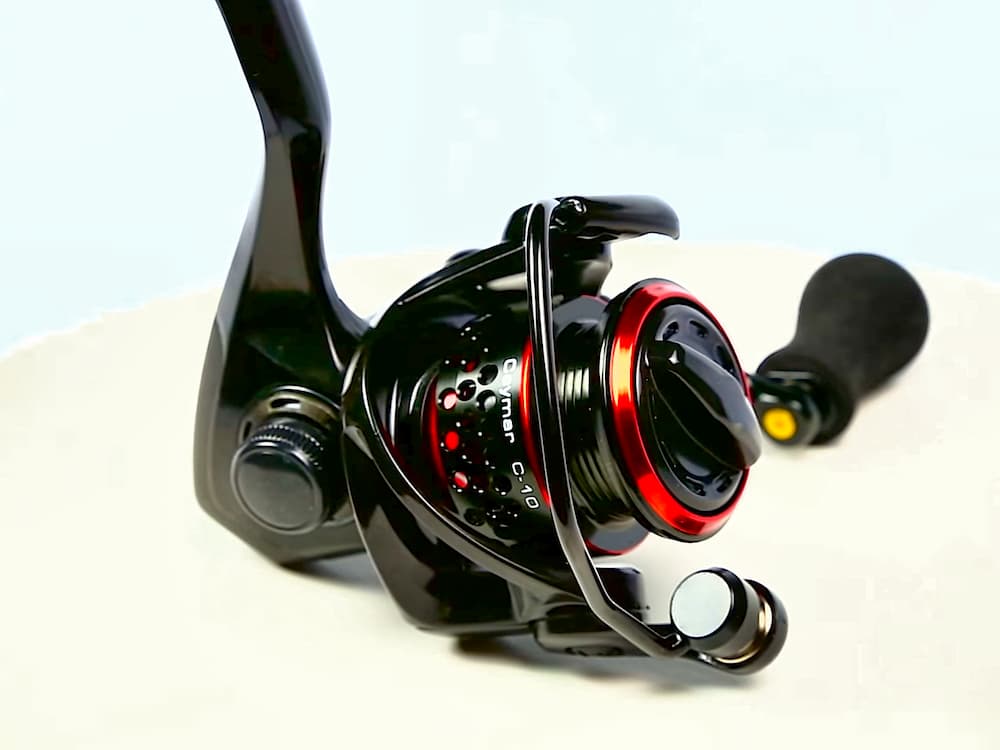 Affordable Performance | Rating:
The Okuma Ceymar Spinning Reel is another solid performer on a budget.
The Ceymar has a smooth and precise feel.
The reel is designed with a fluid 8-bearing (7 BB + 1RB) drive system to ensure smooth and even casting.
It offers an abundant line-up of performance features, including the advanced Okuma precision elliptical gearing, which allows increased cast distance and accuracy.
The oiled felt, multi-disc drag system is dependable and can be adjusted to your liking.
The forged zinc handle arm has a good grip and the custom EVA handle knobs are very comfortable.
The enlarged line roller and firm aluminum bail wire are sure to deliver confidence under all conditions.
The Ceymar's machined aluminum spool is much stronger than the plastic ones used in other models in this price range.
A computer-balanced rotor system by Okuma allows the rotor not to wobble even at high speeds.
A well-made spinning reel, the Okuma Ceymar is a great choice for anyone looking for a budget-friendly, quality bass reel.
Shop Online for the Okuma Ceymar
"So I've been fishing for about 5 years and have never been able to find a reel that is smooth and light like I want. I always go with Shimano but I wanted to try a new brand. The Ceymar was my first Okuma.
I researched it and it seemed like a great reel for the price. When I got it, I had mixed feelings. It was smaller than what I was expecting but it turns out that it is perfect for a small diameter line like I was looking for.
I've been using it for a while now and it works great!"
The recommended size spinning reel for bass:
Size: C-30
Gear Ratio: 5.0:1
Mono Line Capacity (yards/lbs): 185/6, 145/8
Max Drag: 13 lbs
Weight: 8.2 ounces
What to look for in the best bass spinning reel
If you're new to bass fishing, it's important to know what to look for when selecting a spinning reel. In the following section, we cover the most important items to consider before making your purchase.
The best spinning reels have been built with precision, using high-quality materials and components. You will be out in the elements, fishing in various conditions. You'll want a durable reel that will provide you with years of dependable use.
Most spinning reels will be constructed out of aluminum alloy or graphite composite. Both of these materials have their advantages and disadvantages.
Aluminum alloy is lightweight, long-lasting, and corrosion-resistant. It is the material that most manufacturers use.
Graphite composite is generally lighter and cheaper than aluminum, but is very strong. It is not as corrosion resistant as aluminum, but it is more resistant to impact.
Either material makes a great spinning reel, just be mindful of the material and take any necessary protective measures to preserve the longevity of the reel. 
A big example of this will be the type of water you're going to be fishing in. If you're going to be fishing in saltwater, make sure you get a saltwater reel.  If you're only going to be fishing in fresh, then a freshwater spinning reel will be just fine.
It's important to keep in mind the weight of your spinning reel.
While a few ounces may not seem like much. When you're actively casting and reeling in your line the repetitive motion can make your "light" reel feel quite heavy.
If your budget will allow, it's better to get reels for specific fishing purposes rather than a single larger "general purpose" reel for all occasions.
This will allow you to size your reels appropriately to the type of fishing you're wanting to do with them.
When considering the size of the reel there are a few things to keep in mind.
First, make sure you're getting the right size reel for the type of fishing you're wanting to do. If you're planning on mostly fishing for 5 lbs fish, there's no point in purchasing a reel designed for 20 pounders.
Next, make sure you match the size of the reel with the bass fishing rod you're going to be using. You want a balanced reel combo. An out of balance reel to spinning rod ratio will make casting and using your rig difficult and awkward.
Lastly, consider the type of fishing line you're going to be using and make sure your reel's spool is able to hold enough of it. Some reel models have larger spools and can hold more line.
The spinning gear ratio of a spinning reel refers to the number of times the spool rotates for every turn of the handle. It is represented by a set of numbers like 5.1:1 or 6.2:1.
The higher the number, the faster the spool and the more times it spins for every handle rotation.
For hobbyist anglers, you'll be fine with either a 5:1 or 6:1 gear ratio.
For those looking to be more specific, the gear ratio will depend on the type of baits and lures you'll be using.
The 5:1 gear ratio reels are considered slow reels. These will allow your lures to sink deeper while you're reeling them in. The 5:1 gear ratio will work best with lures like crankbaits that need to be allowed to sink lower toward the water floor.
The 6:1 gear ratio reels are considered medium reels. Since these rotate faster, they will generally keep your lure toward the surface of the water. The 6:1 gear ratio will work best with spinning tackle and lures that need to stay near the surface of the water like jerkbait, spinnerbait, topwaters, swimming jigs, and other surface lures.
The 7:1 gear ratio is considered a fast reel. Typically these reels will be too fast for most bass lures. However, they do have their place in bass fishing in specific circumstances. Particularly any strategy where you need to bring in your line quickly like worming.
Some spinning reels go above and beyond the standard few ball-bearings that you see in some spinning reels.
These higher-end spinning reels will have multiple bearings in their drive system, which will reduce the amount of friction on the spool and make your reel's ability to cast and retrieve more fluid and effortless.
The drag system is the portion of the reel that allows you to adjust the resistance of the line against the rotation of the reel spool.
You need to choose the right drag system that can handle the size and speed of your fish. The drag system is one of the most important mechanisms of the reel.
Drag systems are usually adjustable, so you get to make fine adjustments to the type of drag you need to apply to your fish. Get the right drag for your line type and you will prevent fish from breaking your line. A poor drag system can result in lost fish.
The Anti-Reverse mechanism prevents your reel from turning backward while your lure is still out. This is critical to stopping the reel from tangling with the line as it is being reeled in. Pay attention to the reel you're looking at, as some may include an "always-on" anti-reverse, while others have an on/off switch.
When shopping for the best bass spinning reel it's important to first take a moment to determine your budget and the type of bass fishing you're going to be doing.
All of the reels on this list are high-quality contenders, with each having its appropriate application. By taking a moment to determine the bass rod and lures you're going to be using with the reel, you can narrow down which of the spinning reels you'll want to purchase.
The right spinning reel can last you for years and make your bass fishing experience truly enjoyable. 
As an Amazon Associate I earn from qualifying purchases.
Instant Access To Our Private Selection...
We love sharing our expertise with others, but some times there's information and special deals we can't share openly. If you're looking for a little advantage out on the water sign up today and get instant access to our private selection of 10 lures we don't publicly share.
Looking for an affordable and reliable reel? Look no further than the 13 Fishing Kalon C Spinning Reel! With Ultimate Cut aluminum drive gear, GLIDE oscillation system, and a maximum drag of 14 pounds, this reel offers powerful performance and smooth drag when battling big fish.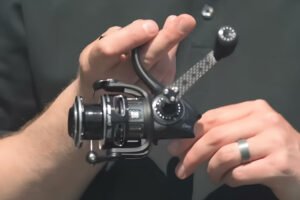 Experience the durability and performance of Abu Garcia's Revo MGX Spinning Reel! Featuring 11-bearing system, Carbon Matrix drag system, Everlast bail system, and Slow Oscillation for precise gear feel and even line lay. Check out our full review to see if this feature packed reel is worth the premium price tag.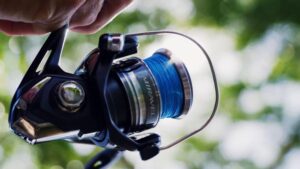 Discover why the Shimano Miravel Spinning Reel is one of our top recommendations. Featuring a G-Free Body, CI4+, Cross Carbon Drag and CoreProtect, this reel offers superior performance and durability for freshwater fishing. Read our full review.