Shimano Stradic FL Review
The Shimano Stradic FL spinning reel is a workhorse that holds up well to abuse and consistently reels in bass for us. The Stradic FL is one of our favorite reels and we think it could be your too. If you're looking for a new spinning reel, do your self a favor and check the Stradic FL out.
Shimano Stradic FL Fishing Reel Review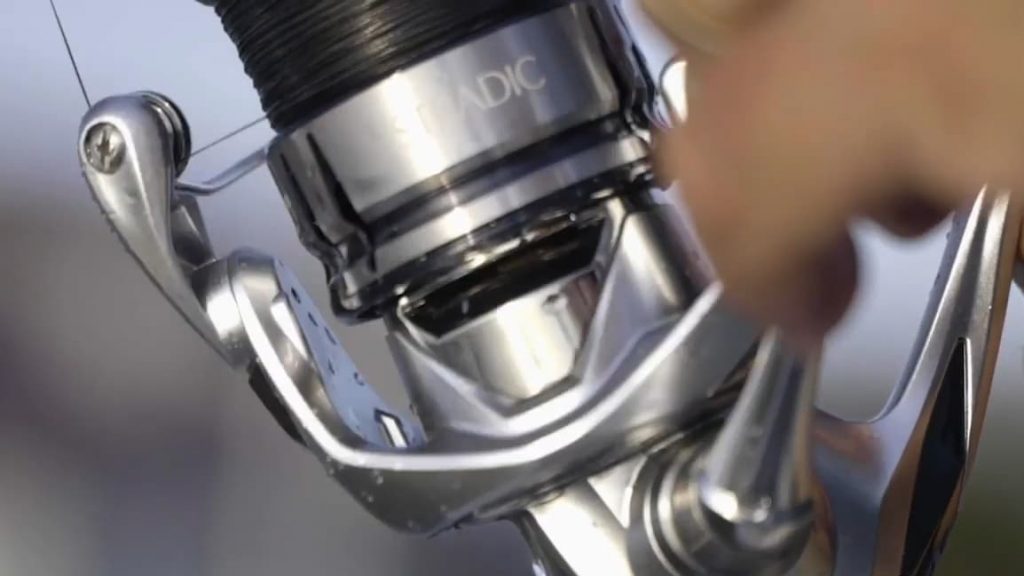 We love fishing! It's a great pastime and for some so much more than that. If you're looking to take your fishing game to the next level, then you'll likely need to upgrade some of your equipment.
Your fishing reel is one of the most important factors in your rig. Without the proper fishing reel, you're going to have a hard time landing those trophy bass.
With so many reels out there to choose from though, finding the right one can be extremely difficult, but once you've gotten the right reel it will be well worth it.
If it's in your budget range, a reel that should definitely be on your short list is the Shimano Stradic FL.
This reel is packed with fishing catching features and is a great reel for bass anglers.
Shop Online for the Shimano Stradic FL
About the Shimano Stradic FL Fishing Reel
The Shimano Stradic FL is a newer reel that's an upgrade in the Stradic series. This reel is a product of continuous innovation, and it really shows. The reel features Shimano's MicroModule Gear II, giving you optimal rotational smoothness and strong power transfer.
The Stradic FL is one of the strongest models Shimano has to offer, making it particularly good for bass fishing. It weighs surprisingly little for the amount of power it has, which makes it great for anglers who are looking for something that's not too heavy.
Shimano's X-Protect water-repellent coating, as well as its specially designed labyrinth construction, ensures the reel performs at its best for a lifetime of use by preventing water penetration in important areas of the reel.
The Stradic FL packs in a lot of great technology that makes this Shimano reel well worth the going price.
In this review we'll be going over the Stradic FL 2500 sized model. We feel that this size provides the right balance between the weight and power ratio for the bass fishing we like to do.
The Stradic FL offers a number of features and benefits that aren't offered with many other fishing reels. These features make the Stradic FL a unique purchase for anglers looking for a great reel.
To start, the Stradic FL 2500 has a durability that makes it optimal for almost any fishing scenario. No matter the size or species of fish, they offer multiple sized models that will gets the job done nicely.
Secondly, its MicroModule II cold forged gear gives anglers smoothness and power transfer that few other reels can give you. Its silent drive technology help to tune the reel's internal components to the highest tolerances possible.
The beauty of the Stradic FL is Shimano's incorporation of the best features and lesson's learned from past models like the Shimano Stradic CI4, Stradic FJ, and Stradic FK models. From drag washer to line roller, Shimano has designed a reel that really stands out in a good way!
Some of the technologies that the Stradic FL has carried forward from its predecessor include the Hagane Body, Hagane Gear, X-Ship, G-Free Body, and SA-RB bearings.
The Hagane Body is the metal body of the reel. It has high rigidity, good stiffness, and strong impact resistance, all of which help to eliminate body flexing. All of these factors working in harmony transform your actions into pure cranking power.
What makes the Hagane Body even better is that its weight is less than that of previous models. Additionally, warp and distortion have been disposed of, allowing for smooth reeling with virtually no power loss whatsoever.
The Hagane Gear is arguably the most crucial part of the Shimano Stradic FL reel. With exceptional durability and strength, long-lasting smoothness that comes with using the reel is guaranteed.
Absolutely no cutting work is applied to the teeth of the drive gear, which is partly what makes its smooth feel last for so long.
The entire surface of the fishing gear is calculated in immense detail by using sophisticated three-dimensional design. It's then formed by Shimano's very own cold forging technology, resulting in fantastic performance and durability.
The X-ship is put in place to help improve gear durability. It supports the pinion gear on both ends, which works to maintain exact alignment with the drive gear. This ensures the gears will stay in the exact same position with heavy loads.
Another benefit to the X-ship that isn't always immediately apparent is the elimination of friction that would otherwise be created between the gear and spool shaft. This makes for improved performance with lighter lures and allows for longer casting distance.
The G-Free Body is a technology aimed at shifting the reel's center of gravity closer to the rod. This reduces the effort you have to put in while casting, which makes spending the day fishing a lot easier!
The SA-RB bearings are much like Shimano's A-RB bearings, but include shields on both sides of the bearings that greatly reduce the likelihood of sand or salt getting in the way of the bearings' proper rotation.
The added protection became noticeable after multiple uses of the reel. We didn't notice any grinding or friction that we occasionally notice after multiple uses of other reel models when debris gets into the reel and causes the bearing's rotation to slowdown.
Shimano's X-Protect water repellent coating and water channel labyrinth construction help to prevent water intrusion, which not only protects the reel as a whole, but also ensures the prevention of any rotational resistance.
This is particularly important because so much of a fishing reel's performance is measured in how easy it is to actually retrieve fish. Many other reels fall short because of a lack of this feature.
Another reason the Stradic FL is such a strong reel is that it's equipped with the heavy-duty Cross Carbon Drag System. The Stradic FL's drag system works phenomenally.
It's easy to use and handles well under the pressure of some really big fish we've been able to pull in. So far, we haven't had any issues with the Stradic FL's drag system.
The introduction of the Long Stroke Spool for the FL 2500 enhances casting capabilities, which creates a huge array of advantages for real fishing scenarios.
It works by decreasing the frequency in which your line shifts direction while coming off of the spool.
This allows the line to go through the guides with less turbulence, resulting in longer, smoother casts.
The Shimano Stradic FL is one of our favorite spinning reels and the overall feedback we've gotten from others is extremely positive.
Some of the best things the Stradic FL has going for it are:
Smooth action
Impressive durability
Lightweight
Good sized spool
Great technology integration
Some of the negative things we've heard about this Shimano fishing reel, though we haven't personally experienced:
Having to re-grease the drag washers often
Difficulty reversing the reel direction
Not being intuitive out of the box and lacking clear instructions
Is there a set hand orientation with the reel?
The reel can easily be switched to right or left-hand orientation. The handle simply needs to be moved to the other side of the reel.
Does the Shimano Stradic FL work in saltwater or freshwater?
Yes, the Stradic FL spinning reel is a salt or freshwater fishing reel. 
In fact, it even won ICAST 2019 Best Saltwater Reel!
If you're going to be using it for saltwater fishing, we would recommend getting a larger size than the 2500 model we reviewed in this article.
The reel is made in Malaysia.
Is there a significant difference between the different Stradic FL sizes?
There are differences due to size and reel capability such as size, weight, line capacity, gear ratio, etc. But the technology of the reel itself is the same throughout the different sizes.
Does the handle screw into the body of the reel or is it secured by a cap on the other side of the reel?
It screws right into the body of the reel.
What does "FL" stand for?
Answer: "F" stands for front drag, and "L" is the current model of the reel.
What would be a good fishing rod to go with this model of Stradic reel?
The best rod will depend greatly on the type of fishing you're going to be using the Stradic FL for and what type of fishing tackle you'll be using.
To learn more about pairing your reel with a rod, we recommend checking out our article on the best spinning rods available. We cover the top 10 spinning rods on the market as well as go over information on choosing the right rod for your fishing type.
Is the Stradic FL offered in a baitcasting reel version?
No, the Stradic FL is a Shimano spinning reel only. If you're looking for a good baitcaster reel, check out our list of the Top 9 Bass Baitcasters.
The Shimano Stradic FL 2500 fishing reel is a great fishing reel and one of our favorite spinning reels. It features many impressive technologies, which make fishing with it satisfying whether you're an experienced angler or a beginner.
It is more expensive than some of our other top bass spinning reel recommendations, however, we feel it's well worth it.
If you're looking for a new fishing reel, we definitely recommend checking this model out!
Shop Online for the Shimano Stradic FL
As an Amazon Associate I earn from qualifying purchases.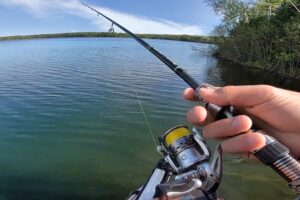 Pflueger has a habit of providing anglers with quality value at seemingly impossible prices. The Pflueger Supreme is no exception. Value priced, this amazingly light spinning reel features a premium magnesium body and rotor that are typically reserved for much more expensive reels. While this does seem like an amazing value, is the Supreme everything it's cracked up to be? Read our full review here.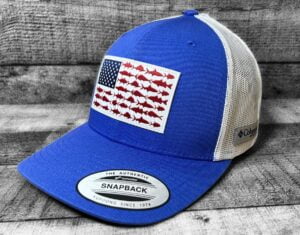 The Columbia PFG Mesh Snap Back Fish Flag Ball Cap is a great choice for anglers and those who love the outdoors. It's a good looking, comfortable, and breathable hat that's perfect for hot weather. The mesh back keeps your head cool, and the adjustable snapback ensures a perfect fit. Read our full review.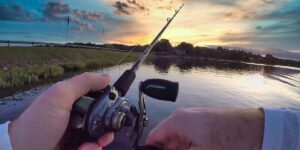 The Pflueger President XT is a good reel for the price, and is worth checking out. It has some nice features like a micro click spool tension adjustment, ergonomic palm shape, and a high number of ball bearings. While it is missing some features we'd like to see, it's still a very capable reel that's worth taking a look at.