11 Best Fillet Knives For Fresh & Saltwater Fish
The fillet knife is an important tool to have on hand if you plan on eating what you catch, but not all fillet knives are created equal. We've compiled a list of the top 10 fillet knives of 2023.
Selecting the Best Fillet Knife
If you ever plan on eating what you catch, a fillet knife is an important tool to have on hand. You can use it to cut meat, fish, and other food items with precision and ease.
A good quality fillet knife will last you for years; it's worth investing in one that feels comfortable in your hand and is the right size for your needs.
There are various knives available today, all claiming to be the best option for any given task, so how do you know which one to choose?
There are a number of things to consider before purchasing a fillet knife. To learn more, click here to jump ahead and read about these considerations.
If you're just looking for the best recommendations that are currently on the market just continue below.
We've put together a list of the best 11 fillet knives you can get your hands on. Covering all price ranges, there's a model that'll work great for you!
Gerber Controller Fillet Knife

Proudly engineered and designed in the USA, the Gerber Controller Fillet Knife is the perfect knife for handling any fish cleaning job.
The 8″ blade is made of 9Cr steel which is tough, resistant to corrosion, and maintains a sharp edge. The blade has a mirror polished finish which adds an additional layer of protection to the blade as well as makes cleaning as simple as wiping it off.
The Controller has an ergonomic handle that is contoured to fit your hand well and provides a great deal of control over the knife. The handle utilizes Gerber's special HydroTread Grip which brings better transaction to the handle, especially in wet and fishy conditions.
The Controller comes with a well ventilated plastic sheath that has a built-in sharpener.
The Controller is well-designed for clean, smooth cuts due to its sharp flexible blade. The blade is long enough to easily handle bigger fish. It easily slices through meat while providing the perfect amount of give to contour nicely to avoid waste.
If you're in the market for a new knife, the Gerber Controller is one of the best fillet knives currently on the market.
Shop Online for the Gerber Controller Fillet
Gerber Controller Folding Fillet Knife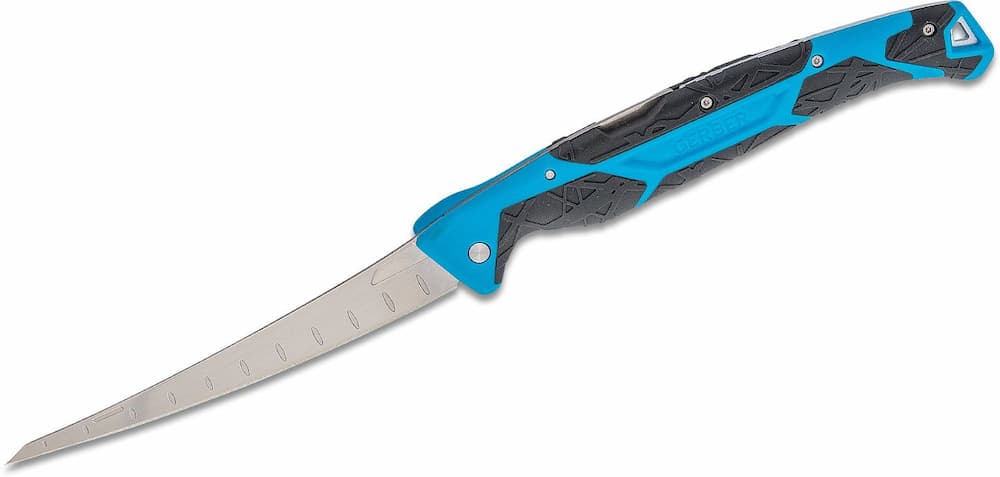 Gerber also offers the Controller as a folding knife.
While the folding fillet is more compact, it's likely a little too big to be considered a pocket knife. However, it has exceptional fish filleting performance when you're on the go and would fit easily into your existing go bag or tackle box.
Overall, the folding Controller is a good fillet knife, with a sharp blade and grippy handle that provides the same type of performance as the fixed blade version. Just in a more compact design.
If you're looking for an ultra portable knife that still provides effortless filleting, the Gerber Controller Folding Fillet is where it's at.
It has acquired a permanent home with our fishing gear.
Shop Online for the Gerber Controller Folding Fillet
Bubba Blade Tapered Flex Fillet Knife
The Bubba Blade Tapered Flex is one of the best fillet knives around. The blade is tapered, which makes filleting even easier, while the patented non-slip grip handle and finger and thumb pads give you complete control.
The Tapered Flex is made with an 8Cr13MoV stainless steel curved blade. 8Cr13MoV is composed of a high-carbon stainless steel that incorporates incredible strength with a beautiful flex that you won't find in many other fillet knives.
This non-stick Teflon & titanium bonded blade allows for clean, worry-free filleting while maintaining a sharp edge. This Bubba knife is hand sharpened after manufacturing with a sharp edge that provides smooth and clean.
The handle on the Tapered Flex is made with a strong thermoplastic which is then encased in synthetic rubber that maintains excellent grip whether wet or covered in fish goo.
Simply put, the Bubba Blade Tapered Flex fillet knife is one of the best you'll find. Whether it's your first time filleting or you're a fillet master, the Tapered Flex is sure to make your filleting job easier.
Shop Online for the Bubba Blade Tapered Flex Fillet
Bubba Blade Cordless Electric Fillet Knife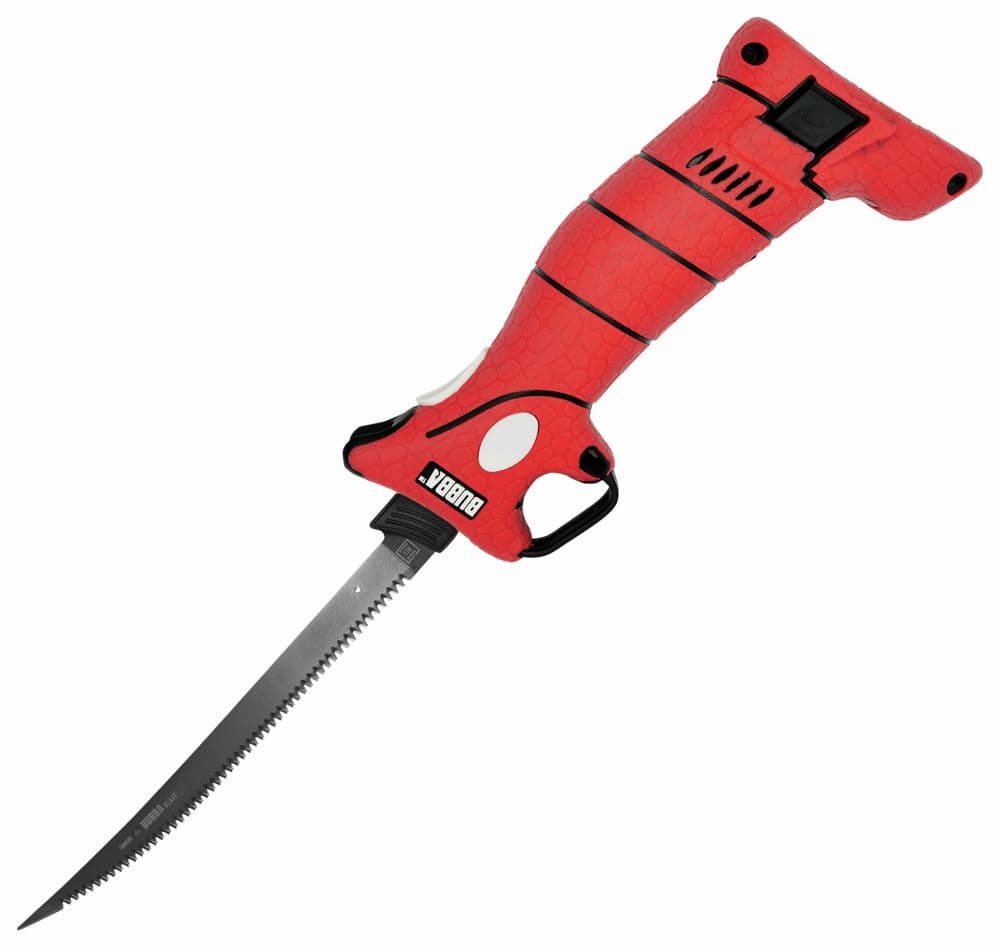 While we personally prefer to use a traditional fillet knife over an electric knife, we know that not everyone feels that way, so we want to at least mention one electric fillet in this list.
Bubba Blade's Electric Fillet Knife features the same style of non-slip ergonomic handle as Bubba Blade's traditional offerings. This provides you with a solid grip even when you're working in wet or slimy conditions.
This electric knife kit comes with 4 different attachable blades. The blades differ by length and flexibility in order to handle just about any type of fillet job you throw at it, from small to large fish. The blades are made out of high carbon stainless steel that is then coated in titanium nitride. This combination provides a great deal of strength as well as increased resistance to corrosion.
The Bubba Blade electric fish fillet knife comes with a durable carrying case as well as 2 batteries, and a charger.
Shop Online for the Bubba Blade Cordless Electric Fillet
Cuda 6 Piece Fillet Knife Set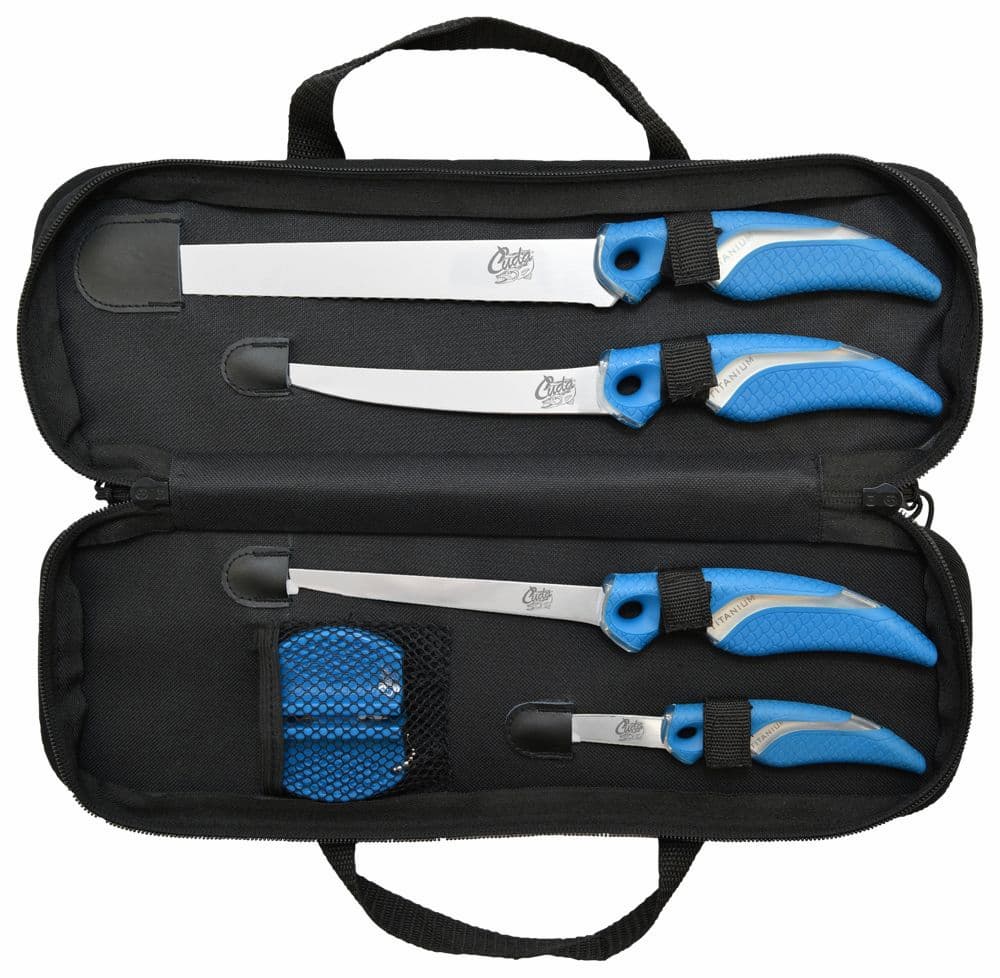 If you're looking for more than just a single fillet knife, you should check out the Cuda 6 Piece Fillet Knife Set.
This set features four high quality knives, an excellent knife sharpener, and a ballistic nylon case for easy organization and transport. Each of these knives handle a different job in the fishing experience. From preparing bait, to deboning fish, and of course filleting. Providing two different sized fillet knives able to handle small delicate fish up to large bigger fish.
The knives in the set are made of German 4116 Titanium Bonded Stainless Steel with durable full-tang construction to provide excellent blade retention and easier manipulation.
All of the knives feature a rubberized handle utilizing Cuda's scale pattern that provides a comfortable and secure grip.
The included knife sharpener has two sides to it, fine and course, to get your knives back to a razor sharp edge after use.
The ballistic nylon case features sliding locks, a removable tray and several pockets to keep your knives organized and secure.
Knives included in the set are:
9 in Chunk Knife
6 in Curved Boning Knife
6 in Fillet Knife
2.5 in Bait Knife
This set is perfect for any angler looking for an all-in-one solution to their fish cutting needs.
Shop Online for the Cuda 6 Piece Fillet Set
Victorinox Fibrox Pro Filleting Knife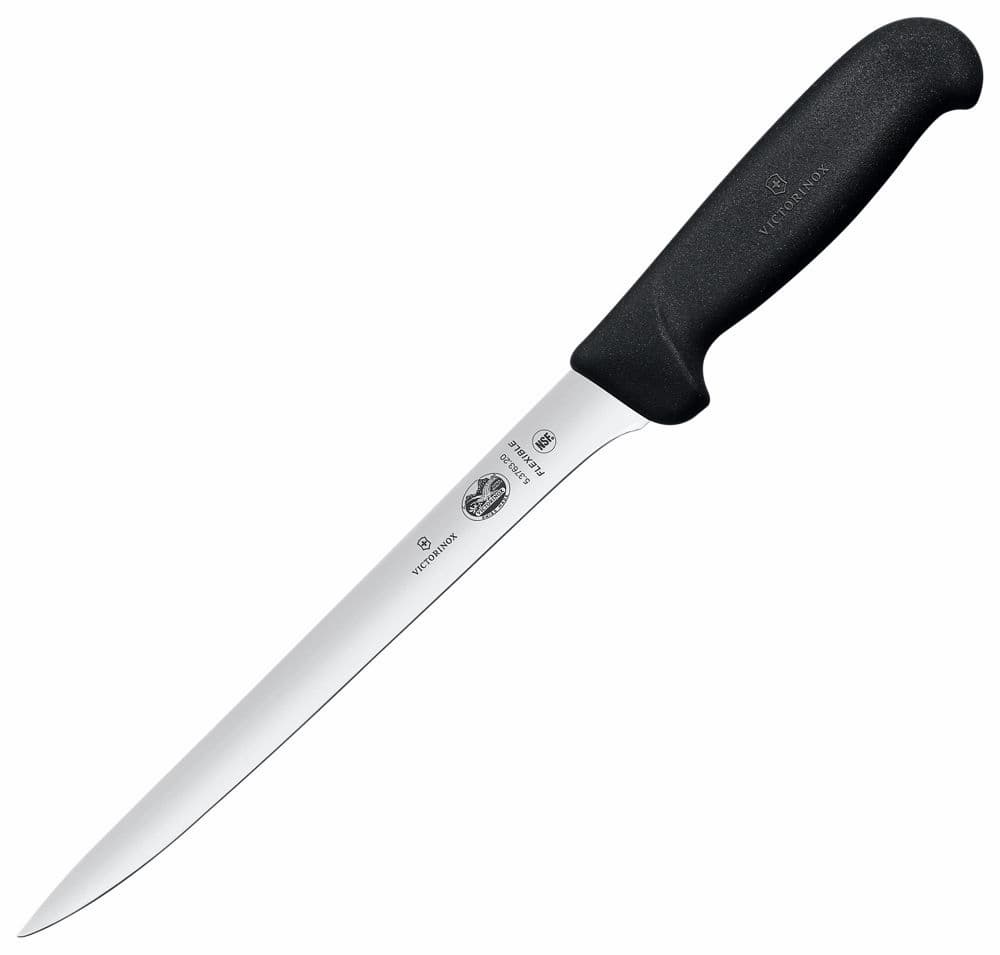 The Victorinox Fibrox Pro Filleting Knife is a great kitchen-based fillet knife.
This knife's long, slender blade features a razor-sharp edge that is flexible enough to easily cut around bones yet strong enough to stay sharp. The Fibrox Pro has an 8″ blade and only weights 3 ounces.
The blade is made of a European high-carbon stainless steel that has the right amount of flex to it while maintaining a razor-sharp edge.
For added safety, this knife has a nonslip, ergonomically contoured, TPE handle to keep your grip firm while minimizing hand fatigue.
We typically reserve this type of knife for our kitchen versus the boat or camp site, however, there really isn't any reason it wouldn't work well for outdoors use.
Overall, Victorinox, the creators of the Swiss Army Knife, have delivered an excellent fillet knife that performs very well.
Shop Online for the Victorinox Fibrox Pro Fillet
DALSTRONG Gladiator Fillet Knife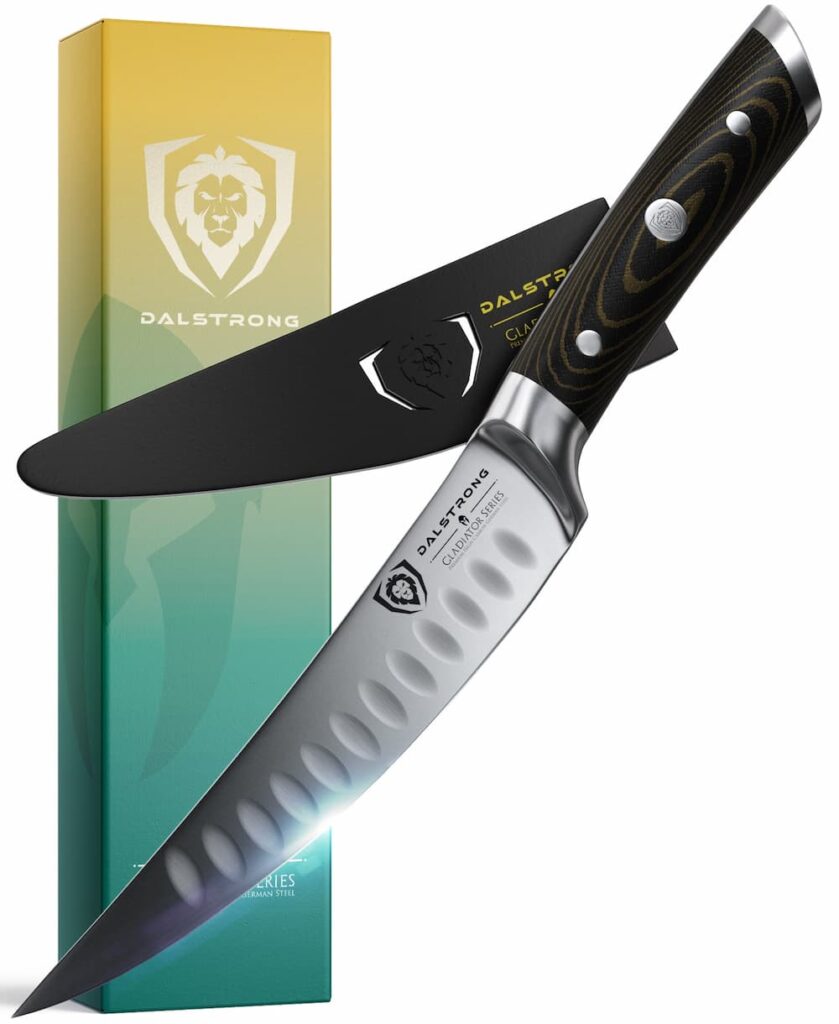 The Dalstrong Gladiator 6" Fillet Knife is the ideal choice for anyone that's looking for sharpness and strength wrapped up in a beautiful presentation.
Featuring a 2.0 mm thin blade, this knife is able to glide through your fish like a dream. Masterfully constructed using premium quality German steel. The Gladiator fish fillet knife maintains a great balance between sharpness, strength, and flexibility.
The handle is crafted out of G-10 Garolite which is a non-porous, military-grade, fiberglass material. G-10 Garolite is designed to be both heat and moisture resistant. The handle is comfortable to hold, has a good grip to it, as well as being easy to clean.
This knife is robust enough to be a long-lasting workhorse, but elegant enough to show off at your next dinner party.
The Gladiator fillet knife is ready for filleting, slicing, skinning, trimming, and butterflying.
The Gladiator fillet knife also comes with a BPA free sheaf to store it safely away in your draw or take it along with you on the boat or dockside. Though, personally, we will probably keep this one as primarily a kitchen knife to maintain that prestigious look.
Shop Online for the DALSTRONG Gladiator Fillet
Rapala Presentation Fillet Knife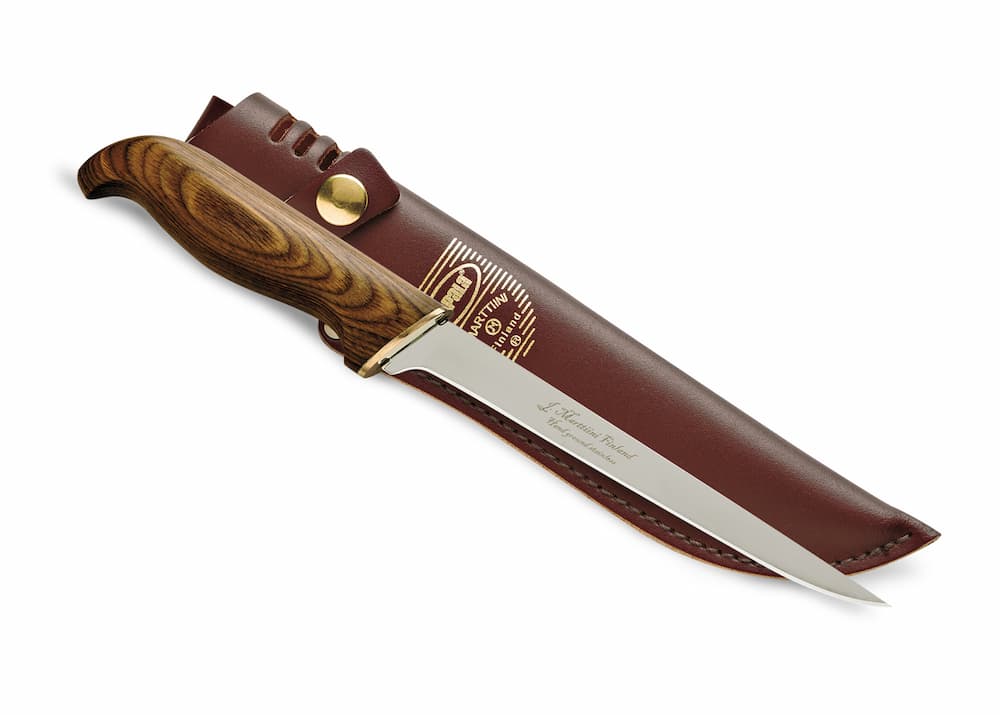 The Rapala Presentation Fillet Knife features a proprietary tapered, progressive blade which has been specifically designed to do exactly what its name suggests — present fillets.
The blade begins with a wide belly that quickly tapers into a thin, fine point, giving you the cutting power and leverage you need to effortlessly slice through flesh and separate fillets from bone.
The Presentation is a super sharp, easy to hold, and well-balanced fixed blade fillet knife that is easy to maneuver in tight spaces and get a close cut on small to medium-sized fish.
It also features an extra-strong, ergonomic laminated birch handle that's shaped for ultimate comfort and control.
The Presentation Fillet Knife is not just a sleek, solid, and economically priced knife, but also maintains the classic fisherman's fillet knife look of your grandfather's days.
If you're looking for a modern-classic fillet knife, this is it.
Shop Online for the Rapala Presentation Fillet
Dexter Russell Sani-Safe White Narrow Fillet Knife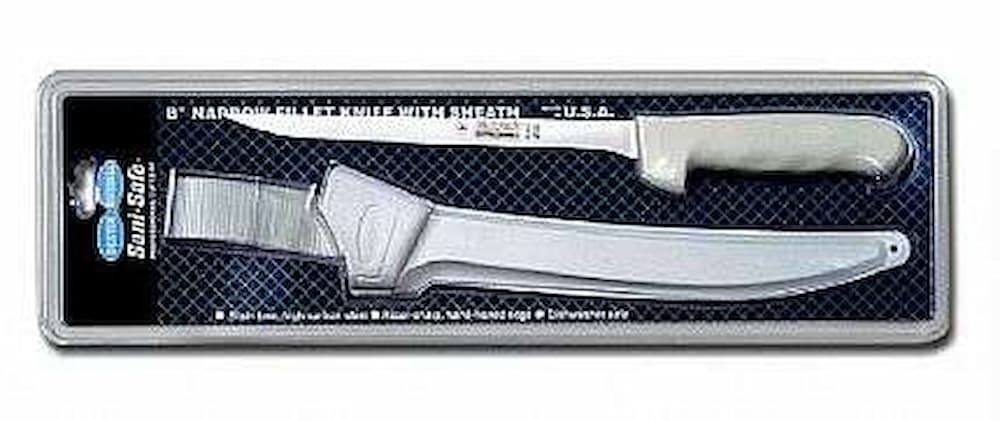 The Dexter-Russell Sani-Safe White Fillet Knife is a great choice for those looking for a versatile, durable, and easy to use fillet knife.
This knife is made of DEXSTEEL, a high-carbon steel alloy, which ensures it holds its edge for an extended period of time.
It also features a polypropylene handle that is heat and cold resistant, won't become brittle, and will stay looking great for a long time. The Sani-Safe handle also features the Sani-Safe technology, which allows the knife to be easily sanitized keeping the handle clean and safe to use.
Due to its price point as well as easy to clean handle, you'll often see these knives being used in commercial fisherman operations.
If you're looking for an inexpensive fish fillet knife that will still perform well and hold up to regular use, you'll want to check out the Sani-Safe fillet knife.
Shop Online for the Dexter Russell Sani-Safe Fillet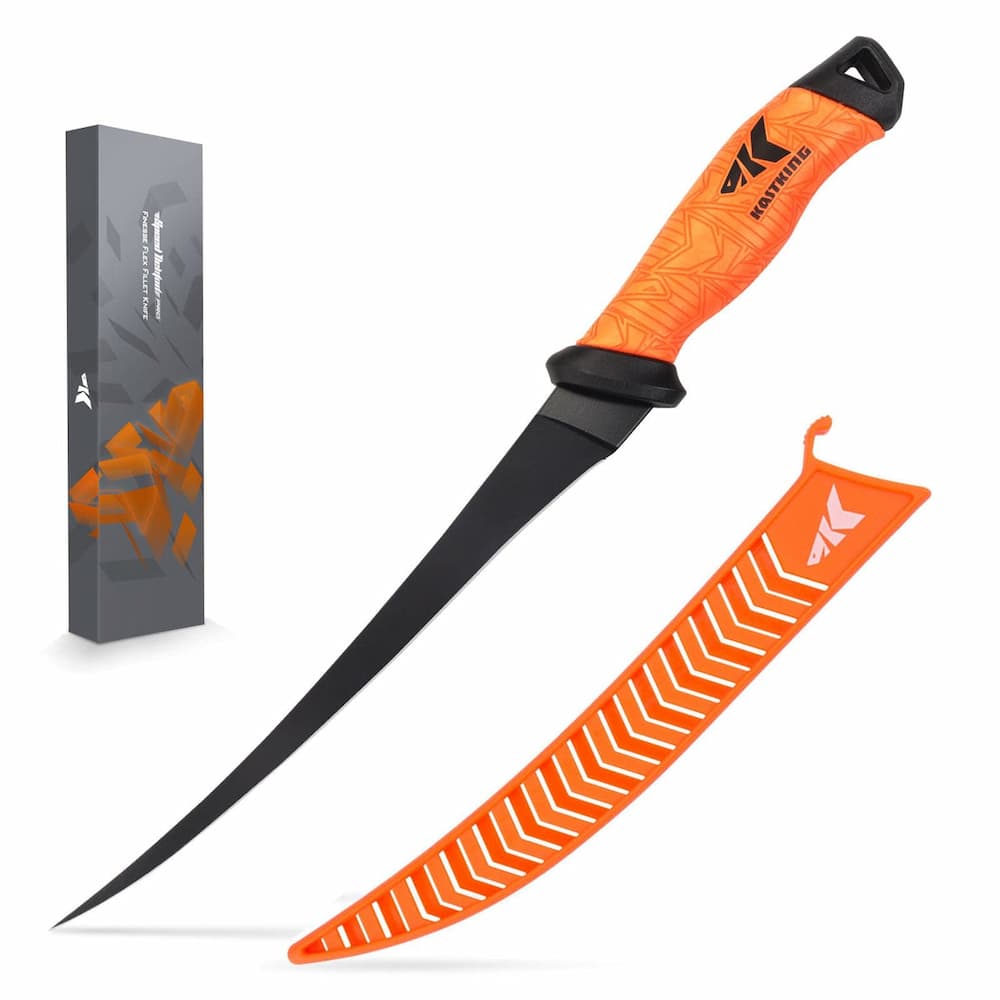 When it comes to KastKing products, for us, they're kind of hit or miss, however, their fillet knife is actually pretty good.
The KastKing fillet knife features a G4116 German stainless-steel blade with a black finish that is sharp and easy to clean. The blade has a lot of flex to it, which can make it difficult to cut through some of your tougher fish, but does help when working with thinner cuts of meat.
It is equipped with a slip-resistant Kraton G polymer synthetic grip that is comfortable to hold and should keep your hands from slipping.
The KastKing knife includes a plastic sheath that is light-weight and easy to clean. The sheath locks the blade in place but is easy to remove when needed. It is equipped with a drainage hole that allows moisture to release and prevents the blade from oxidizing.
While we feel there are better fillet knives in this list, you wouldn't go wrong with the KastKing fillet knife.
Shop Online for the KastKing Fillet

The cheapest fillet knife on our list, the 7″ Kershaw fillet knife features a Japanese 420J2 high carbon stainless steel blade that boasts excellent edge retention and corrosion resistance.
The drop-point blade shape is ideal for filleting many different types of fish, though this blade is probably best suited for small-medium sized fish. The blade has a good flex to it and moves through the fish's flesh easily.
The non-slip K-Texture co-polymer handle ensures a secure grip even in wet conditions.
The Kershaw fillet knife does come with a blade protector, though we weren't the biggest fans of this sheath in particular. It just seemed a little cumbersome to us, but nothing terrible.
Overall, Kershaw delivers a solid fillet knife, that offers the frugal shoppers a good option to fillet their fish with.
Shop Online for the Kershaw Fillet
What To Look For In The Best Fillet Knives
Below, we'll cover the main factors to consider before selecting a fillet knife.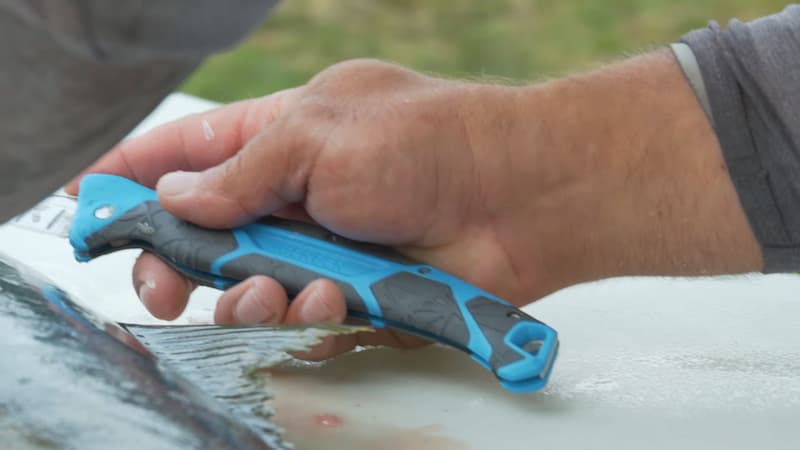 There are three different materials from which the fillet knife blade is made:
Stainless steel
Carbon steel
Ceramic
Stainless steel is a good choice for fillet knives because it's rust resistant and non-corrosive. While the blade will hold a sharp edge, it can become dull quickly.
While stainless steel is good at resisting rust and corrosion, it's still a good idea to care for the fillet blade properly. Be sure to dry the blade immediately after use, and keep it in a safe place to prevent damage.
Carbon steel is a popular blade material. It can be sharpened to a razor-like edge and hold it for a longer time than a traditional stainless steel blade.
The blade is made from carbon steel, a metal alloy consisting of carbon and iron, which is then hardened. This provides a good, strong blade that maintains a sharp edge.
Using a carbon steel blade may be better for certain filleting situations, but there are some downsides. The blade will rust if not cared for properly, and you'll need to be careful about the way you store it away from moisture.
So if you're going to be filleting mostly in the kitchen, a carbon steel blade will likely work great, but if you're going to be using your fillet knife when out and around the water, you may want to avoid this material.
Ceramic is another material option for fillet knife blades. It provides both a sharp edge and is not susceptible to corrosion as either carbon steel or stainless steel are.
However, the main downside of ceramic in relation to filleting is that the blades are very hard and do not flex. This can make it difficult to fillet a fish effectively, and you'll likely miss out on a lot of the meat.
The other consideration is the brittle nature of ceramics. If you were to drop your fish fillet knife you can easily crack the blade.
So, with all of this in mind, we generally recommend investing in a blade with the highest grade of stainless steel available. Stainless steels will have a longer lifespan, won't tarnish and will not rust when wet.
The blade length of your fillet knife will likely depend on how much fish or meat you typically work with, as well as where and how you like to fillet.
If you're planning on catching a lot of smaller fish, you'll probably want a smaller fishing knife with a shorter blade length. This will also be good if you like to fillet on the go – for example, if you like to spend your weekends fishing.
A smaller blade length will make it easier to work with and will allow you to get into the tighter spaces and fillets that are necessary when filleting smaller fish.
If you plan to fillet larger fish, a longer blade will be great.
Longer fillet blades will allow you to work with larger fish a lot easier. They will also be better suited for filleting in-home – for example, on your kitchen counter.
The blade of a fillet knife should be between 4 and 10 inches in length. The longer the blade is, the more challenge it will pose to control.
Four to six inch blades will be easier for you to control and produce cleaner cuts than shorter blades, but it can also do an excellent job when you combine with good technique.
Six, seven, and eight-inch blades are perfect for slicing trout and eater-sized walleyes.
Nine and ten-inch blades offer extra length for cutting larger fish such as supersized salmon and other saltwater fish.
Blade flex refers to the degree to which the blade will bend when you apply pressure on it.
Blade flex is something you should look for in a fillet knife.
Flex is essential because it allows the blade to contour itself around bones and other hard surfaces, making your job easier. Look for models with blade flex of at least 25-28 degrees to ensure maximum flexibility.
If they're anything less than this, keep looking because there are knives with better flex.
So, to obtain a flexible blade for your fillet knife, you need to check that it is made up of quality stainless steel. A great mixture of superior grade carbon and chromium will help with flexibility as well as durability. ​
A flexible blade is crucial because it allows you to get around the bones and contours of the inside of the fish. In addition, some models will have non-slip handles that add to your grip on the knife and facilitate getting them through tight spaces with ease.
You should select a fillet knife handle that is comfortable in your hand. It should feel solid and stable in your grasp, yet not too cumbersome.
The knife's grip should allow you to keep a firm hold on it even when wet and slippery with fish slime and blood.
The handle of a fillet knife is usually made from several materials such as wood, plastic, and rubber. The material plays a crucial role in making the knife comfortable for its use and can also impact your grip and comfort.
That makes it crucial to get a quality handle for enhanced performance when handling fish.
The handle's material will determine how comfortable it is in your hand and whether the knife is durable or not.
Wood fillet knives have a classic feel to them and a good grip that offers control during use.
The disadvantage of wood fillet knives is that they need regular cleaning when using saltwater fish. They are prone to cracking and quickly soak up unpleasant odors; thus can be challenging to clean.
Plastic fillet knives have a good grip for control during normal use, but can become slippery when wet or slimy.
Rubber fillet knives usually come with a rubberized D-grip that enhances stability and control. Rubber handled fillet knives are typically the best option when you're wanting to fillet outside the kitchen as they'll provide the most grip and won't become slippery when used.
A good handle for a fillet knife should be about 5 inches long, so it can accommodate most filleting jobs and allow you to keep a good amount of blade in contact with the cutting board. The size of the knife handle should be proportional to your hand. A larger handle provides a more comfortable and stable grip
The sheath options available for fillet knives include plastic, nylon, or leather.
A plastic sheath is typically durable and dries quickly, which makes it an excellent choice as it will protect the blade from rusting and reduces cleaning time.
However, a leather sheath is the most preferred since it provides safety when on board because it covers the blade's sharp edge and prevents injury to fingers or other body parts.
If you are using the knife in your home or at the campsite, then a nylon sheath will work fine.
Choose a sheath that has ample ventilation so that the blade stays dry and protected from corrosion. A knife sheath will protect you and the edge against being injured by the knife. The fillet knife's sheath should be comfortable and secure with a belt loop.
Many sheaths come with swivel studs which enable quick and easy attachment to belts or straps.
A perfect knife sheath should be well-fitted to its intended knife and able to protect the blade from impact, keep it dry, and allow easy access. Ensure the sheath doesn't add any obstruction or impediment to pulling a knife from it quickly.
Investing in a quality fillet knife will have lasting effects.
It's better to buy a good and durable fillet knife that will function efficiently than purchasing a weak knife. There are several factors to consider when you're looking for the best fillet knife.
To help you out, we've put together a quick list of the most important factors to consider when buying your fillet knife.
Whether you are looking for an all-purpose blade or one with unique features like gut hooks and scabbards, this guide will help make sure that you get the right tool for the job.
As an Amazon Associate I earn from qualifying purchases.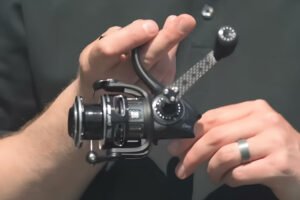 Experience the durability and performance of Abu Garcia's Revo MGX Spinning Reel! Featuring 11-bearing system, Carbon Matrix drag system, Everlast bail system, and Slow Oscillation for precise gear feel and even line lay. Check out our full review to see if this feature packed reel is worth the premium price tag.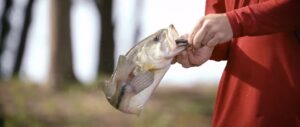 Looking for one of the best bass fishing lures? Look no further than the jig. Whether fishing in deep or shallow water, open or grass filled there's a jig and presentation for every circumstance. Few other lures offer the range of use that jigs provide.
Improve your fishing game with the Quantum Smoke S3 Spinning Reel. Featuring 12 bearings, 6:1 gear ratio, and a max drag of 18 lbs, this reel is perfect for anglers of all levels. With its unibody frame and titanium bail, this mid-range reel is reliable, lightweight and durable – making it the perfect choice for any serious angler.