Best Fish Finders in 20223
Looking for a great way to increase your catch rate while out on the water? Investing in a fish finder is one of the best ways to consistently catch more fish. So before your next fishing trip, do yourself a favor and get a fish finder.
Selecting The Best Fish Finder for Bass Fishing and More
If you're new to fish finders, it's easy to feel a little lost. I know that the first time I began researching them, I felt a bit overwhelmed.
Not only can they set you back a pretty penny, but when you begin to research out the best models, you move out of the comfortable realm of fishing and into something… techy.
Thankfully, after spending a bit of time reading, I figured out that they're not as complex as they seemed in the beginning. Once you get an initial grasp on what all of the pieces do, it just comes down to selecting the right model for your fishing needs and budget.
If you're looking to learn a bit more about fish finders and how they work, click here to skip ahead. We've done our best here to break down what we've learned over the years and make it easy for you to understand.
If you're ready to review the top 9 fish finders read below.
There are 100's of different fish finder units out there. So we've done our best to select the best couple of models in each size division to give you a good starting point as you learn more and research exactly what you're looking for.
Whether you're a kayak angler, fishing from your small boat, or the captain of your own midsized vessel. The following models should fit your needs.
Best Fish Finders for Midsized Boats
Garmin ECHOMAP UHD 73sv with Transducer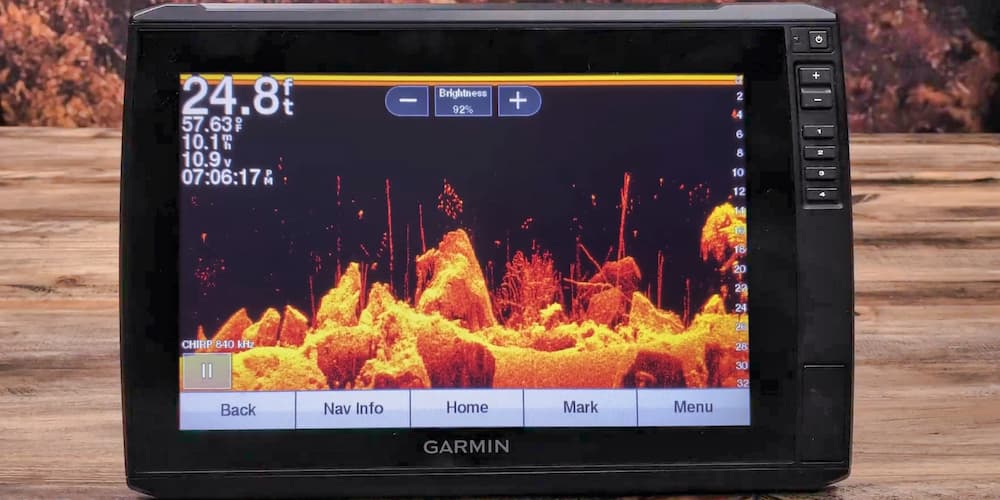 Sunny days on the water won't obscure your view of the Garmin ECHOMAP UHD 73sv Fish Finder. The 7″ touchscreen is easily readable even in high contrast environments.
The GT56 transducer is equipped with Garmin's traditional CHIRP sonar as well as Garmin's proprietary UHD SideVü and ClearVü specialized sonar scanners.
This combination provides top performance at all depths, 20% wider scan range, and three scanning frequencies allow you to detect fish much more efficiently and distinguish between schools and individual fish.
The vivid color palettes of the sonar display make it easy to distinguish between underwater structures and your fishing targets. It delivers a consistently clear image with picture-perfect quality.
If you want to see all the details happening under your boat, the Garmin ECHOMAP UHD 73sv delivers.
In addition, the loaded LakeVü g3 lake charts give you the best navigation information to make your day a success with integrated Navionics data.
The ECHOMAP UHD 73sv Fish Finder uses Wi-Fi and Bluetooth to transmit data and commands to your mobile devices, and the quick-release mount and mount stand makes it easy to remove the device and take it with you.
Overall, the Garmin ECHOMAP UHD 73sv Fish Finder is a premium fish finder that delivers exceptional performance and everything you need for guaranteed success on the water.
Take the guesswork out of fishing and land yourself a big bass fish!
7″ Touchscreen Display (larger sizes are available)
Vivid sonar color palettes
Photo realistic imaging
Integrated Chartplotter and GPS combo
Preloaded with inland US maps of over 18,000 lakes
Individualized sonar map saving and sharing of your favorite fishing spot
Supports autopilot using NMEA 0183 and NMEA 2000
Quick release display mount
Integrates with Force trolling motor for full motor control, auto route to waypoints, and track following
Shop Online for the Garmin ECHOMAP UHD 73sv
Lowrance Elite FS Series Fish Finder with Active Imaging 3-in-1 Transducer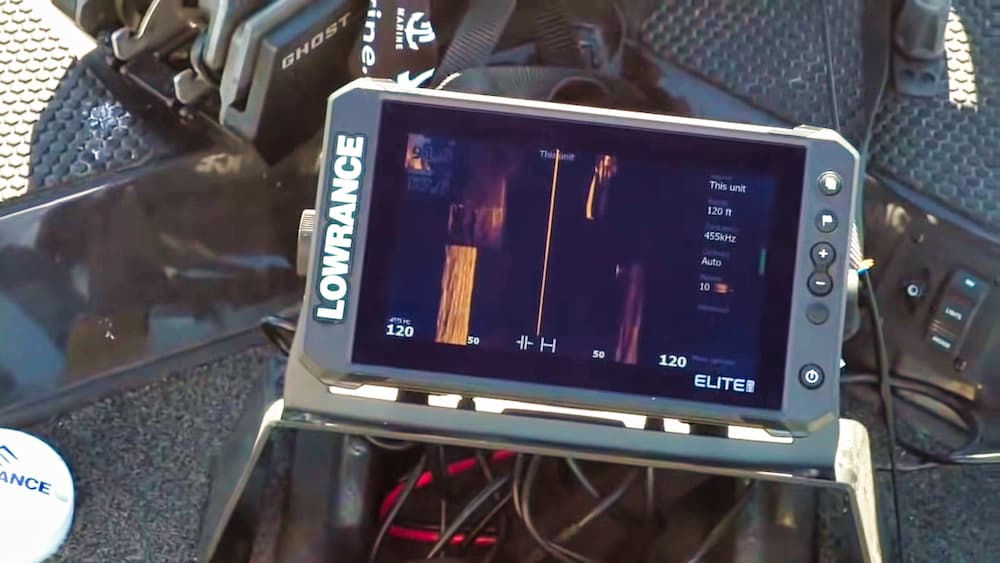 Experience unprecedented detail in a fish finder with the Lowrance Elite FS Series Fish Finder and Chartplotter Combo. This Elite fishing system packs in features like ActiveTarget Live Sonar, DownScan, SideScan, Active Imaging, CHIRP, and much more.
The Lowrance Elite FS Fish Finder features a 7, 9, or 12-inch hybrid display that supports all of Lowrance's newest fish finding features.
CHIRP high-frequency sonar provides clearer, more detailed images of fish and the structure they're around. FishReveal uses CHIRP and DownScan together to help you more easily identify fish from structure.
Side Imaging and DownScan Imaging use multiple frequencies and beam angles to view much more detail than is possible with traditional high frequency sonar alone.
The underwater data and image quality that the Lowrance Elite FS provides is incredibly clear and detailed. Exactly what you'd expect from a premium fish finder.
C-MAP Contour+ High-Resolution Mapping provides the clearest, most detailed water data of popular fishing lakes and rivers.
All the features loaded into the Lowrance Elite FS fish finder make this an incredibly powerful device for finding fish. It does carry a premium price tag, but with all of the functionality you get with this system, if you have the budget for it, it's worth it!
Exceptionally detailed images through Active Imaging 3 in 1
High res images of fish interacting with your lure
Network integration allowing connectivity between other devices and Elite FS
High resolution touch display (multiple different sizes available)
Map data for over 8,900 US lakes
Integrated GPS and navigation
Shop Online for the Lowrance Elite FS
Best Small Boats Fish Finders
Humminbird Helix 5 Chirp Transducer SI GPS G2 Fish Finder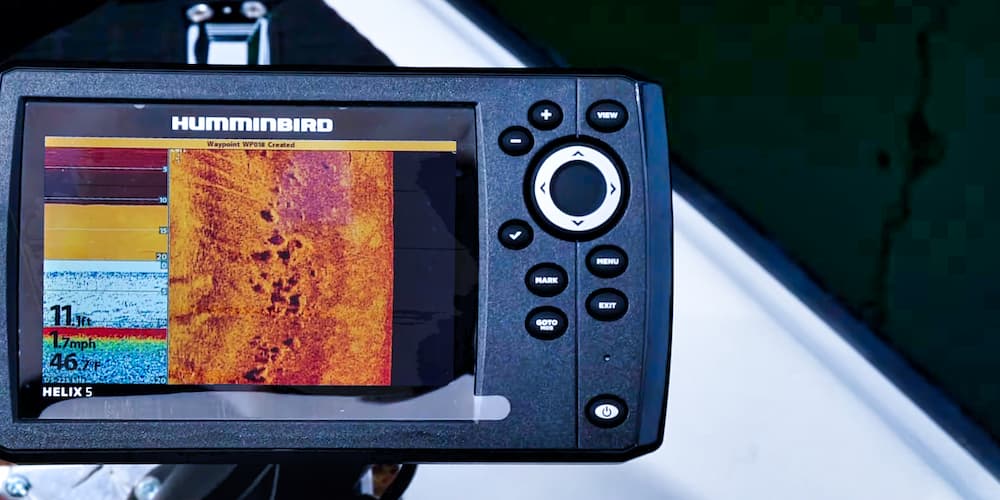 The next generation of fishing sonar has arrived with Humminbird HELIX 5 SI GPS G2 fish finder.
The HELIX 5 is packed with features you can't find in another sub $500 fish finder, like CHIRP digital sonar, Side Imaging, Down Imaging, GPS receiver, as well as specialized software, SmartStrike, that helps you predict where the fish will be.
All of this advanced functionality allows you to easily see what's underneath the water, distinguish between fish and cover, as well as extending your view to the side of your boat instead of just beneath it.
The HELIX 5 is equipped with an intuitive backlit display for easy viewing in all light conditions. The Dual Beam PLUS transducer provides a clear view with multiple optional settings: narrow for maximum detail, wide for maximum coverage, and a blend mode for a complete picture.
On top of the robust fish finding capabilities, this Humminbird fish finder has a built-in GPS capability and chartplotter. The built-in UniMap navigation system can be easily expanded with other cartographies such as Navionics+, LakeMaster, HotMaps, SmartStrike, AutoChart PRO and Humminbird AutoChart.
Overall, the Helix 5 is the perfect fish finder for anyone who wants a complete package with advanced features while staying under $500.
5″ LED display
Exceptional underwater image through digital CHIRP, dual beam scanning, and side imaging
Mapping data on over 10,000 US lakes
Wireless connectivity
Integrated GPS and navigation
Live auto charting
Shop Online for the Humminbird Helix 5
Best Fish Finders For Kayaks
Garmin Striker Vivid 4cv with Transducer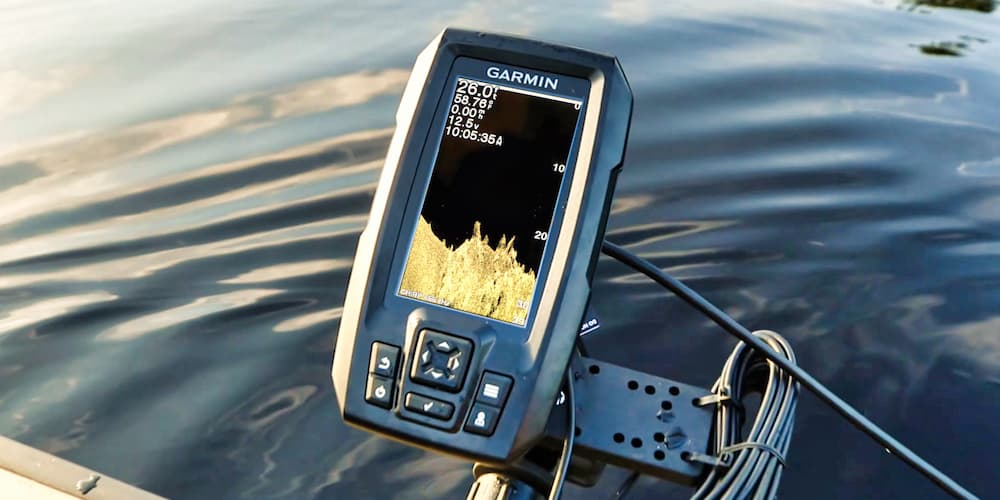 The Garmin Striker Vivid 4cv is designed for the fisherman looking for a quality fish finder that doesn't break the bank.
Featuring a 4″ display, this model has some of the same technology as its bigger siblings, including CHIRP sonar and ClearVü scanning sonar. This combination provides clear, accurate details below the boat that lets you easily see fish and locate underwater structure.
You can store and create your own fishing maps using the Quickdraw software. Using the high-sensitivity GPS, you can plan your routes, mark fishing hot spots, and see your boat's speed.
While lacking some of the higher end technology of the premium models on this list, for an economically priced and portable fish finder, the Garmin Striker Vivid 4cv is worth checking out.
4″ colorful display
Clear underwater imaging
Waypoint marking
Integrated GPS
Record live map data
Great for kayak fishing
Shop Online for the Garmin Striker Vivid
Humminbird PiranhaMAX 4 DI Fish Finder with Transducer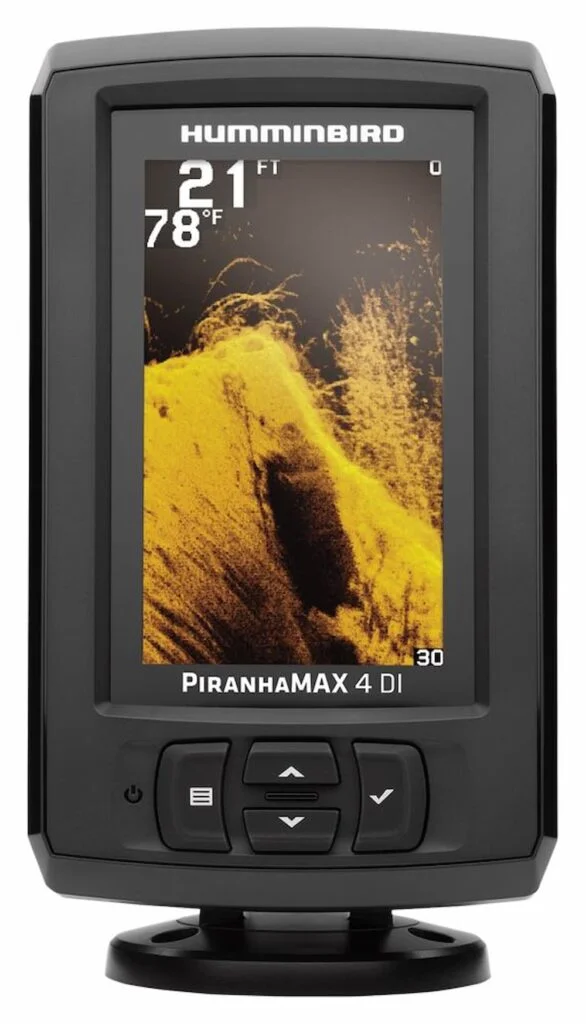 The Humminbird PiranhaMAX 4 DI FishFinder is an affordable option for those who want to see what is happening underwater without breaking the bank.
The PiranhaMAX 4 DI has a 4.3 inch color LCD display with 480×272 resolution for imaging of what is happening under the hull. The PiranhaMAX 4 DI has a Dual Beam Sonar with Down Imaging that provides adequate picture and accurate fish detection.
The PiranhaMAX 4 DI is also equipped with a modern design, tilt-mount base, a fish ID+ option, and a backlit keypad.
While the image on the PiranhaMAX 4 DI is not as good as the others on this list, it still does a good enough job that you can identify fish and detect other underwater structure.
If you're looking for an entry level fish finder device to mount on your boat or kayak, you may want to check out the PiranhaMAX 4 DI.
4.3″ LCD display
Detailed underwater imaging
Dual beam sonar
Down imaging
Shop Online for the Humminbird PiranhaMAX 4 DI
Best Portable Wireless Fish Finders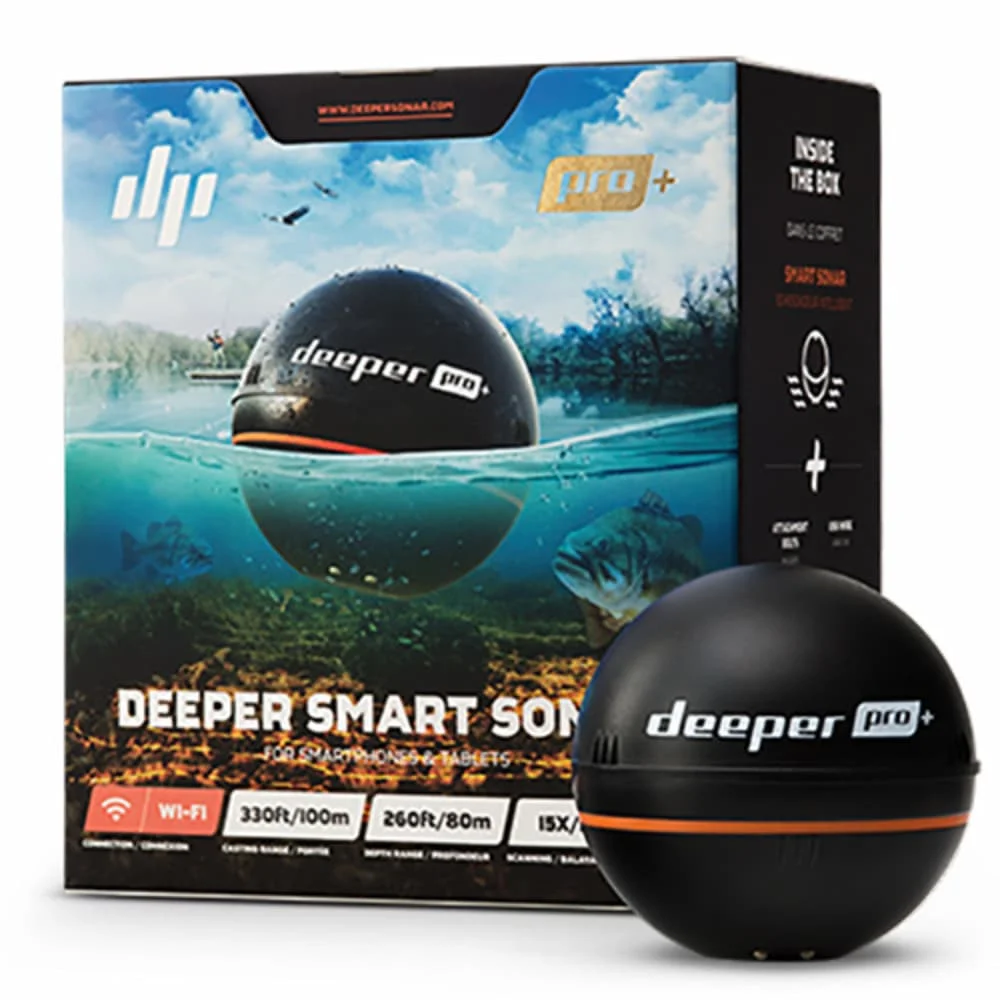 The Deeper Smart Sonar PRO is an ultraportable, castable, WiFi fish finder that connects directly into your mobile device.
So instead of having a separate display unit, the Deeper Pro connects via WiFi to your mobile device and relays the sonar data to an app on your phone.
It supports 2 different sonar frequencies. A 55 degree wide beam and a 15 degree narrow beam. This allows you to get an overview of what's going on under your kayak or boat with the wide beam scanning. When you find a hot spot, you can easily switch the Deeper Pro to the narrow beam to get a more detailed view of the area.
The Deeper Pro provides you with the raw sonar data for the fish arches to help you better distinguish between fish and underwater debris. You can easily let the app substitute this data with fish icons if you prefer.
It does a pretty good job at distinguishing between fish, vegetation, and bottom contour. It's definitely not using the most advanced sonar technologies, but with the dual scanning option it allows you to get a good accurate view of what's happening under the water.
If you're looking for an ultraportable fish finder and don't mind using your phone to view the data, you should check out the Deeper Pro.
Extremely portable
Castable transducer
Bluetooth connectivity
Real time fish finding data
Wide and narrow sonar frequency support
Live map recording
Water depth finder
Ice fishing compatible
Great for kayak fishing
Shop Online for the Deeper Smart Sonar PRO
LUCKY Sonar Portable Castable Fish Finder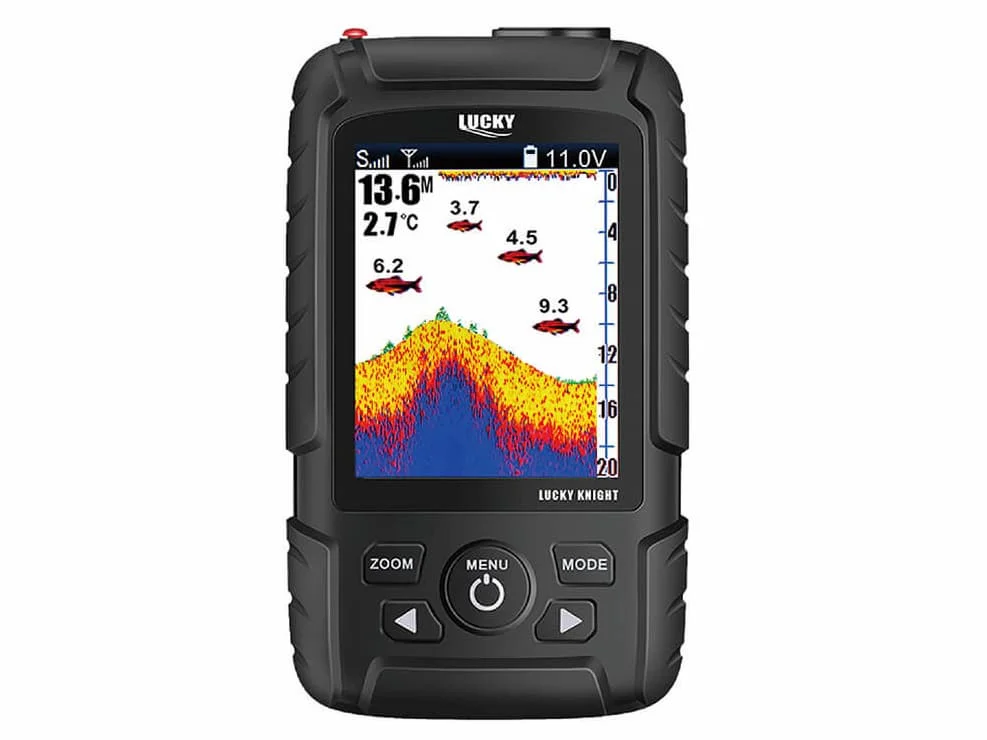 If you're in the market for an ultraportable fish finder, you should check out the LuckyLaker developed by Lucky Sonar.
This fish finder includes a round portable transducer that you can drop into the water next to you or cast to nearby locations in search of fish. You can even use it while shore fishing.
The LuckyLaker won't win any awards for display picture or top marks for visual performance, however, it is able to help you find fish. Which, in our opinion, is the top priority of a fish finder.
The LuckyLaker includes a hand-sized display unit that syncs up with the transducer ball. It supports a range of up to 328 ft, though I don't see why you would want to be that far away from the transducer.
The display utilizes a simple "fish" indicator, though it does attempt to differentiate between small, medium, and large sized fish.
At times, this fishfinder will get confused between floating debris and actual fish. Since it only uses a single 125Khz signal within a 90-degree angle it doesn't have all the advanced features that higher end models have to help better distinguish between various objects.
Despite this, it still gives you a better understanding of what's happening under the water and increases your chance of catching fish.
Completely portable unit
Wireless display and sonar transducer ball
Accurate 2d sonar image
Castable transducer
Fish alarm
Depth finder
Ice fishing compatible
Kayak fish finder
Shop Online for the LuckyLaker Portable Sonar
How Do Fish Finders Work?
Fish finders work using something called SONAR (Sound Navigation and Ranging). This technology uses sound waves to create detailed images of objects under the water.
Fish finders use a form of active sonar (as opposed to passive) which means that it uses energy to emit sound waves. These are then sent down into the water and reflect off of objects like fish, rocks, vegetation, etc and are then received back by the sonar system and processed.
Based on the strength, intensity, and timeframe of the reflected sound waves the sonar system is able to provide an image of what's in the water and how deep it is.
After the sound wave is processed, another sound wave is then emitted in order to repeat the process.
Sonars Scan In Cones, Not Lines
Since sonar sends out pulses of sound to locate underwater objects it's important to remember that sound doesn't travel in straight lines, but in waves. As these waves travel underwater, they expand out into cones as the waves continue to get wider.
This is why when you're using a fish finder, you don't just see objects directly beneath your boat. Since the sound waves are sent out in a wide cone, you can also see objects around the edge of the cone. This is actually helpful since it can give you a good idea of where fish are in the area, even if they're not directly beneath your boat.
The way the sonar wave forms will be based on the particular frequency the system is using. For simplicity's sake, we'll separate this out into 2 categories, wide and narrow angle scanning.
Wide angle scanning utilizes a low frequency sonar wave that forms a wide, 40-60 degree angle, that scans under the water.
This type of scanning is great for easily scanning a large area and finding the contours and structure of an underwater area, but it will generally not include a great deal of detail. This works best for getting a snapshot of what's going on underwater, or when you're fishing in shallow water and need that wide angle to actually pick up what's going on under your boat.
Wide angle scanning is also able to reach lower water depths since it utilizes a lower frequency sound waves which have a greater range. You'll need low frequency sonar if you're going to be fishing in the ocean or a very deep lake like Lake Michigan.
Narrow angle scanning uses a high frequency sound wave that forms a more narrow, 10-20 degree angle, that scans under the water. Since this is a higher frequency, it can travel further down into the water, but since it's a more focused beam it will only return information on a smaller area of the bottom. This type of scanning isn't great at providing and underwater overview of the floor, but it will generally work much better at finding fish. Since it's narrow, it can show detail in the water, including fish size and structure.
Another use of the narrow angle scanning will be in situations where there is a lot of surface clutter in the water. This may be bubbles, algae, or fast moving currents. Anything that could disturb the sound wave and cause it to immediately reflect back to the sonar system will cause a blind zone. By utilizing narrow angle scanning, you're able to shrink down the initial size of the wave that's sent out that allows it to get past the surface clutter.
While some systems allow you to adjust your scanning frequency and manually switch between wide and narrow angle scanning. Other systems come equipped with dual or triple frequency scanning. This provides bursts of multiple different frequencies that provide greater insight into the water below.
CHIRP - Upgraded SONAR Technology
One of the newer sonar technologies is called CHIRP (Compressed High-Intensity Radiated Pulse). CHIRP provides a huge improvement over traditional sonar fish finders.
In contrast to traditional sonar, CHIRP transmits a much longer pulse and produces a greater amount of energy.
Instead of sending out a single frequency, like traditional sonar, CHIRP sweeps through an entire spectrum of frequencies. Each time the system pulses, it starts out at a low frequency and modulates up to a higher frequency.
Compared to a traditional sonar systems, CHIRP produces pulses that are 10x longer and put out 10-50x more energy into the water.
Through the use of advanced signal processing and pulse compression, CHIRP enabled fish finders are able to provide a great deal more information than traditional sonar models.
They provide more accurate information, do a great job of providing overview data, and work exceptionally well at finding fish.
If you're going to invest in a modern fish finder, we definitely recommend choosing one with CHIRP.
Down imaging, also known as DownScan, and DownVu (depending on the brand you look at), is an advanced software processing feature found on higher end fish finders.
Down imaging is designed to provide detailed information and to give a "real life picture" view of what's underneath your boat.
A fish finder with down imaging will use a combination of traditional sonar and CHIRP technology to provide this data. While both of these technologies can provide this sort of information, down imaging is an advanced mode that fully combines these two systems.
A fish finder with down imaging will be able to provide the full picture of what's going on underwater. This includes providing an overview image as well as detailed, zoomed in views of specific objects.
Once a fish, log, rock, etc. is detected, a fish finder with down imaging will be able to zoom in on that object and provide an image of it as it is right below your boat. This provides a far more clear image of what's going on below and is an excellent tool for day to day fishing.
Side imaging, also known as Side Scan, and SideVu (again, depending on the brand), is another advanced software processing feature that provides an aerial like photograph of the water's bottom that's to the sides of the boat, instead of only under the boat.
Side imaging works similar to down imaging in that it uses a combination of traditional sonar and CHIRP technology to provide the information.
Side imaging is a great tool to give you a wide view of what is going on around you. Fish finders equipped with this will typically be able to scan an area over 200 feet to each side of the boat as well as reach depths of around 150 feet.
There are 2 main parts to a fish finder.
The display that you see processes the sonar data and provides you with the fish finder information.
The sonar hardware, called a transducer, that sends out and receives the sonar signal.
When you're shopping for a fish finder, the first thing you'll see is the display, but it's important to remember that the transducer is just as important to the overall performance of the fish finder. You'll want the fish finder you choose to have both a good quality display and transducer.
We've already covered most of the functionality of the transducer. This is the piece of equipment that handles sonar and most of the other functionality mentioned above.
Some additional functionality, such as side imaging and down imaging, may require additional hardware. However, everything is typically handled through the transducer.
In the end, the type of transducer you get will depend on your budget and the functionality you want out of it.
The display of the fish finder is the piece of hardware you actually see and will interact with.
It's kind of simple to call this device just a display, since it's more like a computer.
The display unit of the fishing finder will handle all of the software for the system. It takes the direct data from the transducer and turns it into readable human information.
Prices will greatly vary when it comes to the display. These will be affected by things like physical size, resolution, the inclusion of GPS and other software functionality that may come in handy while fishing or boating in general.
Again, just as in with the transducer, the best system will greatly depend on your budget.
Nowadays, most fish finders you go to purchase will include both the transducer and the display packaged together.
You'll generally want to choose one of these options, as you know they will be compatible with each other, and it takes some guesswork out of the equation.
Hopefully, after reading this article, you'll have a better direction in selecting the right fish finder for you as well as a better understanding of how they work.
The best advice we can provide before purchasing a fish finder is to make sure you research out the model to make sure it's going to fit your exact needs.
Make sure you take into account the size of your boat and which device would fit reasonably well. You also want to consider the quality of the image that you're going to need for the depth of water you're going to be fishing in.
With these questions in mind, you'll be able to select the right fish finder for you.
As an Amazon Associate I earn from qualifying purchases.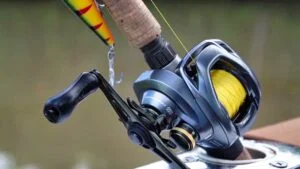 The Shimano Curado baitcasting reel is an excellent choice for anglers looking for a reel that offers smoothness, durability, and precision casting control. The Curado series is available in multiple different versions, each with its own unique set of features. The base model, the Curado K, provides everything you need in a quality baitcasting reel, while the top of the line Curado DC offers the most features and refined performance. Check out our thoughts on the Curado series.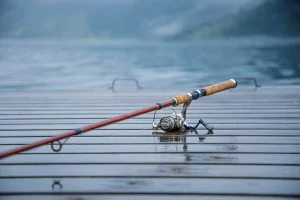 Despite being one of the most important factors for fishing success, many people overlook choosing the right fishing rod. Want to maximize your success on the water? Take a few moments to find the perfect bass spinning rod.
If you want to enjoy the outdoors without squinting, you need a good pair of sunglasses. But with so many options on the market, it can be hard to know which pair is right for you. In this review, we'll take a closer look at Maui Jim's World Cup sunglasses to help you decide if they're worth the investment. We'll discuss the features of the sunglasses, their pros and cons, and whether they're a good choice for fishing and boating. By the end, you should have the info you need to know whether they're the right fit for you.