20 Best Lures For Bass Of All Time - 2023 Guide
Is it time to expand your bass lure collection? You can find thousands of lures, including hard baits, soft plastics, jerkbaits, spinnerbaits, jigs, and many more. Check out our list of the top 20 bass lures.
Looking for a specific type of lure? Check out our lists of the best lures by season and various categories by clicking one of the links below.
Finding The Best Lures For Bass Fishing
Are you looking to expand your bass lure collection? You can find thousands of lures to choose from, including hard baits, soft plastics, jerkbaits, spinnerbaits, and other swim jig type lures. The list goes on and on.
Since we haven't tested every single lure and bait on the market today, we can't say for 100% certainty that the following 20 lures and baits are the world's best.
However, we do know that each one on this list are true lures that work for us and thousands of other anglers every year.
So if catching a big bass fish is your goal, you should consider these as essential to your tackle box.
Top 20 Best Bass Fishing Lures
We've chosen our favorite lures from each of the categories of lures that we regularly use.
We love these lures and know you will too.
Berkley Frittside Crankbait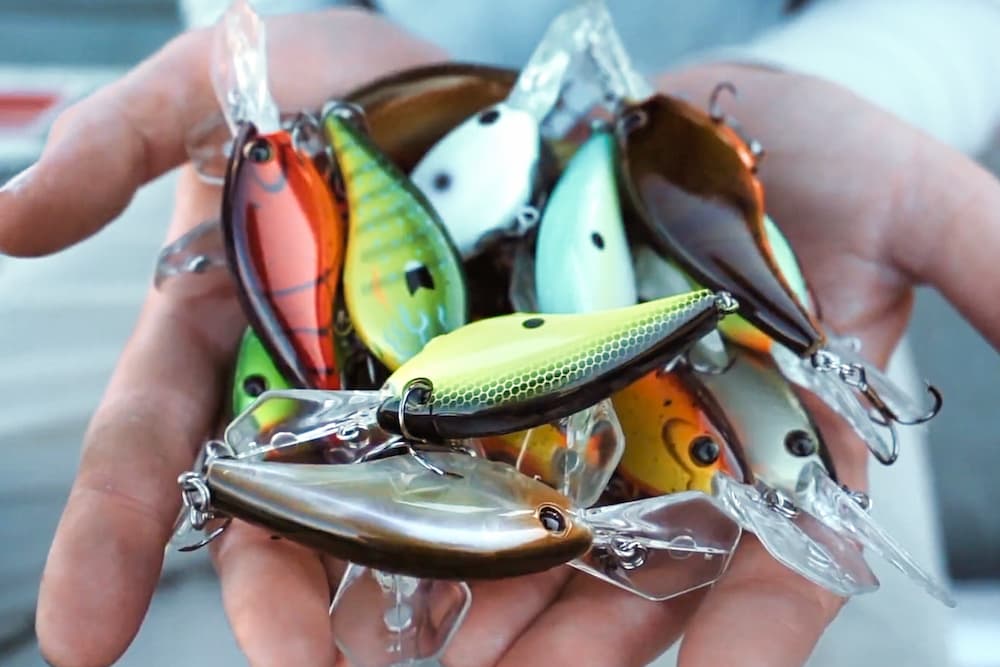 Berkley Frittsides are the legendary crankbaits that helped David Fritts win the 1993 Bassmaster Classic.
Berkley has re-engineered the Frittsides with cutting edge technology and improved hooks to make them the ultimate crankbait, even in tough conditions.
The Berkley Frittside has a tight, silent thump, excellent flash, and now comes in a wide array of colors with Berkley's proprietary flash paste that delivers unmatched flash and vibrant colors. The Berkley Frittside is precisely balanced to cast like a bullet, and the flat-sided profile mimics a wide variety of baitfish to trigger strikes where other lures fail.
The Berkley Frittside is equipped with Berkley's Fusion19 treble hook, so strikes are fast and deep. The upgraded model has all the features and fish-catching action that made it a legend, and now it's even better than before.
The Berkley Frittside is our crankbait of choice year round. We have great success fishing it in shallow water and near grassy cover. We typically carry a number of these in multiple color options to match the hatch, so we're always ready no matter the conditions or time of the year.
Flat-sided profile mimics a wide variety of baitfish
Tight balsa-like thump
Precisely balanced for increased casting distance
High-quality hooks
Perfect for difficult fishing conditions or when fish aren't responding to other lures
Berkley's proprietary flash paste that delivers unmatched flash
Shop Online for the Berkley Frittside Crankbait
Norman Lures DD22 Deep-Diving Crankbait
The Norman DD22 Crankbait is a deep diving crankbait that is ideal for targeting deep ledges and drop off points. Bass love to ambush baitfish in these areas, so use one of these crankbaits to give them a thumping wake up call.
The DD22 is built with a butyrate body that produces a dull thud sound to attract the attention of nearby bass. The DD22 also features a raucous rattle system that makes it stand apart from other deep diving crankbaits on the market today, which typically feature a high-pitched rattle.
The DD22 is our favorite deep diving crank bait. We love running this lure when bass are hanging near the bottom or suspended 15 feet or so down. We can consistently keep the DD22 in the strike zone longer than other deep diving crankbaits we've used.
The Norman DD22 is one of the most popular deep diving crankbaits and personally we agree with the sentiment. If you're fishing on a ledge or in a deep pocket, give the DD22 a try. You just might find a new best friend.
Butyrate hollow body
Deep diving hard-body – 15-18ft
Medium-wide wobble
VMC black nickel hooks
Butyrate body with a boisterous rattle
Deeply recessed diving lip
Available in a wide range of colors options
Shop Online for the Norman Lures Deep Diving Crankbait
Strike King Square Bill Crankbait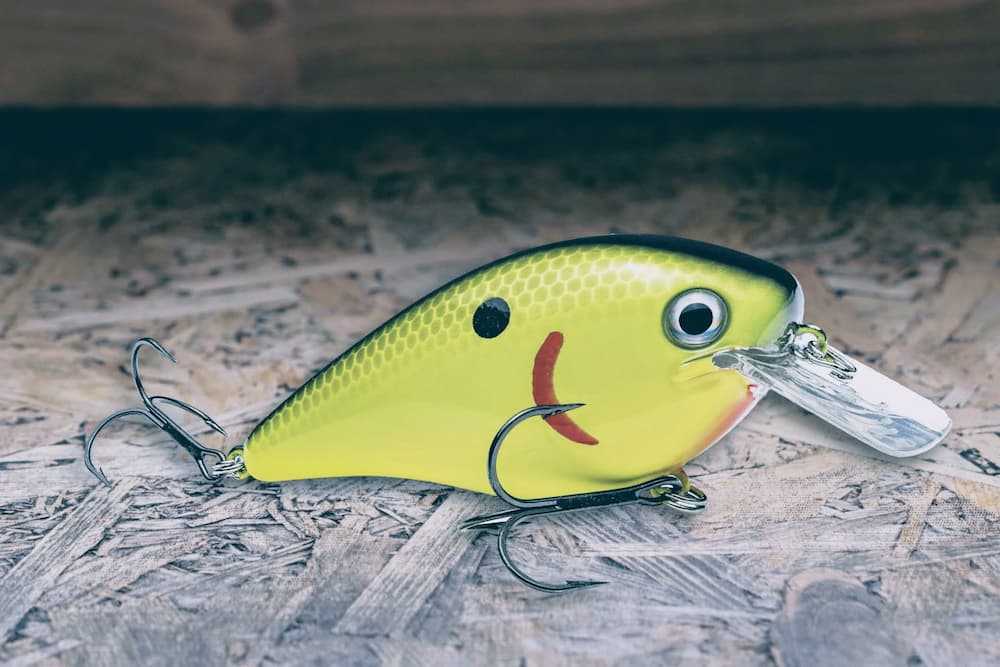 The Strike King KVD Square Bill Silent Crankbait is a silent assassin. Perfected by professional bass angler, Kevin VanDam, to perform exceptionally well in shallow-water where other crankbaits can't keep up.
The square bill design generates energetic deflections off of underwater cover and forces the lure to roam with an eccentric searching action that triggers bass strikes.
The KVD square bill quickly reaches the right depth and with the exclusion of any internal rattles, it works perfectly when the bass are skittish or pressured.
It features Strike King's premium molded plastic construction and a proprietary paint process that results in bold, lifelike fish attracting colors.
Initially we were a bit skeptical of the Strike King KVD's silent approach to the crankbait, but after using it we became believers. We love using the KVD Square Bill when bass aren't paying attention to other lures. Running this thing over everything on the water's bottom in a shallow area seems to attract skittish bass like no other.
If the Strike King KVD is a new lure to you, we recommend checking it out.
Ideal for shallow water power fishing
Square bill design and premium plastic construction
Totally silent, no rattles, which makes it perfect for skittish fish
Available in a variety of realistic fish-attracting colors
Proprietary Strike King paint process creates durable, high-gloss finish
One of the most trusted names in fishing
Shop Online for the Strike King KVD Square Bill Crankbait
Berkley Warpig Lipless Crankbait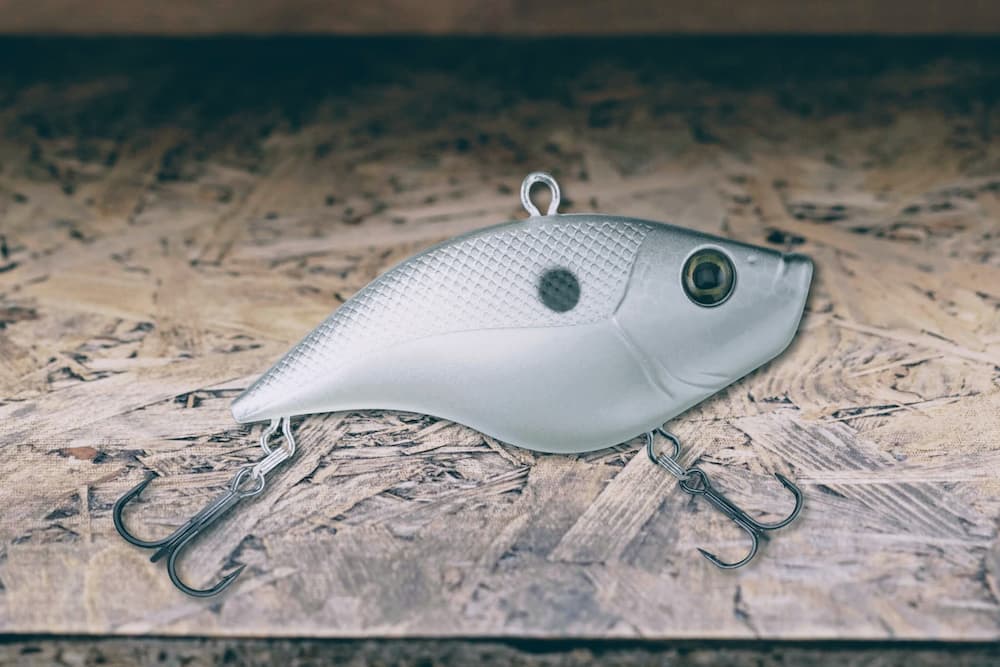 The Berkley Warpig Lipless Crankbait is nothing short of a rigged hog and it is loaded with all of the latest technologies for maximum attraction.
The Berkley Warpig Lipless Crankbait is designed with a thin body and a superior vibration. The lure is equipped with a durable, razor sharp 3X strong treble hooks that gives it heavy action. The Berkley Warpig Lipless Crankbait is also designed with a tear drop shape that will bounce off of wood and stumps with ease and a flat back that will allow the lure to glide through thick cover and vegetation with ease.
The lure is designed to sink down nose first providing a realistic look during retrieval pauses. The Berkley Warpig Lipless Crankbait is designed with two small slots on each side of the body which allow water to wash over the rattle which creates more vibration to attract bass.
The Warpig is the lipless crankbait we turn to when we need to get to the bottom of the water. The weighted nose of the Warpig helps pull it down deep quickly.
We love using the Warpig in the winter months though we don't limit its use to then. Using the Warpig, we can almost always elicit a reaction strike once we've found the pocket the bass are hanging out in.
The Warpig is the lipless crankbait that we use the most, so we recommend checking it out.
A sleek, thin-bodied design built for top-to-bottom presentations.
A flat-sided design allows the bait to cut through vegetation with ease.
A unique nose design deflects off hard-water structure.
Rattle chamber produces a shimmy action that lures fish in for a closer inspection
2 razor-sharp Fusion19 treble hooks.
Shop Online for the Berkley Warpig Lipless Crankbait
Nichols Lures Pulsator Double Willow Spinnerbait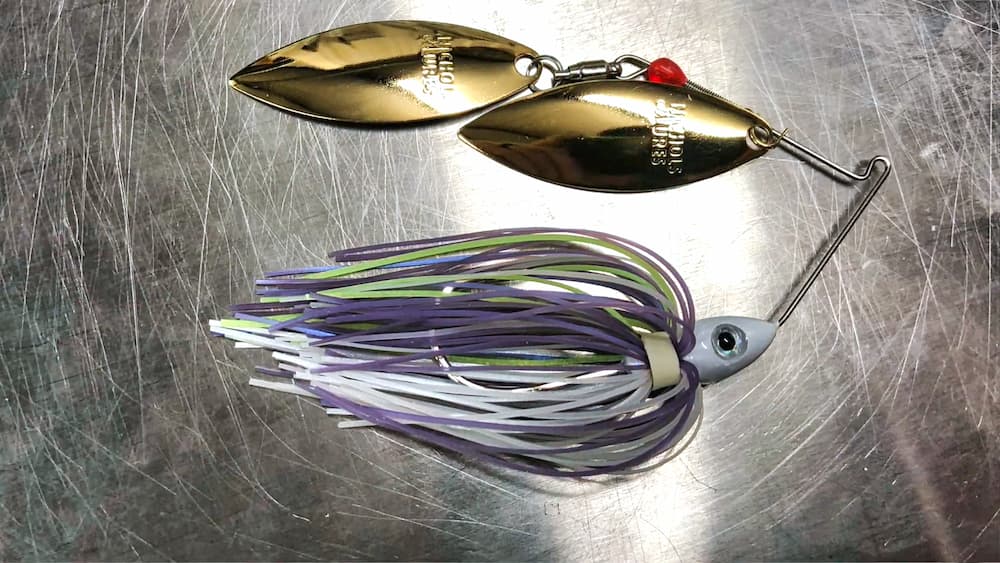 They checked all of the boxes when they created the Nichols Lures Pulsator Double Willow Spinnerbait. Designed with a unique tapered blade design, a kicktail, and a metal flake finish, the action of the patented Nichols Pulsator Spinnerbait produces a unique underwater movement that drives bass into a feeding frenzy.
Handmade in the USA, the Pulsator Double Willow's 3D eyes and lifelike silicon skirt are a piece of artwork in the water. A premium super-sharp hook, free running ball bearing swivel, and a swivel keeper all ensure a strong, dependable presentation every time you cast.
From our first cast, we could tell the Pulsator was one of the best spinnerbaits we've ever used. The disturbance this spinnerbait makes in the water looks like a small group of baitfish that grabs the eye of every nearby bass. The Pulsator is a largemouth bass lure favorite of ours and works great during summer bass fishing.
Whether visibility is good or not however, the Pulsator sends out vibrations that draw in nearby bass, even those hiding within cover. This lure holds up well to hard strikes and does an amazing job bringing in the bass.
If you don't have a Nichols Lures Pulsator spinner bait, you should definitely pick one up.
3-D eyes
Molded-in weed guard
Hand-painted finish
Premium super sharp
Mustad hook
Durable plastic
Realistic action and vibration
Made in the USA
Shop Online for the Nichols Lures Pulsator Spinnerbait
Z-MAN Project Z Chatterbait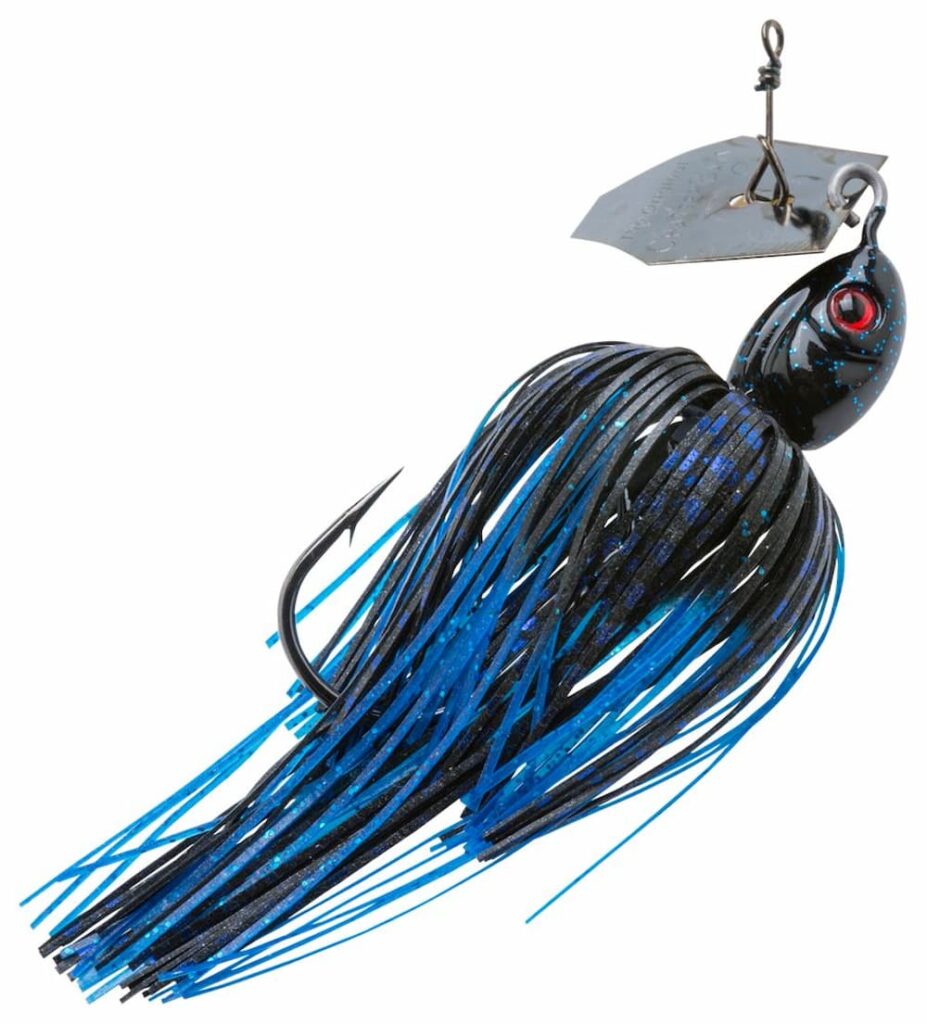 The Z Man Project Z Chatterbait is the latest evolution of the classic chatterbait,and is definitely worthy of its namesake. It is the culmination of input from a number of professional anglers, who helped Z-MAN develop a lure that's sure to always get the attention of any bass in the area.
Versatile, durable, and built to handle the heaviest of predators, the Project Z is ready for any situation you can throw at it.
The Project Z starts with an aerodynamic, lightweight head design that is built to run true and wiggle freely in the water, regardless of the current. The blade is of heavy-duty construction, and features a stainless steel hex-shaped ChatterBlade that provides the classic erratic pulsating action that is irresistible to big bass.
The Project Z also features a weed guard made from premium-grade, heavy-duty fiber guard that keeps the lure from getting snagged up in cover. It is covered with a matching multi-step paint job to give the Z Man Project Z Chatterbait a life-like appearance.
Equipped with a stainless steel Mustad UltraPoint hook and a heavy-duty Z-Tie double umbrella EZ Skirt skirt, the Z Man Project Z Chatterbait is ready to catch bass.
Constructed from premium components
Equipped with a heavy-duty 4/0 Mustad
UltraPoint hook
ChatterBlade delivers irresistible erratic action without snagging cover
ChatterBlade has a segment of flash added to it
Heavy duty fiber weedguard keeps the Z Man Project Z Chatterbait from getting hung up
Equipped with a premium-grade skirt and matching multi-step paint job
Has 3D eyes
Available in multiple color and size options
Shop Online for the Z-Man Project Z Chatterbait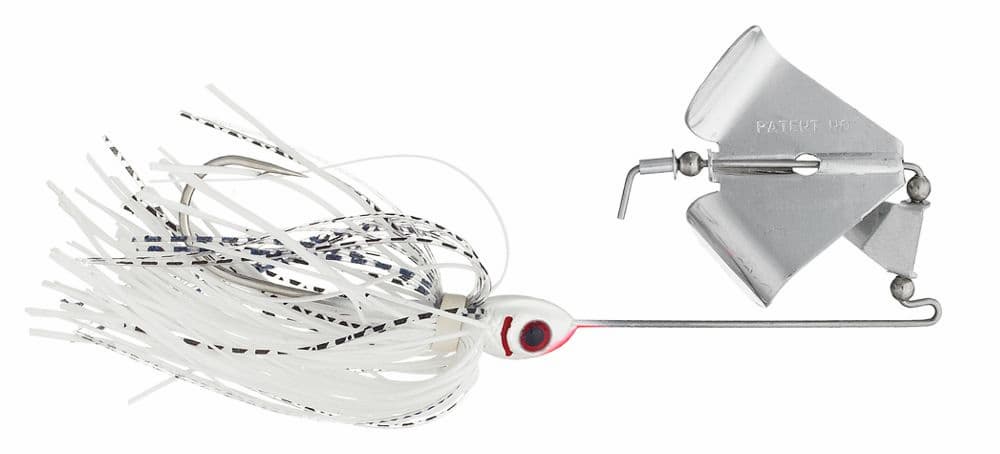 The BOOYAH Buzzbait Buzz is the top buzzbait in the industry. This buzzbait has an attack system that produces an extreme noise that attracts bass from all over.
The 55-strand Bio-Flex silicone skirt kicks aggressively, and the blade engages fish with a clatter that can't be ignored. Whether it's shallow cover, deep structure or just plain old heavy cover, the BOOYAH Buzzbait Buzz Blade will help you draw out the big bass. The BOOYAH Buzzbait Buzz can be found in 5 colors and 3 size variations.
We really enjoy throwing a BOOYAH's Buzz right up next to thick cover and quickly bringing it back. It creates so much action and disturbance in the water that the nearby bass can't help but be drawn to it, even in muddy water. We've caught some monsters using this bladed jig and absolutely love it.
If you're not a BOOYAH Buzzbait Buzz believer, you probably haven't tried one yet!
3-D eyes, flared gills and painted scale pattern
Mustad Ultra Point hook
Premium hard coat paint finish
Attached clacker
55-strand Bioflex skirt
Designed to run true
Shop Online for the BOOYAH Buzz Buzzbait
Smithwick Lures Suspending Rattlin Rogue Jerkbait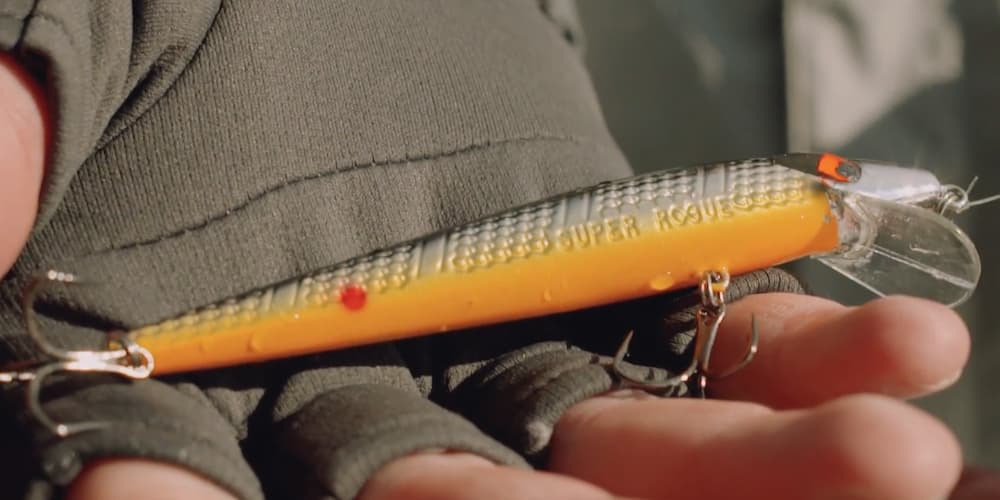 The award-winning Smithwick Suspending Rattlin' Rogue is a jerkbait that suspends perfectly in the water without any modifications. The Rattlin' Rogue incorporates a rattling chamber that produces a wounded bait fish sound that easily attracts nearby bass.
The variable wobble design makes the Rogue run true and allows the fish to see the working tail and flash from the chrome plated brass head. The Rogue is perfect for anglers that enjoy fishing with a suspending jerkbait that suspends perfectly right out-of-the-box.
The Rogue is available in several fish catching color combinations and is designed to catch fish when other lures fail.
The Rattlin Rogue is our first pick when we're using jerkbaits. It has great action and really seems to draw the bass in. To achieve the best results we fish the Rogue with a lot of pauses and a slow roll retrieve. We work in varying the speed and length of our jerks as well, pausing for a moment to let the Rogue hang.
This lure is incredibly effective at bringing in the bass. It's a jerk bait worth keeping stocked in your tackle box in a few different colors. In our opinion, the Rogue will not disappoint!
Perfectly weighted water suspension for effective fishing
Can be used and cast like a jerkbait or trolled like a hard minnow
Painted with fish-catching colors and realistic details to trigger explosive strikes
Shop Online for the Smithwick Suspending Rattlin Rogue
Strike King Tour Grade Skipping Jig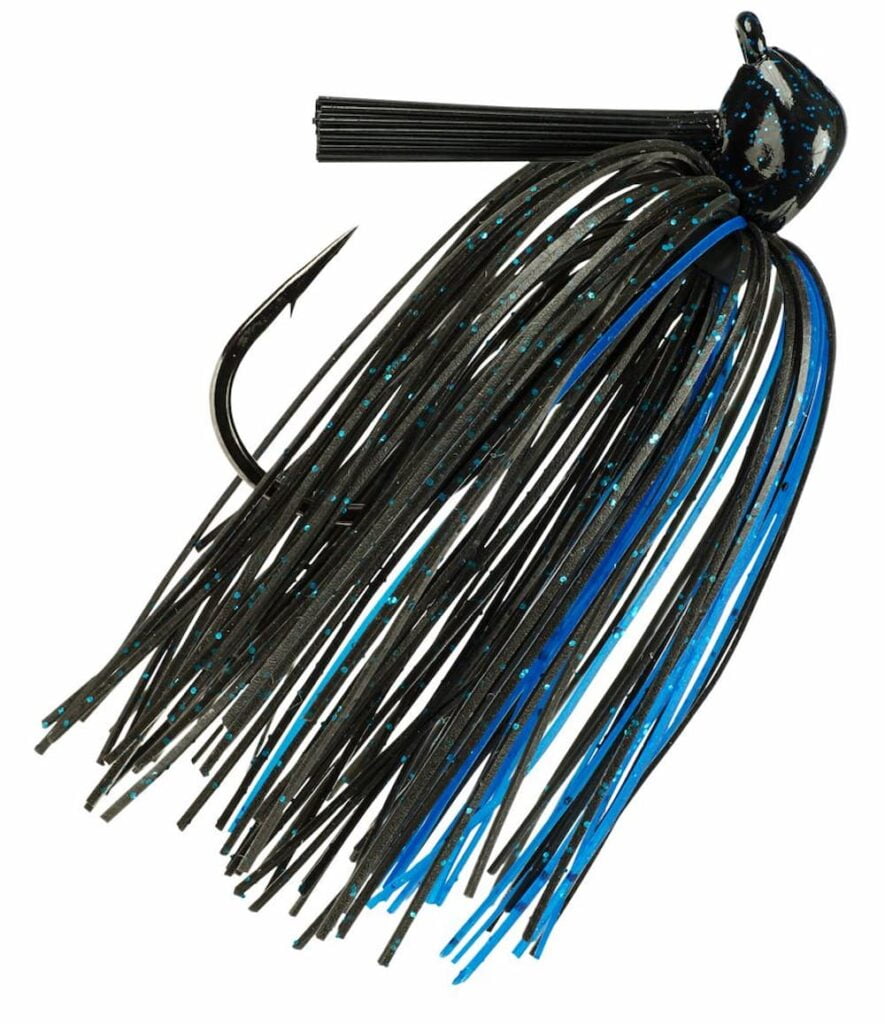 The Strike King Tour Grade Skipping Jig is a tournament proven jig designed for skipping. This jig is designed to skim on the surface, providing you with the ability to reach that tough to reach spot, under a dock or lay-down where that big bass is hiding.
This jig is a favorite choice of Andy Montgomery, who designed the jig for Strike King. The Tour Grade Skipping Jig is built with superior components and specifications. It features a unique head design, for a better skipping action, and a wire line tie to reduce the chance of hang-ups.
This jig is constructed with a silicone 60 strand skirt and is available in multiple different color and weight options. Built with a Gamakatsu hook that will not bend even when cast into hard cover, this jig is incredibly tough. The Tour Grade Skipping Jig is designed with a screw keeper for trailer retention.
We don't always use this skipping jig, but when we need it, we're sure glad we have it on hand. On more than one occasion we've skipped this jig into some areas we'd never land another type of lure just to snag a monster bass hanging out in a hard-to-reach spot.
If you went to expand your arsenal to be ready for any type of situation, the Strike King Tour Grade Skipping Jig is one of the best bass lures around and a worthy addition to your tackle box.
Flat sided designed head for smooth skipping action.
Wire line tie reduces hang-ups.
Built with a custom-made Gamakatsu hook that won't bend.
60 strand silicone skirt.
Screw keeper for trailer retention.
Shop Online for the Strike King Tour Grade Skipping Jig
Heddon Rattlin' Spook Topwater Lure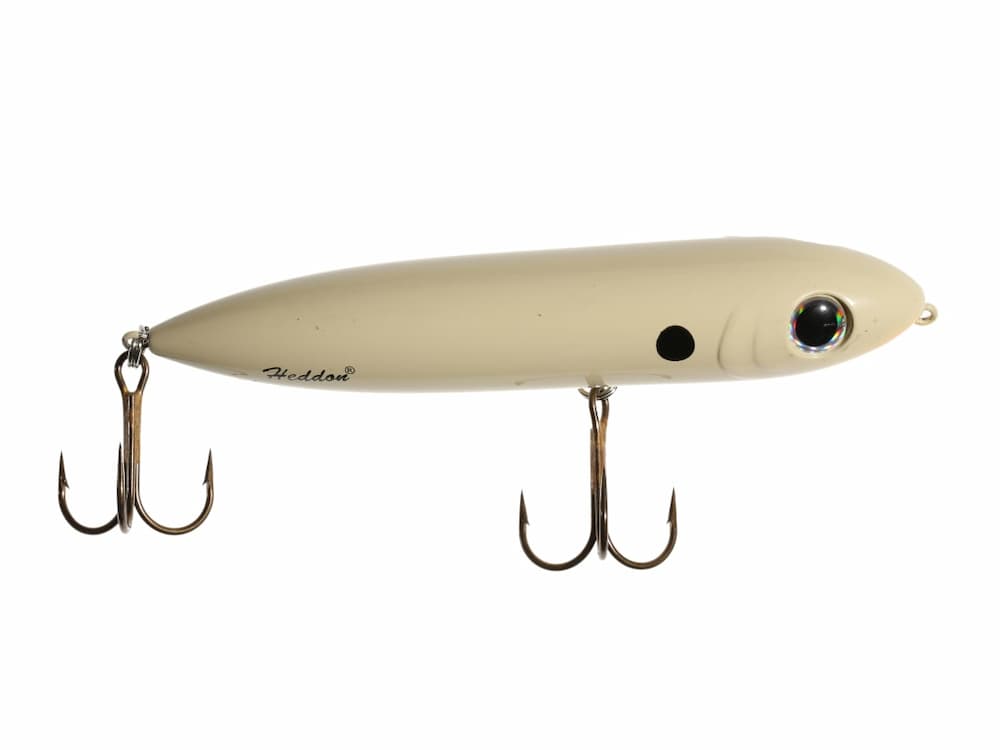 The Heddon Rattlin' Spook boasts a classic design that has yet to out of style of performance. Introduced in 1939, the original Heddon Zara Spook has seen plenty of anglers landing plenty of bass over the years. The original walk the dog lure, the Zara Spook has been a top performing lure since it was developed.

The Rattlin' Spook is an upgraded design incorporating a BB rattle chamber designed to mimic the sound and vibration that a wounded baitfish makes in order to grab the attention of nearby bass. This upgraded model took the winning design of the original and upgraded it specifically with bass fishing in mind. While others have tried to imitate the design and action, the Heddon Spook series remain the iconic topwater baits for large and smallmouth bass.

The Rattlin' Spook performs perfectly around heavy cover. Cast it near edges, lay downs, tall grass, lily pads and other cover and slowly bring it back with the walk-the-dog zigzag retrieval system. You'll be amazed at how well it draws nearby bass out of their hiding places.

It's a great topwater bait for covering water and working the edge of heavy cover. When fishing heavy cover, you'll want to fish it mainly in the top foot, and only occasionally near the bottom.

The Heddon Rattlin' Spook comes in multiple different colors like Foxy Momma, Bone Orange, Okie Shad, and Pearl Shad.

This lure is a great addition to the Heddon Spook line and is our favorite walk the dog lure and one of our all-time favorite topwater lures.
10 Tungsten BB Rattle Chamber
Excellent walk-the-dog action
Perfect around cover
Mimics panicked baitfish
Shop Online for the Heddon Rattlin Spook Topwater
Booyah Pad Crasher Frog Topwater Lure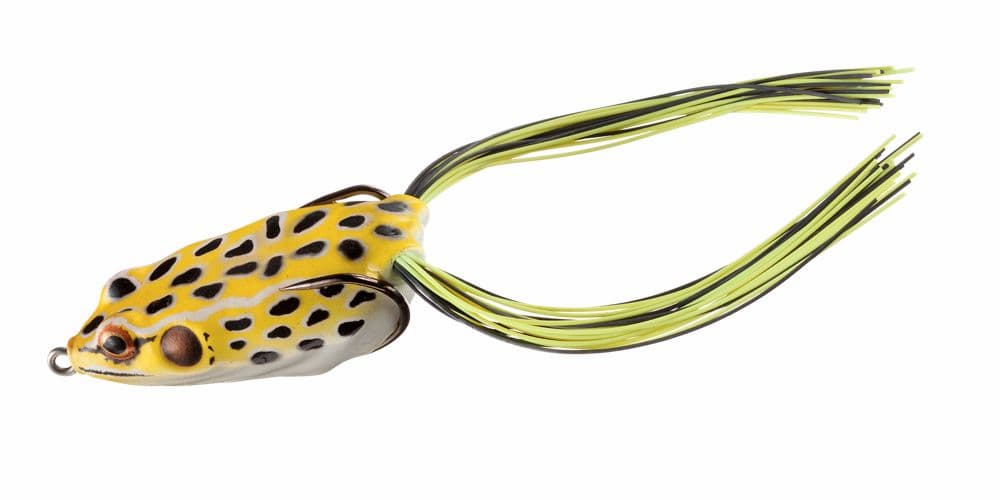 The Booyah Pad Crasher Hollow Body Frog is the perfect topwater frog lure for fishing over lily pads and cover.

Booyah's hollow body frog features a durable plastic body with the right design for consistent hook-ups without compromising on its weed and snag free design.

The underside features "chines" that enables this lure roll them easily through thick mats, and also give you that realistic, 'walking' action you need in open water. A built-in drain hole allows your bait to keep running at full speed.

The Booyah Pad Crasher is great for fishing in the most extreme conditions. Its durable plastic body and two weedless treble hooks allows it to easily glide through the thickest cover.

Available in over 10 different color and designs, the realistic look and action of Booyah Pad Crasher is sure to catch the eye of any nearby lurking bass.
Realistic 3D eyes for that big bass attraction
Weedless design, perfect for fishing in thick cover
Molded 'chines' on belly for consistent frog action
Drain hole to expel water and keep it from getting bogged down
Realistic color schemes and designs to mimic natural prey
Shop Online for the Booyah Pad Crasher
13 Fishing BAMF Shad Soft Swimbait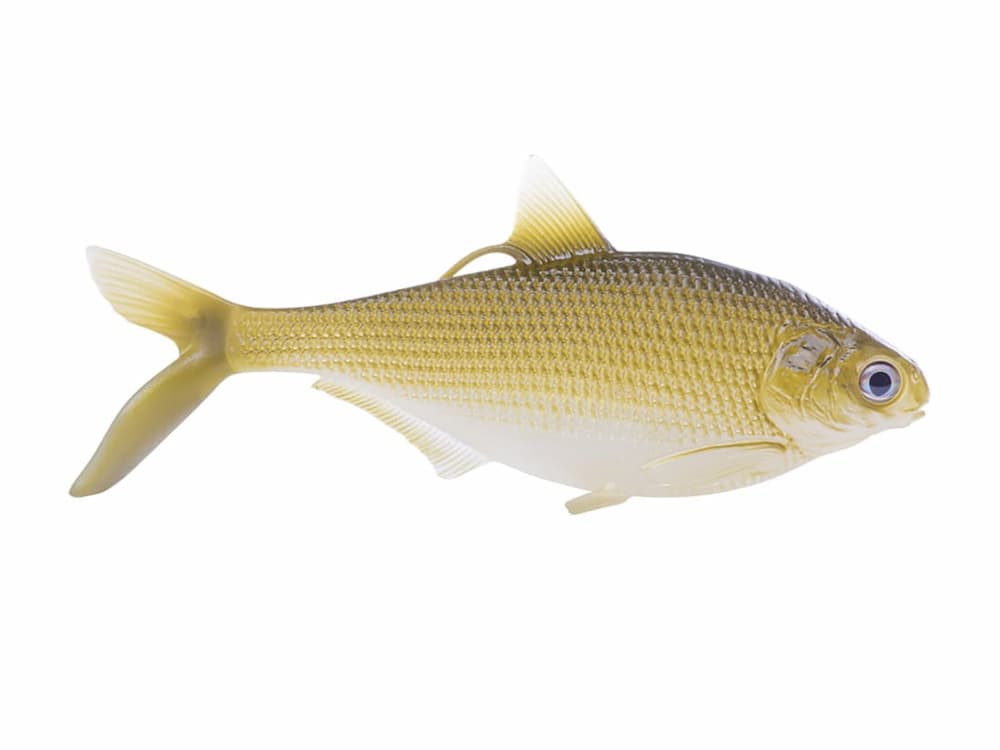 Hop into the big leagues with the BAMF swimbait from 13 Fishing. A large 5.25″ soft swimbait equipped with a highly detailed scaled body, natural looking 3D eyes, and a lifelike swimming action. All of this, makes this lure an excellent choice for fishing for big fish.
The BAMF swimbait has a proprietary hook slot, so it's rigged with a screw lock style hook and ready to go as a deep-diving, weedless lure. Nose anchors provide the BAMF swimbait with a realistic profile and swimming action, giving this swimbait an excellent food-imitating look.
13 Fishing BAMF Shad is one of our favorite soft swimbaits. The swimming action on this bait is incredibly realistic. We typically throw this bait out as far as we can and then slowly reel it back. The interest the bait generates is amazing.
We've used this to catch plenty of largemouth and striped bass.
We typically have some of our best days with the BAMF during the spring bass spawn season on clear days when the water visibility is good.
If you're looking for a large, enticing bait for your swimbait fishing, the BAMF swimbait will get it done.
Hand painted design details
3D holographic eyes
Incredibly natural looking swimming action
Shop Online for the 13 Fishing BAMF Shad Swimbait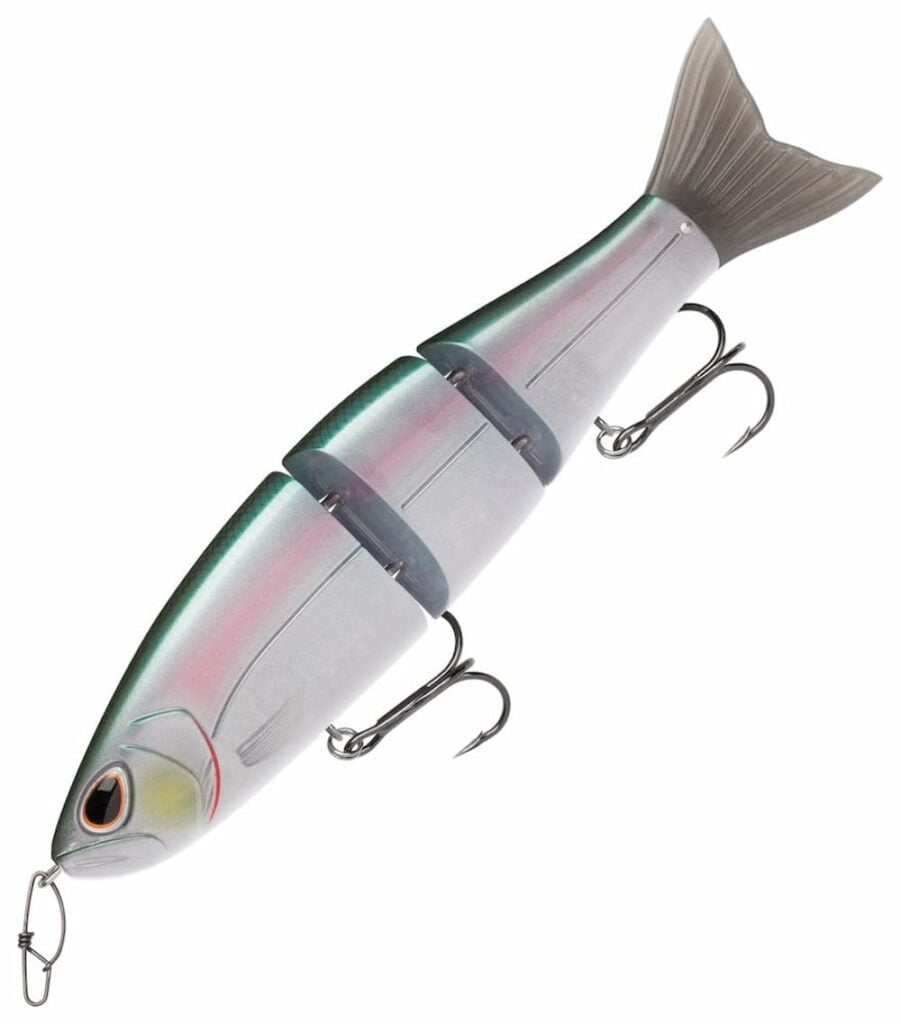 The Storm Arashi Swimmer has a slender and streamlined body for precise, side-to-side action. It can be twitched, paused or continuously retrieved for a swimming pattern that fishes like a live bait instead of an artificial lure.

Combining the best performance of jointed swimbaits with the most realistic features of the Storm Swim Shads, the Arashi series gives bass anglers a lethal combination of the two.

The Arashi Swimmer comes with a premium hook and with the durable Storm S3D Japanese split rings. Its unique design features an internal line tie which provides rigidity and balance, while also preventing line twist.

The Storm Arashi Swimmer's light-weight yet durable construction is the perfect combination of features and movement that prompts bass to strike without hesitation. It features premium components from tail to tip and includes a spare tail to keep you fishing when fish slip away with a piece of your bait.

We think the Arashi Swimmer is an amazing multi-jointed swimbait. Admittingly, it is a bit of an investment, and so may not be for everyone. Despite that, the Storm Arashi Swimmer is the best multi-joined swimbait around and well worth every penny paid.
Slow nose dive sinking creates a natural look and more control on the retrieve
Wide gap, Baitfish body design
Perfectly balanced jointed body for accurate swimming action
Premium hook pad
Shop Online for the Storm Arashi Swimbait
Storm Arashi Threadfin Glide Bait

The Storm Arashi Glide Bait provides anglers with a versatile, effective bait that can be fished to mimic the erratic swimming patterns of a distressed baitfish or the smooth, predictable swimming nature of a predator in striking position.
Thanks to its slow sinking rate, the Storm Arashi Glide Bait can be fished at any speed to match the activity of a small fish in your body of water. The Storm Arashi Glide can be employed in classic search-and-destroy tactics or worked with a reeling cadence that mimics the swimming action of a fleeing baitfish.
The Storm Arashi Glide Bait is perfectly balanced for a wide variety of retrieve tactics, allowing anglers to cover all sides of the water column. With its simple yet effective design, available in 8 different color patterns, the Storm Arashi Glide Bait is one of the best bass lures that can be used to effectively cover a large amount of water on all your fishing outings.
If you're looking for the best Glide Bait action without paying for an overpriced custom-made lure, the Storm Arashi Glide Bait is the bass fishing lure to choose. We love fishing with this lure, and we know that you will to!
Natural head first sinking action
Slow speed side to side swimming action
Balanced action for a wide variety of retrieve techniques
Powerful, streamlined body design for superior swimming action
Premium hooks
Extra tail included
Shop Online for the Storm Arashi Glide Bait
Culprit Original Soft Plastic Worm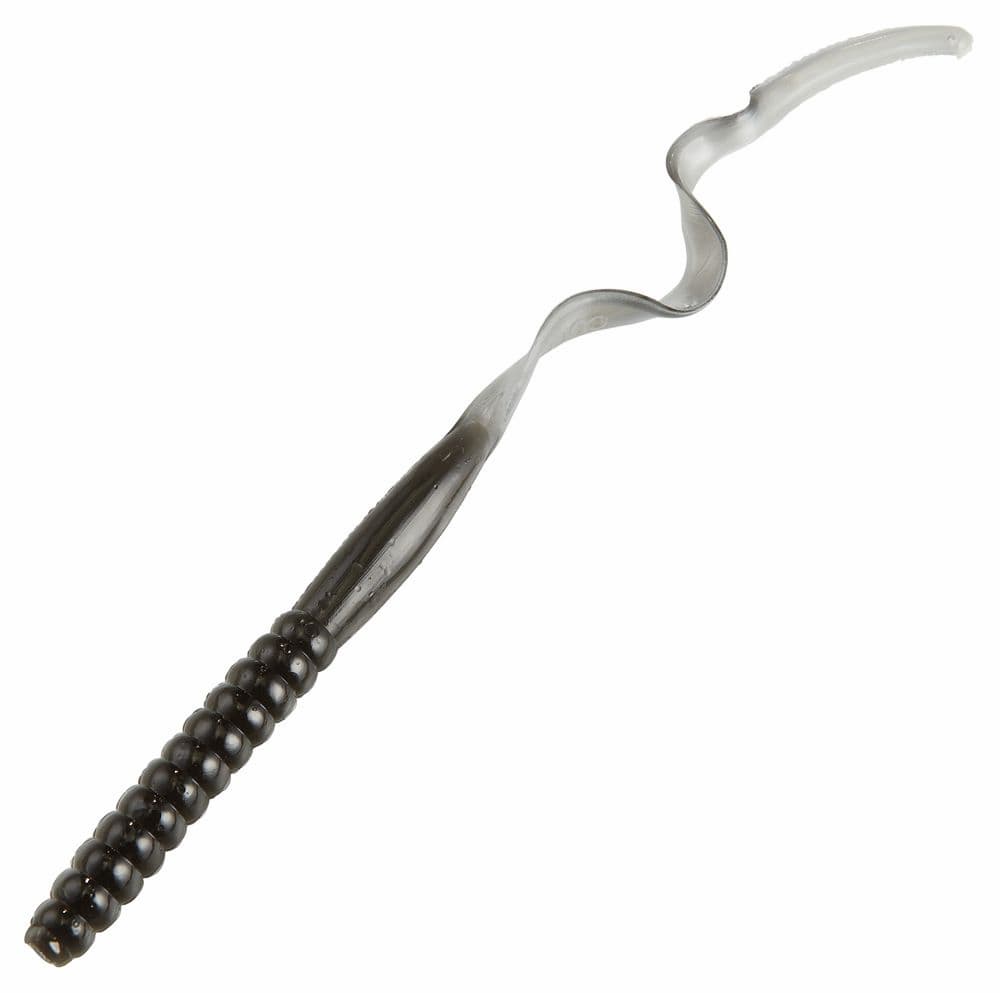 Since 1980, the Culprit worm has been the proven winner on the tournament trail. The Culprit Original Worm is a true classic, delivering proven fish catching performance for over 30 years.

Culprit's original plastic worm is loaded with fish catching features such as the ribbed front half, kicking tail, and extreme flotation technology.

Culprit worms are available in a wide range of proven colors to match any fishing condition.

Ready to fish right out of the package, they are our go to soft plastic worm for Texas and Carolina rigs. We'll occasionally use a different brand, but Culprit worms hold up well and have great under water action that keeps us coming back to this classic.

If you're looking for a great performing plastic worm, we recommend looking into the Culprit Original Worm.
World record-setting performance
Variety of colors
Ribbed front half and kicking tail
Extreme flotation technology
Classic, ribbon-style shape
Wide range of proven colors
Shop Online for the Culprit Original Worm
Yamamoto Senko Stick Worm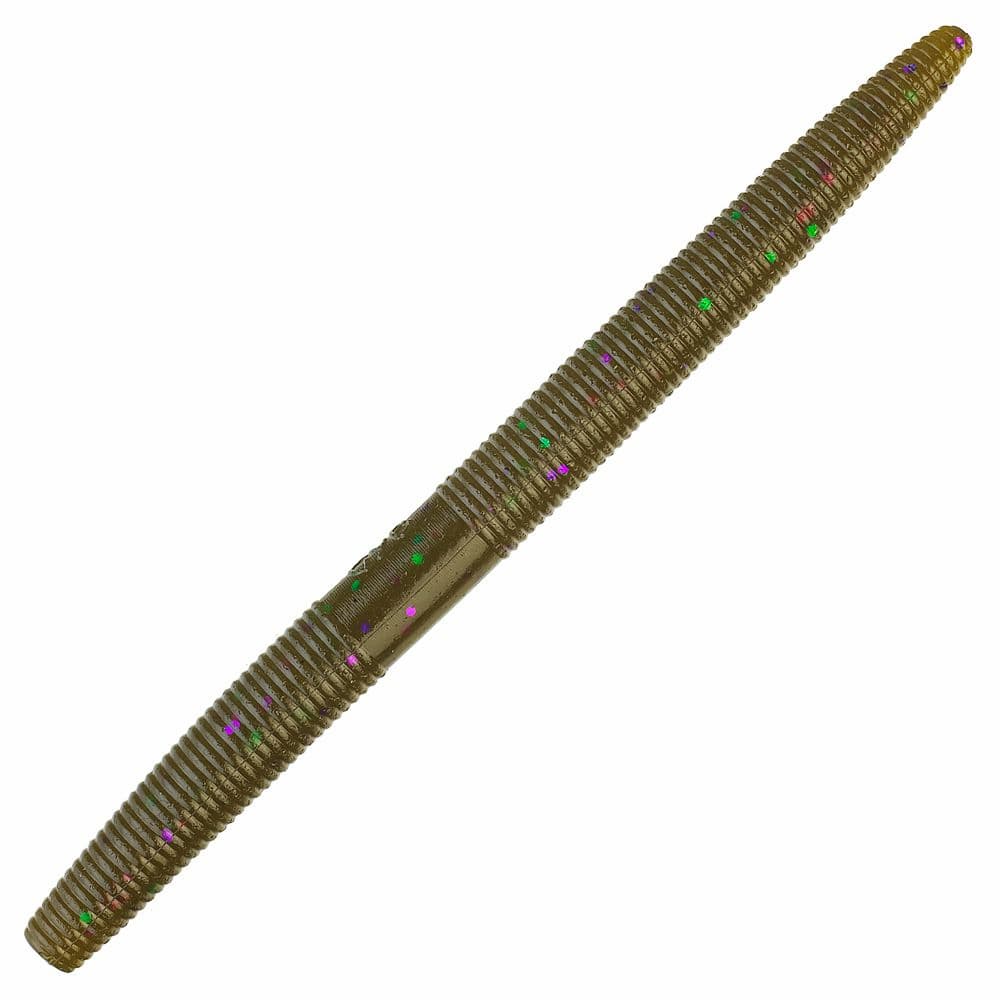 No other bait on the market has garnered the attention and respect that the Yamamoto Senko has. Designed by legendary angler Gary Yamamoto, the Senko is a top bass catching plastic stick worm.

The Senko is salt infused, comes with a healthy profile, and is easy to cast. When fishing wacky or weightless style the Senko drops through the water in an even and smooth horizontal motion. Anglers across the country, from Florida to California, have picked up the Senko by Yamamoto to target bass of all sizes.

We started using the Senko stick bait a few years ago and we've been fans ever since. They are available in about as many color options as you can imagine which makes the incredibly versitile. We typically fish these on a shaky head or wacky rig, and they perform great.

We have noticed that the salt infusion does appear to keep bass holding on longer after they strike, so that's a definite advantage these worms bring to the table.

If you're looking for the best stick worm around, check out the Yamamoto Senko.
Salt impregnated plastic causes bass to hold on longer
Compatible with wacky style, drop shot, and Texas rig, and shaky head
Thin, for soft presentations
Available in multiple different sizes and colors
Shop Online for the Yamamoto Senko Stick
Strike King KVD Dream Shot Opt Soft Plastic Finesse Worm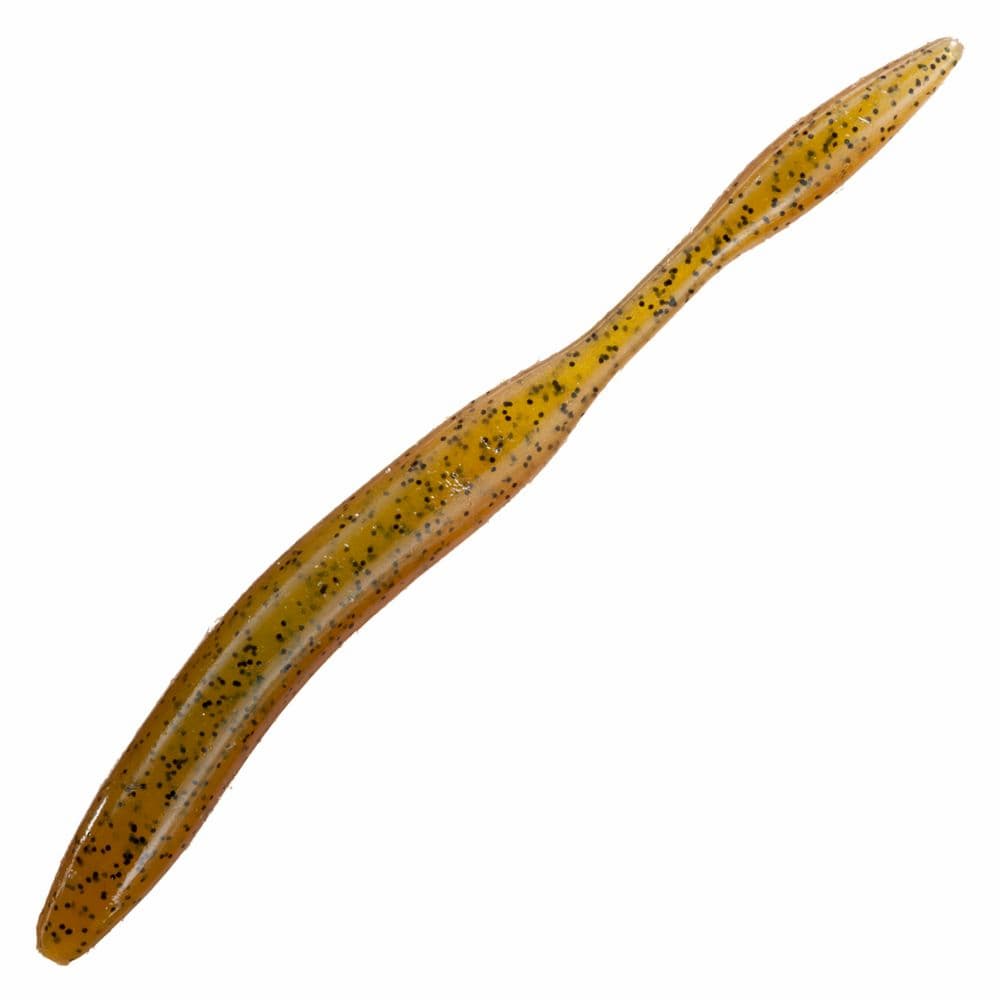 The Strike King KVD Dream Shot OPT is one of the most versatile drop shot baits on the market.

This soft-bodied bait delivers phenomenal tail action with a triangle hinged tail section that quivers and wakes with the smallest movement. Its hinged tail moves naturally in the water, attracting bass to strike.

This soft body bait is coffee scent infused using Strike King's proprietary Open Pour Technology. It is designed for short to medium distance fishing, with a top-notch appeal. Available in various colors, the Strike King KVD Dream Shot OPT is made with proprietary Strike King's Perfect Plastic material.

The Strike King KVD Dream Shot OPT is a proven winner in our book.

When we need to get to the bottom of a deep lake, or we can see the bass on our fish finder holding deeper than our other lures can get to, we grab the KVD Dream Shot OPT.

Based on how well this bait attracts bass, I'm guessing that they like coffee as much as we do.

If you're new to drop shot fishing, or this particular finesse worm, we advise getting familiar, because Strike King's KVD Dream Shot OPT does a fantastic job catching bass!
Available in several colors to match any fishing situation
Made with Strike King's Perfect Plastic material
The exclusive triangular hinged tail section moves naturally in the water
Soft-bodied construction in the body of the bait attracts large bass to bite
Salt-infused to improve bass hold time
Shop Online for the Strike King KVD Dream Shot
Z-MAN TRD Crawz Crawfish Bait
The TRD CrawZ fishing bait by Z-Man from Strike King is an ultra-realistic plastic crayfish imitation that is designed for the Ned-rigging technique. This bait is ideal for finesse applications or as a jig trailer. The Z-Man TRD CrawZ has a tuck-under tail and flat belly that gives it a gliding action on the fall. The soft body of the Z-Man TRD CrawZ provides a subtle strike triggering action.

When dragged along the bottom, the buoyant claws of the Z-Man TRD CrawZ keep the bait upright and in a defensive posture. Each bait is poured in a variety of proven color patterns that can be fished in a variety of ways.

We love throwing the TRD CrawZ in the warmer months when crawfish are naturally active. The underwater look of this bait outperforms other crayfish bait and looks more natural.

The TRD CrawZ is a soft plastic crawdad that is an essential part of your tackle box if you fish in any body of water where crawfish are naturally present.
Realistic crawfish imitation
Designed for Ned-rigging
Can also be used as a finesse jig trailer
Perfect for drop shots, shaking heads, split shots, and float setups
Available in a variety of realistic crawdad colors
Strike King Coffee Tube Bait
Strike King Coffee Tube Baits are a newer take on the existing soft plastic tube bait. They have taken the classic tube shape and enhanced it by infusing the soft plastic lure with natural coffee bean granules and oil. This gives the tube a more natural earthy tone and scent that entices bass in and causes them to hold on to the bait longer.

By utilizing the coffee granules in the soft bait tube, Strike King was able to create 10 very natural different color varieties.

We typically work the Coffee Tube on an internal tube jig head. When switching over to fishing a tube bait you have to slow down your mentality a bit. We'll throw the Strike King Coffee near spread out beds of grass in open water and let the tube slowly sink it's way to the bottom. We've found that slowing down a bit works wonders with the Coffee Tube Bait.

If you've never used a tube bait before or looking for the best tube bait currently available, we highly recommend the Strike King Coffee Tube Baits.
Enhanced with genuine coffee bean granules and oils for natural earthy scent and taste
Salt impregnated to maintain longer fish strikes
Hollow head with secure internal tubing for rigged fishing action
Zoom Bait Brush Hog Bait Creature Bait
The Brush Hog is a series of larger, more complex bodied soft plastic creature baits. The oversized body and oversized legs and wings create the illusion of a much larger creature in the water. It has quickly become a favorite go to plastic bait for anglers all over the country.

A large salt impregnated bait with two curltails fluttering in the current, the Brush Hog is loaded with fish catching action. The dual tails on the back, cause a lot of vibration in the water which attracts bass even in dirty water.

When you're fishing the Brush Hog, it will swim with a side-to-side, pulsing action, and it will wiggle and dart quickly on the jerk. This bait is very easy to fish and will catch you fish when other baits fail. I have caught bass ranging in size from 4 to 12 pounds using this bait.

We use the Brush Hog Bait Creature Bait extensively on Texas and Carolina rigs, but will also use it as a trailer for jigs and other lures. It does a great job at attracting large bass. It's a versatile soft plastic bait that is worth keeping in your collection.
Double tail design creates a lot of water disturbance
Salt impregnated for a longer strike hold
Made in the USA
Available in 10 different colors schemes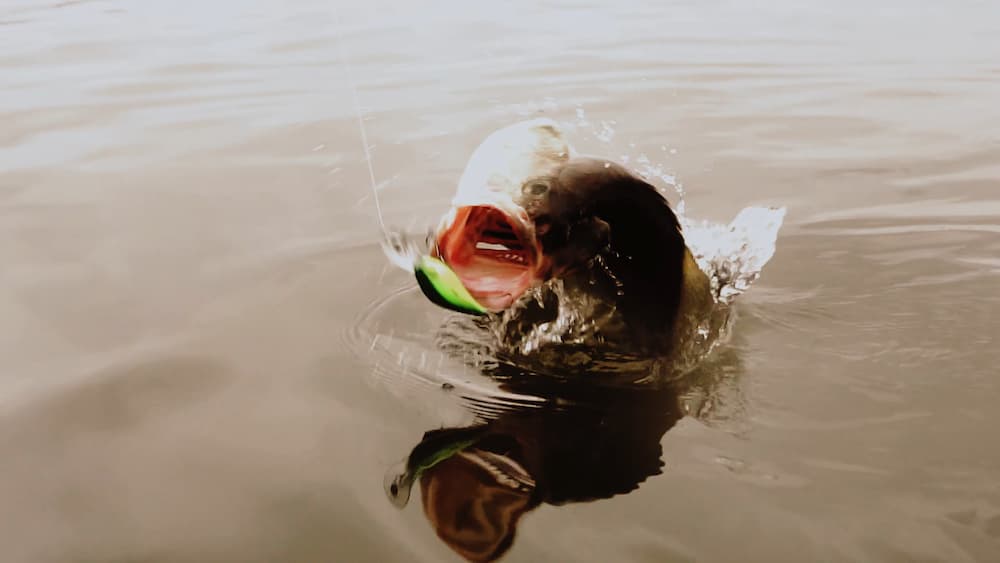 When you're looking for the best bass lures, you don't need to spend a fortune. The key is reviewing the lures you currently have and identifying the areas you can currently expand into.
The beauty of having different types of lures is to be ready for any fishing environment or circumstance.
The top 20 lures and baits we've assembled will provide you with a list of quality options that will equip you to be ready for any fishing situation you may face.
As an Amazon Associate I earn from qualifying purchases.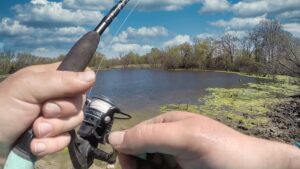 Penn reels are known among anglers as some of the best reels available. Penn consistently produces high quality reels that deliver excellent performance. With the Pursuit series, Penn has managed to continue to deliver on what they're known for, but at a fraction of their normal price. While not perfect, the Pursuit spinning reel is a budget reel worth checking out. Read our review for the full scoop.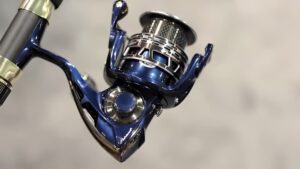 The Pflueger Patriarch is one of the lightest, most durable spinning reels on the market. With its 10-bearing system and titanium-coated line roller, this reel is smooth, easy to use, and built to last. For anglers of all skill levels, the Patriarch is a great choice.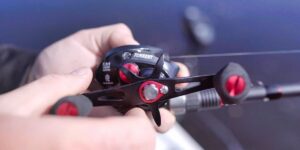 The Piscifun Torrent is a very solid deep budget baitcast reel that offers a robust drag system, shielded bearings, and adjustable magnetic brake system. While this reel might not have all of the features of more expensive casting reels, it's an excellent value for the price and gives you what you need to get out there and start fishing.