10 Best Jigs For Bass Fishing in 2023
Looking for one of the best bass fishing lures? Look no further than the jig. Whether fishing in deep or shallow water, open or grass filled there's a jig and presentation for every circumstance.  Few other lures offer the range of use that jigs provide.
What Is A Jig Fishing Lure?
Jig fishing is a great way to fish for bass. One of the best things about jig fishing is that it can be done in a variety of locations all year-round.
Because of its versatility you can pitch, flip, skip, punch, cast, and swim a jig. Since there are many different techniques, there are jigs specially designed for each technique. Though you could do most of the techniques with just about any bass jig, you'll have the best success using the right lure for the presentation you're using.
You will also notice that the term 'jig fishing lure' is used quite often. This is because a jig does not necessarily have to be a jig. Though there is a specific type of lure called a fishing jig, many people will refer to other types of lures as jigs.
If you're just getting started jig fishing for bass, you'll need a few items to get started.
Depending on the type of technique you're going to be using your exact needs will vary, however, you'll generally want a strong flexible fishing rod. You'll find rods specifically designed for flipping, pitching, and punching.
You'll also want a good strong line, especially if you're fishing in heavy cover. Many anglers prefer fluorocarbon line, but if you're fishing in tough conditions you may want to opt for braid.
Top 10 Best Bass Jigs On The Market Today
Most importantly, you'll want a good selection of different bass jigs as well as a variety of different trailers.
In this article, we'll be covering the 10 best bass jigs.
If you're looking for a list of other bass lures see our article: 20 Best Bass Lures Of All Time
Strike King Tour Grade Skipping Jig
Type: Skipping | Flipping
The Strike King Tour Grade Skipping Jig was designed from the bottom up by Andy Montgomery, pro angler. The flat-sided head shape is perfect for skipping over hard-to-reach spots, docks, and other cover.
This high-quality skipping jig features a custom-flat-sided head, a 60-count silicone skirts, a screw keeper for trailer hook-ups, and a super-sharp hook. Available in 1/2 ounce and 3/8 ounce, the Strike King Tour Grade Skipping Jig is created to help increase your catch rate.
The Tour Grade Skipping Jig is our favorite skipping jig and one of our all-time favorite bass jigs.  The versatility this lure provides has allowed us to get into some tight places and snap up some monster bass hiding just out of reach of other lures.
Type: Casting | Flipping | Pitching
The Booyah Finance Jig offers tournament-winning performance right out of the box. This multi-application jig can do just about everything. Built with all the attributes anglers are looking for in a multi-purpose jig.  Whether you're looking to flip it, pitch it, or cast it. The Finance Jig is up for the task.
The Booyah Finance features a durable classic ball designed, powder coated head, with a chip-resistant finish. Also equipped with 55 strand Bio-Flex silicone skirt, and razor sharp 3/0 Mustad Ultra Hooks.
The Finance Jig is available in 5 colors and 2 sizes to meet your needs, giving you the opportunity to catch both numbers and size.
The Booyah Finance is a great multi-use jig. We flip it around trees and roll it over rocky areas. It has great action and really draws the fish in.  Only complaint is that if you put it away in the tackle box wet the hook tends to rust. So just make sure you dry it before putting it away and you shouldn't have any issues.
Strike King Bitsy Flip Jig
Type: Flipping
The Bitsy Flip Jig from Strike King utilizes a weedless design made for casting into heavy cover. Featuring an inverted line tie that prevents fraying on rocks, a robust weed guard that prevents snag-ups, and a weedless head design that keeps the jig from getting stuck. This is the ideal jig for fishing where other lures just can't make it.
The Bitsy Flip has a premium silicone skirt the flutters nicely in the water. It's equipped with an oversized, strong, black nickel Mustad hook that sets nicely. This jig is built to handle the thickest cover where big bass hide.
We love flipping and ripping the Bitsy Flip through heavy cover.  They do great at attracting smallmouth bass.  The weedless design of the jig really excels.  You may not hear a lot about this jig, but that's just because other anglers want to keep it a secret. So shhhh… don't tell anyone else 😉
6th Sense Divine Swim Jig
Type: Swimming | Flipping
The 6th Sense Divine Swim Jig was created to reach the areas where fish actually live. The hand-painted swim jig provides anglers with a detailed profile, three-dimensional eyes, gill like plates, and real looking eye sockets.
The 6th Sense Divine Swim Jig is engineered with a wide, cover-deflecting head, which makes it perfect for the water's floor bed. With a nearly-flat, weighted belly, the Divine Swim Jig is effective at fishing through grass and around docks and tress. 
Designed with a fluttering baitfish swimming action, this jig is the ultimate lure when it comes to attracting reluctant fish hiding in the weeds.
When reaching for a swim jig, the 6th Sense Devine Swim is one of the first lures we reach for.  The action on this lure really pulls the bass in, whether in open water or through the grass, this jig really works.
War Eagle Heavy Finesse Jig
Type: Finesse | Casting | Swimming
The Waring Eagle Heavy Finesse Jig is a powerful finesse jig designed by Andy Morgan, allowing you to finesse the big fish with the confidence that you will still have the power to get 'em in the boat. Even when fishing gets tough, this jig will help load the boat.
Equipped with a 3/0 Gamakatsu hook, sturdy weedguard, and Thick Hole in One Skirt, this is one of the most versatile jigs you will own. When finesse fishing is the only option, count on this jig to bring home the trophy bass for you.
This is the jig we grab when we're fishing deep clear waters in the spring and summer months.  Especially when the bite is tough, this jig comes through for us time and time again.
Z-MAN CrosseyeZ Football Jig
Type: Football | Casting
The Z-Man CrossEyeZ Football Jig was designed in collaboration with professional angler, David Walker and delivers top-level performance and durability. David designed the jig as the ideal tool for fishing ledges, gravel, and chunk rock in deep water.
The traditional football head shape, combined with a V-shaped custom molded weedguard, makes the Z-Man CrossEyeZ Football Jig perfect for these situations.
CrossEyeZ Football Jigs have a hand-tied silicone skirt which is designed by David Walker himself. The body is molded from an extremely hard lead allow, and then coated in a rugged powder coating that doesn't chip even after coming in contact with rocks and stumps.
The Z-Man CrossEyeZ Football Jig also features a wide hook gap and a long shank hook that is razor sharp and ready to grab some bass.
Z-MAN's CrosseyeZ Football Jig is the lure we tie on when we're dragging across ledges, gravel, and chunk rock.  The football head shape on the CrosseyeZ does a great job at preventing hang-ups in crevices. 
Some people complain that the weedguard comes off of this lure, but we haven't experienced that problem.  So far, this has been a great jig that has held up well for us.
All Terrain Grassmaster Weed Jig
Type: Grass | Punching
Heavy cover? Tackle it with the All-Terrain Grassmaster Weed Jig. The Grassmaster consists of a premium 50 strand Pro-Tie skirt, Trail-R Loc keeper, premium weedguard, and a superior extra strong Mustad Ultra Point hook.
The incorporation of the hidden eye string tie allows the Grassmaster to outperform other jigs when going in and out of heavy cover.
The All-Terrain Grassmaster is one of our favorite jigs for working heavy grass mats. The Grassmaster jig is also endorsed by pro bass angler Scott Martin, which we think is a plus. 
The Grassmaster easily punches through some of the thickest weeds we've seen and comes back clean almost every time.  So even if your fishing areas that look like you could walk on the water, you should still give the Grassmaster a go. 
We're sure you'll be pleasantly surprised at the results when you pull in a bass you'd never have gotten otherwise.
Catch Co Gamechanger Lures Trashmaster
Type: Cover | Flipping | Pitching
The GameChanger Lures Trashmaster Jig is one of the most versatile jigs that Catch Co has created. It has a unique shape that helps it get through thick weeds and brush with ease. The Trashmaster is hand tied with wire to ensure a lifelike rotating action while also adding durability.
This jig was designed by Steve Parks in conjunction with the Catch Co team. It has a slightly shorter skirt than most jigs, meaning no need to trim the skirt before use.
It's a great jig for flipping docks, punching mats, or swimming slow through open water. The Gamechanger Lures Trashmaster Jig is a great choice for many different fishing applications.
It punches easily through mats, laydowns, and other types of cover we've encountered with it very well.  It really does have a fantastic design and has provided us a great hookup ratio.
Strike King Tour Grade Swim Jigs
Type: Swimming
Strike King Tour Grade Swim Jig is an American made lure with a sleek, balanced head that produces a life-like bait fish swimming motion. The head is designed for a precise swimming action whether fishing vertical, horizontal or in-and-out.
Each jig includes a soft plastic keeper that firmly holds your jig trailer in place and a durable, super sharp VMC hook that is perfect for anglers looking to increase the number of hookups from each strike.
The Tour Grade Swim jig is another winner from Strike King.  The balance on this lure provides such great action when swimming in open water.  Hook on a swimbait and this lure is pretty much unstoppable. 
Z-man Finesse Shroomz Micro Jig
Type: Finesse
The Z-Man ShroomZ Micro Finesse Jig takes the minimalist concept behind the Ned Rig and Ned Rig Mini to the next level.
One of the best finesse jigs on the market the ShroomZ Micro Jig provides a slow fall that delivers a tantalizing action. The ShroomZ Micro is very realistic looking and provides a lifelike wiggling effect to entice even wary bass.
The ShroomZ Finesse Jig also features an ultra-sharp black nickel hook that is custom-designed for easy jaw penetration.
The Z-Man ShroomZ Micro Finesse Jig is also very versatile, as it can be paired with either ElaZtech or traditional plastics, making it a great option for all anglers that are looking for a way to entice bass out of a tough spot.
Different Types of Bass Fishing Jigs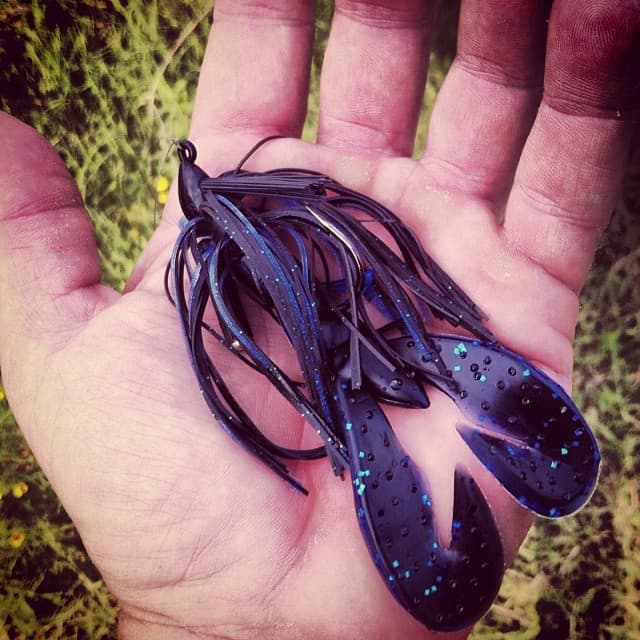 Some jigs are designed to be cast through the water column, and come in a variety of colors and styles. These jigs are designed for finding inactive fish around cover vs those in open water.
Good casting jigs will weigh around .5 oz, have a weed guard, and a large amount of fluttering to trigger bass to strike. Ideal bait trailers for casting jigs include craws, grubs, and other soft "plastic" baits.
Used primarily for fishing through heavy cover, such as brush and wood, flipping jigs can come in a variety of weights as well as colors.
The ideal flipping jig weights somewhere between .5 to 1 oz, has a firm weed guard, strong hook and a compact shaped jig head that will get it through heavy cover and not get stuck. Ideal flipping jig trailers include creatures, craws, chunks, and other trailers that won't get caught up in the weeds.
Swim jigs are designed to be cast out and retrieved in open water allowing the lure to swim naturally. When fished correctly, a swim jig can be a deadly lure for bigger bass in open water.
The ideal swim jig weight ranges from 1/4 to 1/2 oz and has a light weed guard. The swim jig is quite versatile when it comes to retrieving it in a variety of speeds. Because of the versatility of a swim jig ideal trailers include paddle tails, swimbaits, grubs, and other trailers that will add erratic action to the jig.
A unique, compact shaped jig that is great for fishing around rocky surfaces. The football jig is designed to be fished slowly, and will work while being dragged over the bottom of the water floor.
Weight should be around 3/8 to 1 oz with the head shaped more like a football. Ideal trailers for football jigs are large creatures, crawfish, plastic worm, and soft plastics that won't get hung up on rocks.
A relatively new concept in jig fishing, skipping jigs are designed to be skipped over the surface of the water in order to reach the ideal location. Whether that's under a laydown, dock, or some other structure.  Skipping jigs are designed to get into the tough places that other bass fishing lures just can't reach.
Weight should be somewhere around 3/8 to .5 oz with a weed guard and recessed hook. Best trailers will be a crayfish or some type of compact creature bait that doesn't have a lot of appendages that catch water and slow down the skipping action.
Grass jigs are designed to be fished through grass waters. Grass jigs generally have more of a pointy head with a recessed line tie to help the lure go through grassy areas without getting caught up. Grass jigs have strong weed guards which help keep the bass lure from getting hung up.
You'll typically find grass jigs weighing from 1/4 to 1 1/2 oz. The ideal grass jig trailers are small craws, tadpoles, creature baits, and the like.
A special type of jig fishing, the finesse jig is a delicate, lighter jig, with a small head that is designed to be worked slowly through heavy cover or in open water. Finesse jigs tend to have a smaller profile than other jigs, and have weed guards and recessed hooks.
Typically, they will weigh between 3/16 to 1/4 oz. Best trailers will be small crawfish, grubs, senko worm, and creature bait.
Considered the "next step" in jig fishing, the bladed jig is designed to be fluttered or twitched, and is a great choice for varying depths.
They come in a variety of weights and sizes depending on your fishing conditions, and can be worked in open water or around cover. Best trailers will be chunks, tadpoles, swimbaits, and craws.
Whether you're fishing for bass in open water, around cover, or around different types of structure you will find that a jig can be quite versatile. One of the best things about jig fishing is that it can be done all year round. Deep or shallow, clear or murky, there is a jig for almost any presentation you want to use.
The most important thing you can do is to experiment. Try different colors, different weights, and different trailers. Then find out what works in certain areas, and what doesn't. Jig fishing is very versatile, and you need to be able to adapt to the many different situations you will encounter in order to find success.
Remember, jigs are not all the same. The best jigs will be those that are designed to be used in the situation that you're fishing.
Actually, I'll correct myself. The best jigs are those that work and catch you big bass fish. So get out there and catch some!
As an Amazon Associate I earn from qualifying purchases.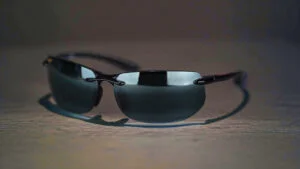 When you're out on the water, the last thing you want is to be squinting in the sun. But not all sunglasses are created equal. If you're looking for a fantastic pair of polarized fishing sunglasses, Maui Jim Banyans are worth checking out. Keep reading to learn more about why Maui Jim Banyans are one of the best sunglasses for fishing.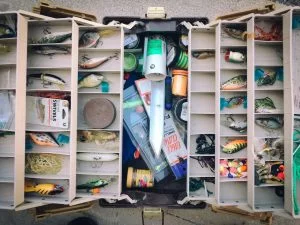 In the winter, you should be reasonable when bass fishing, but don't give up. You can still catch your share of bass during the colder months, it's just important to know the basics about bass fishing in the winter.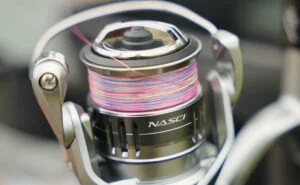 Discover the impressive performance of the Shimano Nasci FC Spinning Reel at an affordable price. Curious about its unique features and how it compares to other spinning reels on the market? Dive into our comprehensive review to find out if it's the perfect match for your fishing needs!