Lews Mach Crush Baitcaster Review
The Mach Crush is a great baitcasting reel with a large handle, smooth operation and excellent casting capabilities, but with a few downsides. Read our full review below.
Mach Crush Baitcasting Reel Overview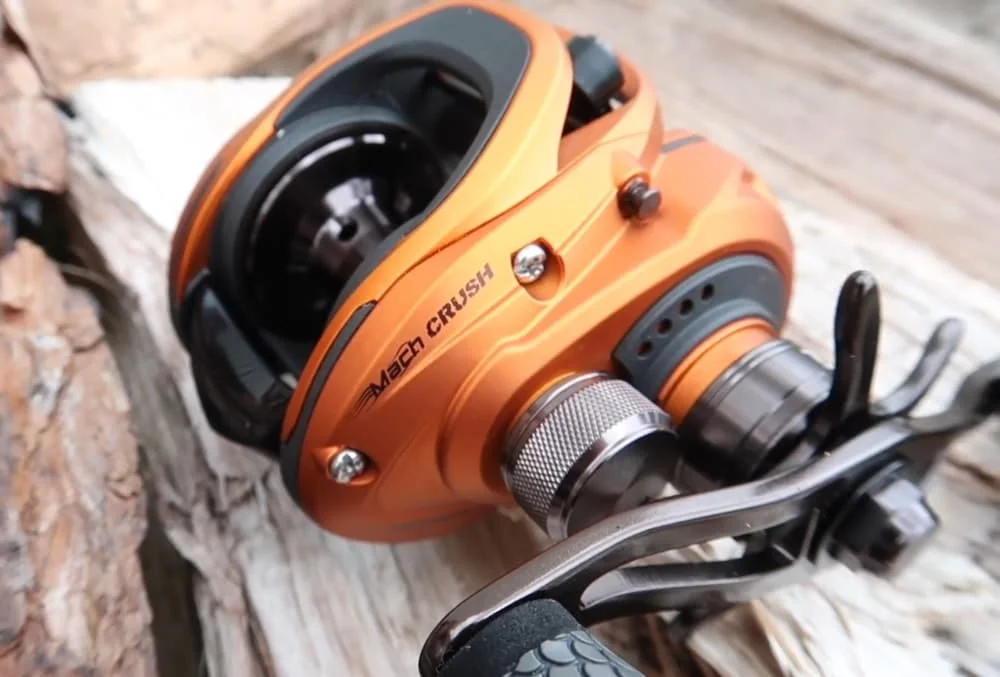 The Mach Crush from Lew's is an all-graphite body, lightweight reel with a great feel and performance. It's built on a composite graphite frame with graphite sideplates.
It has a very small profile, but it has a large 95 mm handle with oversized Winn Dri-Tac knobs. It's very comfortable to hold, and the knobs are large and easy to grab.
The reel has a smooth, solid feel and lots of great features.
The line guide is one of the best we've seen in this price range, and the reel comes with a lube port for easy oil application to keep the gears spinning without issue.
With 20 pounds of drag and 10 ball bearings, the Mach Crush is as strong as it is smooth. It can easily cast and retrieve an array of different lures and give you the performance needed to fight big bass.
Plus, for us at least, the unique orange color scheme is an added benefit of this reel, as it really stands out in the sea of black and gray that make up most of the market.
Our overall impressions of the Mach Crush were quite positive. Let's go ahead and dive into more of the specifics of Lew's Mach Crush.
Shop Online for the Lew's Mach Crush SLP
Mach Crush Caster's Specs:
Ball Bearings: 10 (9+1)
Anti-Reverse: Yes
Drag: 20 lbs
Handle: 95 mm
Gear Ratio: 7.5:1
Max Drag: 20 lbs
Spool Width: 32 mm
Weight: 7.3 oz
Warranty: 1 year
Brake Type: Multi Setting Brake (MSB)
Line Capacity: 12 lbs / 110 yd mono
Spool: Aluminum
Body: Graphite
Drag Adjustment: External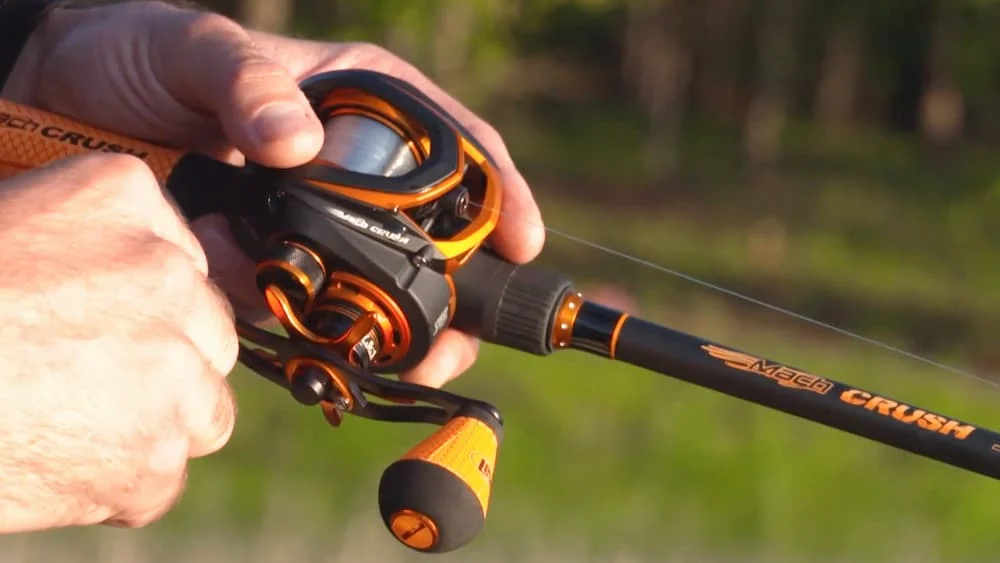 The Lew's Mach Crush is a great all-around baitcasting reel that offers a smooth and reliable performance. It has a good feel to it and a lot of great features.
High Performance Gear and Crank
The main gear and crankshaft are machined from high strength solid brass to withstand the punishment from catching large fish. The gear ratio is 7.5:1 with a 32 mm aluminum spool.
Multi-Setting Brake (MSB) System
As part of Lew's multi-setting brake system (MSB), the Mach Crush applies braking pressure to both ends of the cast using a magnetic and centrifugal system to keep the spool from over spinning and causing backlash and birds nests.
The Mach Crush offers an impressive 20lb. of max drag pressure. This is a lot of pressure for a reel at this price point. Drag is controlled internally and offers a great deal of adjustability.
Based on a composite graphite frame, the Mach Crush also features graphite side plates.
10 ball bearings are used in the Mach Crush and are shielded to reduce friction and all of the bearings are double shielded with stainless steel for durability.
Through the inclusion of a one-way clutch bearing, the Zero Reverse system stops the spool from spinning to help prevent backlash. It is to engage and disengage the ZeroReverse. Just a flick of the lever and you're ready to go. It's smooth and easy to use.
The Mach Crush features a line guide made of Zirconia. This reduces friction and helps keep the line in the right place to avoid tangles even when reeling in a big fish.
The reel features a lube port which allows easy oil application to help keep the speed gears running smoothly.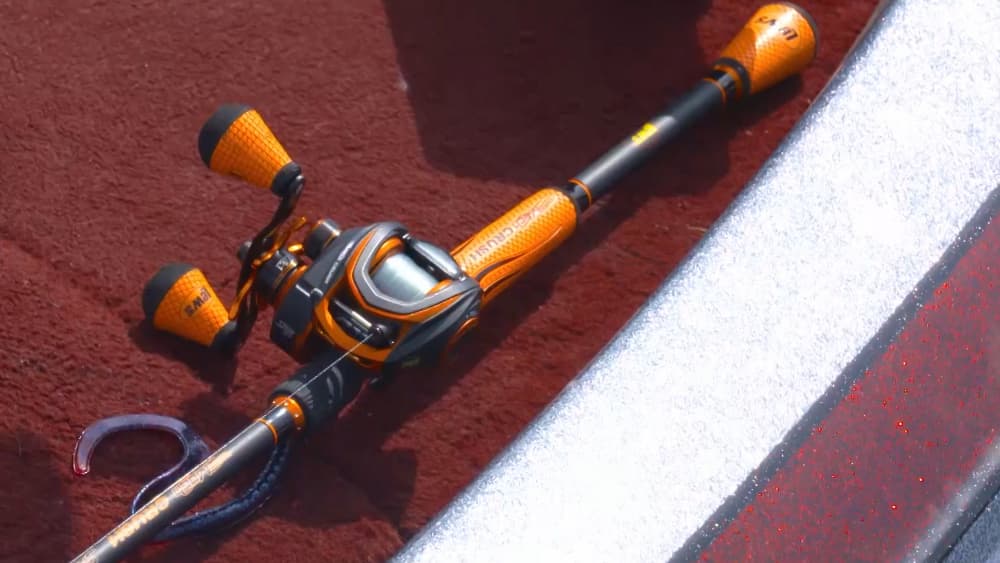 What We Liked About The Mach Crush
The Mach Crush, while not a perfect reel, has a whole lot going for it. From the light feel to the large easy to hold handle. Lews has made a standout reel with a surprising casting distance on it. Check out some of the highlights of the Mach Crush.
Small Profile, Big Handle
The Mach Crush features a small profile but has a large 95 mm handle. The handle profile is rounded, and the overall weight is low enough to make it comfortable to use. The handle knob is larger than previous Lew's reels and features Winn Dri-Tac that allows a good grip, even when wet.
Due to the small size, we could easily palm the reel in our hand and maintain excellent control over the reel.
The handle is strong and sturdy and doesn't flex during a fight. The handle knobs are large, and the rubber helps maintain an excellent grip. Even during some intense fights, we never had any issues with the handle.
The Mach Crush features a 3-setting magnetic MSB, multi-setting brake system. This is comprised of two different braking systems.
The first is the magnetic brake, which is controlled by the star-wheel knob. The second is the centrifugal, which is controlled by the pins.
These two systems work well together and are quite effective. It did take quite a bit of work and a phone call to Lews before we were able to get the system full figured out, but once we did, we felt like we had great control.
Fantastic Casting Distance
We were surprised with the distance the Mach Crush casts. It feels like it's in another league compared to other reels. We were able to hit targets more than 50 yards away, and it had pretty decent accuracy when we got the target lined up.
The key to getting the best casts out of the Mach Crush is to make sure the centrifugal and magnetic brake are set correctly for the line and lure you're using. This may take some adjusting to get it set just right, but once you do, this thing can really fly.
The Mach Crush has a great looking design and color scheme. The orange is the perfect tone of orange and is not too bold, but it still looks great. The reel is built on a graphite frame and side plates.
The frame is not as rigid as aluminum, but the frame is extremely durable and has held up well. The reel is not as heavy as other graphite reels, but it has a very sturdy feel.
The internal centrifugal brake and magnetic brake provide smooth and reliable braking.
The star drag adjustment knob provides an easy and precise way to adjust the drag.
The balance of the reel is great, making it easy to pitch, cast and fight fish.
The reel has a solid feel to it, and it's attractive.
The reel simply performs.
Can take some initial work to get the braking system working correctly
Small line capacity
Only available in 1 gear ratio
We've given the Lew's Mach Crush Baitcasting Fishing Reel ratings in four categories. They are as follows:
Price: A
Build: A
Feature Set: A
Design: A-
The Lew's Mach Crush earns an overall score of: A-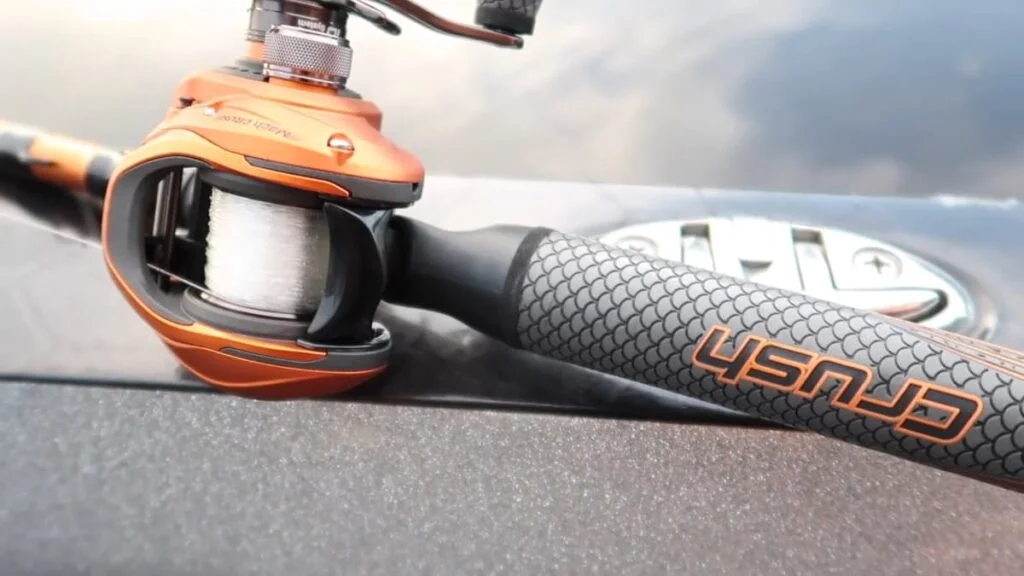 The Lew's Mach Crush Baitcast reel is an awesome all-around reel with a large handle, smooth operation and excellent casting capabilities.
Despite the all graphite body and the slightly higher price tag, we thought this was a great baitcasting reel that has a lot going for it.
While we may have some other reels we like a little better, I don't think we have a reel that is able to consistently cast as far as the Mach Crush. Once you get your brake settings locked in, this thing really flies.
If you're in the market for a 7.5:1 that casts a mile, you should definitely check out Lew's Mach Crush.
Shop Online for the Lew's Mach Crush SLP
As an Amazon Associate I earn from qualifying purchases.