16 Best Polarized Fishing Sunglasses
It doesn't matter what kind of fishing you do. You need a quality pair of polarized fishing sunglasses to protect your eyes from the sun and enhance your vision while out on the water. We've put together a list of the top sunglasses for fishing available today.
Why choose a spinning reel for bass fishing?
There are a number of factors that are very important for a good quality pair of fishing sunglasses.You'll want them to have polarized lenses with UV protection. You'll want them to fit well and offer adequate coverage from the sun. And you'll most likely want them to be durable enough to last you a few seasons without breaking.With those criteria in mind, we've gotten together and selected the best polarized fishing sunglasses on the market today.We've put together two lists.
Top 11 Polarized Fishing Sunglasses
With the thousands of different options out there finding the right pair of fishing sunglasses can be a bit overwhelming. Even some of the top sunglasses brands offer dozens of different options and versions. So which is the right one?
We've put together our list of the best polarized sunglasses that we know will make your next day out on the water just a little bit better.
Costa Del Mar Tuna Alley Sunglasses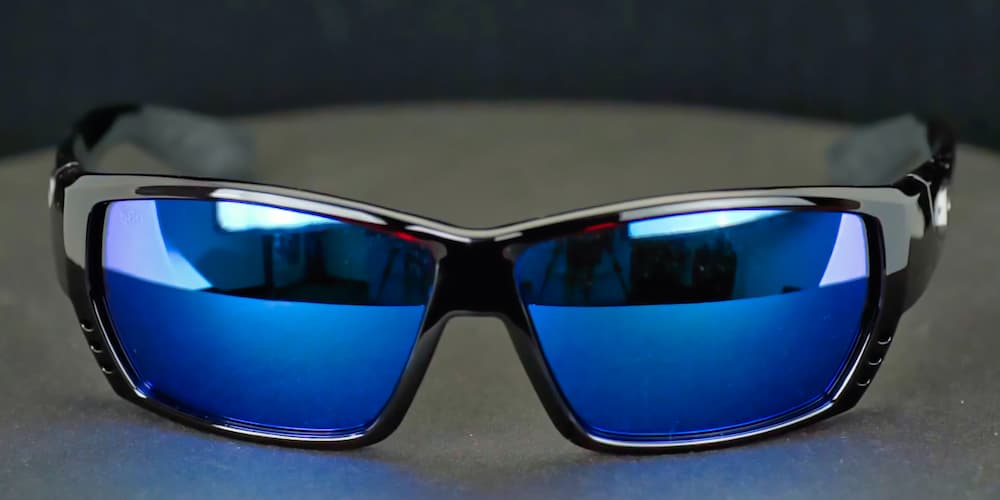 Ranked as the world's number one polarized fishing sunglasses brand, Costa Del Mar offers cutting-edge materials and technology to provide you with the best quality performance sunglasses.
These Costa Del Mar Tuna Alley Sunglasses are built with a tough-as-nails nylon frame and a patented ventilation system that helps prevent your lenses from fogging.
The polarized lenses reduce glare and eye strain so you can easily see your surroundings.
The frame is lightweight, yet durable for long-lasting wear and the hard carrying case keeps your sunglasses from getting lost.
The Costa Del Mar Tuna Alley 580P Polarized Sunglasses also include 100% UV protection and a manufacturer's lifetime warranty.
Shop Online for the Costa Del Mar Tuna Alley
Maui Jim World Cup Wrap Sunglasses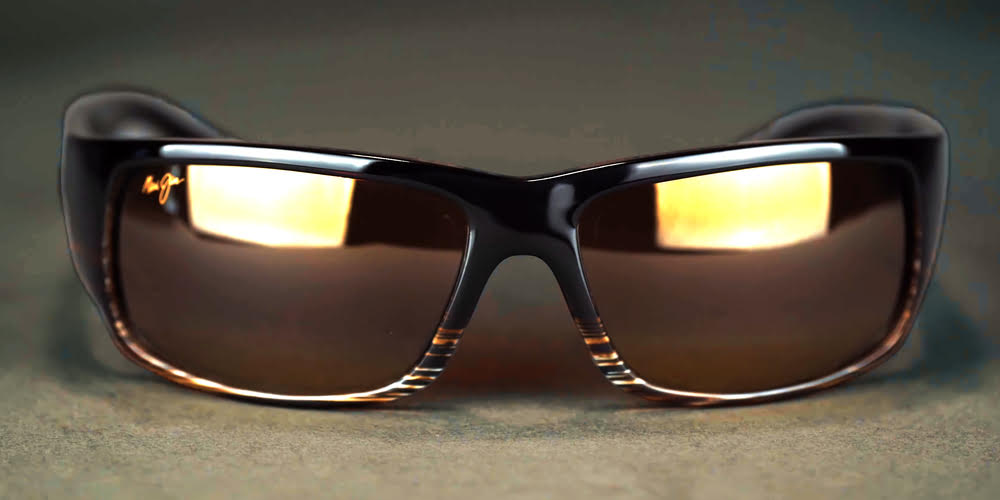 With the inspiration of the World Cup Blue Marlin Championship, these sunglasses boast premium, durable material and a comfortable design.
The World Cup Wrap Polarized Sunglasses from Maui Jim feature a lightweight, high-grade injected frame and SuperThin Glass lenses.
These glasses are polarized for the best glare protection. MJ's PolarizedPlus2 takes the traditional polarization a step further by boosting colors and providing unparalleled clarity. The subtle bronze tint is great for everyday variable conditions.
The rubber nose pads add extra grip to keep them from slipping off your face.
These Maui Jim Polarized sunglasses also come with a case and a cleaning cloth.
Shop Online for the Maui Jim World Cup
Oakley Flak 2.0 XL Sunglasses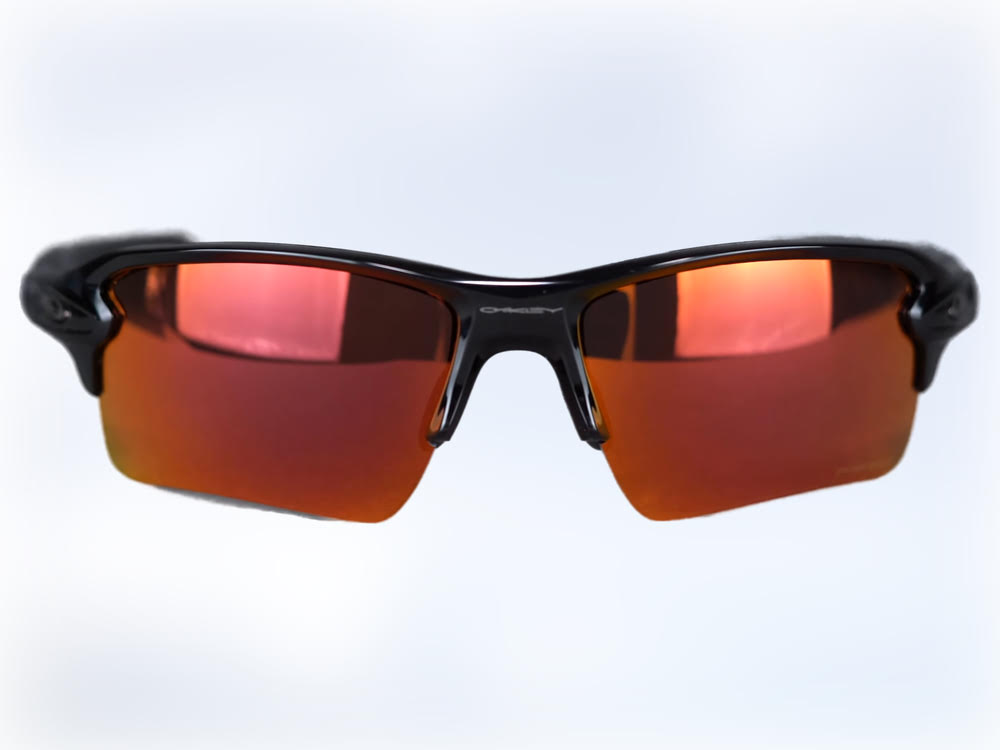 Oakley Flak 2.0 XL Polarized Sunglasses are the perfect optical addition to your active lifestyle. These premium sunglasses feature lightweight, durable O Matter frames and HDPolarized lenses with XYZ Optics for all-day comfort and clear vision.
Patented Unobtainium nose pads and ear socks allow for a secure, comfortable fit, and their wrap-around temples keep them securely in place.
Prizm lenses are perfect for fishing on the lake, river, or open water as they provide phenomenal protection from glare.
The lenses feature Oakley's HDO, high definition optics, as well as their XYZ Optics system. This combination is designed to surpass the American National Standards Institute's standards when it comes to clarity, optical accuracy, and durability.
The sunglasses provide 100% UV protection.
Oakley Men's OO9188 Flak 2.0 XL Rectangular Sunglasses feature an oval-like lens design that has a unique style to it.
While they may not be for everyone, multiple members of our team love them and are huge fans. If you're looking for something that's not from one of the fishing brands, these are worth a look.
Shop Online for the Oakley Flak 2.0 XL
Maui Jim Banyans Polarized Sunglasses
Maui Jim's Banyans Polarized Sunglasses are designed for those looking for sunglasses fitting a sporty and active lifestyle. The 8 base frame is perfect for all of life's activities, from golfing to fishing.
The Banyans have a modern style and comfortable fit that offers protection and clarity.
MauiJim's PolarizedPlus 2 lenses are designed to block 99% of glare from all angles, manage harmful blue light, and boost colors for outstanding visual accuracy. The lenses are made from a lightweight polycarbonate lens material that is up to 20x more resistant to impact than glass with only 1/3'd of the weight.
Overall, the Banyans have a nice frameless look, stay on the face well even when sweating, and provide a clear crisp view of your surroundings.
They're available in 3 different lens colors, and include a microfiber pouch for cleaning and protection, as well as a hard case for storage.
Shop Online for the Maui Jim Banyans
Smith Guide's Choice Sunglasses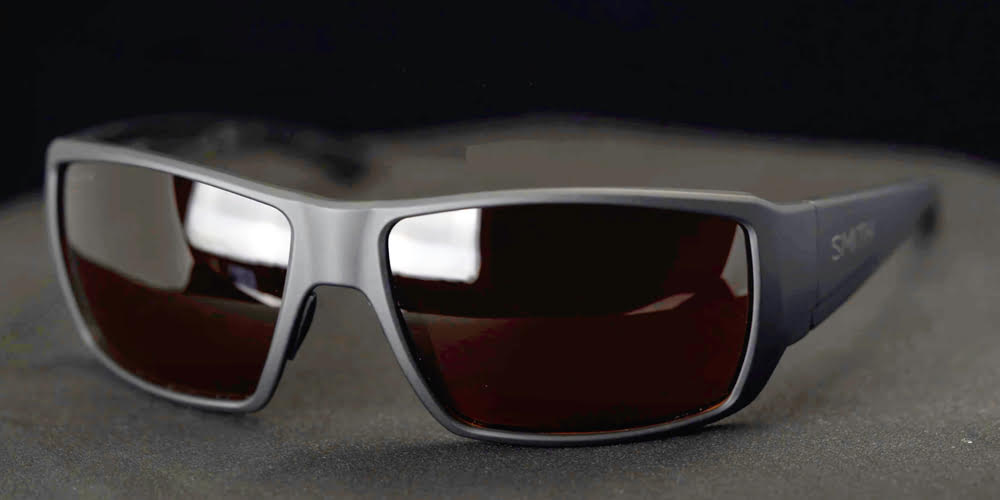 We know a number of people who absolutely love their Smith Guide's Choice sunglasses. These sunglasses are made for the angler who spends long stretches of time on the water and who requires glasses that fit snugly and stay in place all day.
The ChromaPop lenses drastically cut glare from the water and bring the surrounding colors to life. The lenses also incorporate strong scratch and smudge resistance.
The Guide's Choice lightweight frame materials, hydrophilic Megol temple and nose pads, and Techlite glass lenses are all designed to make sure that these sunglasses deliver exceptional performance and exceed your expectations.
Shop Online for the Smith Guides Choice
Costa Del Mar Men's Ballast Sunglasses

The Costa Del Mar Men's Ballast 580P Polarized Sunglasses are an excellent choice if you're looking for rimless, durable, lightweight, and polarized sunglasses.
The Ballast's have 100% UV protection with polarized lens to reduce glare and eye fatigue.
The TR90 nylon ballast material in the frames delivers maximum durability while the fixed 8 base curve provides the complete protection from the sun you want while out on the water.
With a lightweight design and integral hinge, these glasses feel like a part of you, instead of a constant distraction.
They are perfect for any day the sun is shining and you're holding a rod in your hands.
Shop Online for the Costa Del Mar Ballast
Oakley Holbrook Sunglasses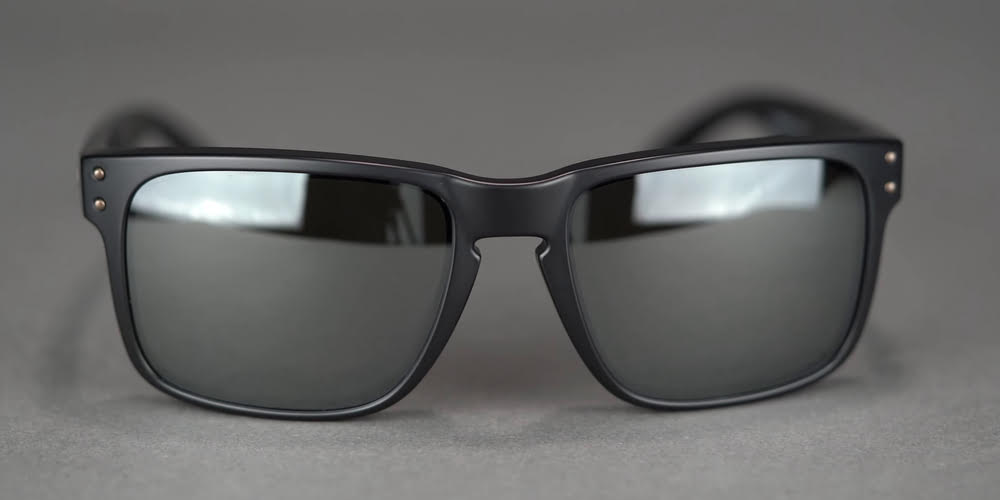 Oakley Holbrook Sunglasses are designed for a premier fishing experience.
Wrapped in a timeless, premium frame, these shades feature Prizm Salt Water lenses that help to filter out various blue shades, making it easier to look out at the water.
The Holbrook sunglasses are crafted from a durable, lightweight O Matter frame, with Prizm lenses that deliver accurate color tuning, and XYZ Optics for superior clarity regardless of your viewing angle.
Holbrook's polarized lens are designed to increase contrast and maximize visibility in a wide array of fishing environments.
Shop Online for the Oakley Holbrook
Wiley X Valor - Best Bowfishing Sunglasses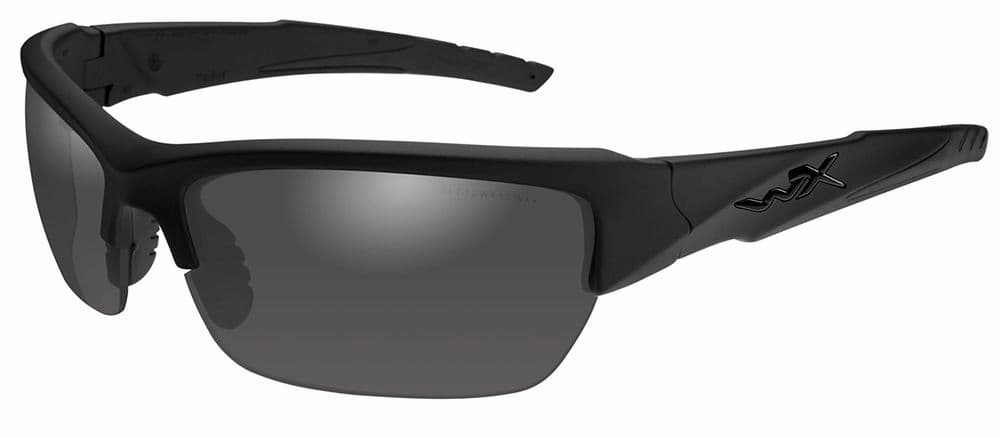 If you're the type of angler who's really rough on your sunglasses or fishing in a way where you'd benefit from extra safety protection like bowfishing, the Valor sunglasses by Wiley X may be the perfect pair for you.
The Valor is designed with oversized polarized lenses to give you a larger field of view that's clear of glare. The wide temples with rubberized grip provide greater overhead protection while offering a better hold to your head that keeps the glasses from sliding around.
While these sunglasses do provide great eye protection and visual acuity, where they really excel is in their nearly indestructible design and exceptional eye safety protection.
The Wiley X Valor sunglasses meet the ANSI Z87.1 eye protection standard, the MIL-PRF-32432 ballistic eye safety standard, as well as the OSHA 1910.133(b)(1)(1) eye safety standard. While you may not be using them as safety goggles, what these standards prove is that these sunglasses can hold up to the most extreme abuse and still deliver.
While most anglers may not utilize the Wiley X Valor to their full potential, if you're bowfishing or going to be fishing while backcountry hiking, you might want to take along a pair of sunglasses that will offer you exceptional protection and won't break down on you when you may need them most.
Shop Online for the Wiley X Valor
HUK Spearpoint Polarized Sunglasses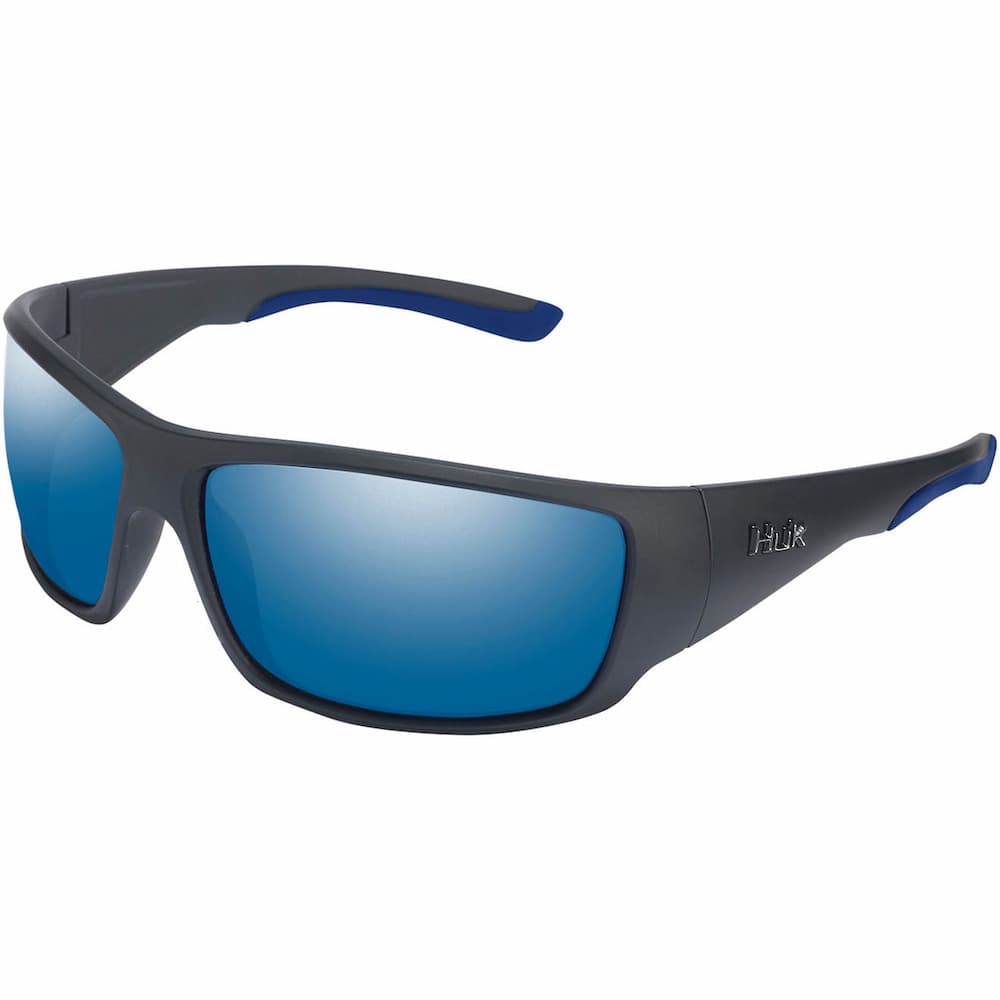 If you're looking for a budget pair of polarized fishing glasses, the HUK Spearpoint may be what you're looking for. With a wide frame, wrap around design, the Spearpoint provide plenty of coverage and protection.
The polycarbonate lenses are rated for 100% UV protection and are polarized offering solid glare reduction. They are lightweight and hold decently well to your face.
The lenses are advertised as scratch resistant, however, we recommend washing them off with some fresh bottled water before cleaning them as to avoid scratching the lenses' coating.
Overall, if you're limited on your price, the HUK Spearpoint are a good buy.
Shop Online for the HUK Spearpoint
Strike King Plus Sabine Polarized Sunglasses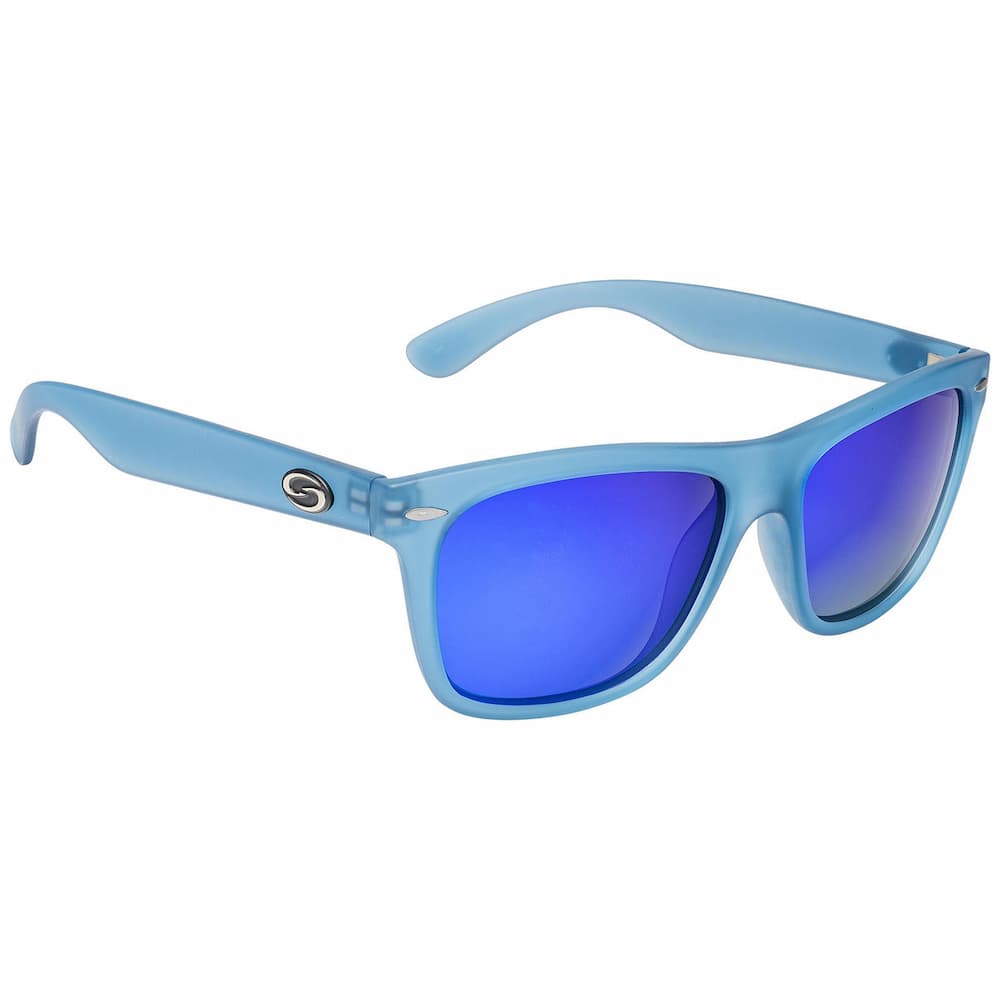 The least expensive sunglasses on our list, the Strike King Plus Sabine are polarized sunglasses which are designed exclusively for fishing and water sports.
Equipped with APT, Advanced Polarization Technology, the Strike King Plus Sabine glasses provide strong glare reduction performance. The specially coated lenses provide scratch resistance, as well as increased optical performance that allows you to better distinguish fish under the water.
The half rimless design features rubberized nose and temple grips to help hold the glasses on your face.
The Strike King Plus Sabine delivers surprisingly well especially when you consider the low price tag and because of that they're easy to replace if they do get banged up.
Shop Online for the Strike King Plus
Bose Frames Tempo Polarized Sunglasses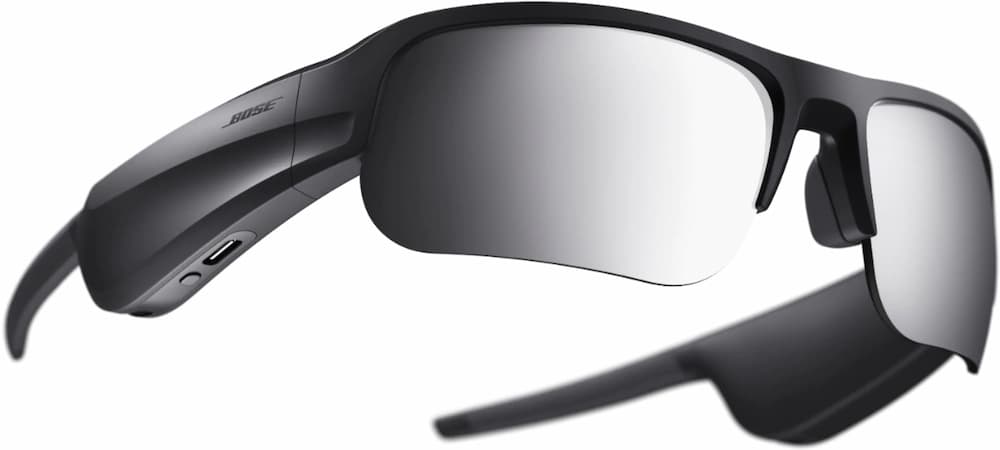 While not exactly "fishing sunglasses" we had to include the Bose Frames Tempo Polarized Sunglasses on this list.
Perfect for fishing and other outdoor activities, these high-performance sunglasses by Bose are a game changer. The innovative Bose Open Ear Audio design gives you a powerful sound experience without any need for headphones.
With a lightweight frame, silicone nose pads, and complete all-day comfort, the sweat and water resistant design of these sunglasses may not have been specifically designed for anglers, but it fits them beautifully.
The high-quality sound of Bose paired with scratch-resistant polarized lenses adds a new dimension to a day fishing. The Bose Frames Tempo Sunglasses are engineered for sound, and perfect for any angler looking to listen to music while on the water.
Shop Online for the Bose Frames Tempo
5 Best Women's Fishing Sunglasses
While you could easily wear any of the 11 sunglasses listed above. The follow 5 pairs were selected as quality options that provide optimal performance while maintaining a level of feminine charm.
If you're looking for the best polarized sunglasses for female anglers, the following 5 options provide a good selection.
Maui Jim Punchbowl Polarized Sunglasses

Maui Jim fishing sunglasses are designed for the woman who needs high quality fishing sunglasses to make the best of a day on the water.
Made of nylon frames with no-slip rubber nose pads, these sunglasses can stand up to the rigors of fishing in salt or freshwater and provide excellent protection from glare on the water.
The Maui Jim Women's Punchbowl Polarized Sunglasses feature a stylish wrap around frame that's available in 2 different color options. The lenses are equipped with Maui Jim's PolarizedPlus2 lens technology that provides enhanced color, glare protection, and 100% UV protection.
The Punchbowl sunglasses are lightweight, fit well, and stay securely on the face. If you're looking for a great pair of fishing sunglasses, these are our number 1 pick.
Shop Online for the Maui Jim Punchbowl
Costa del Mar Inlet Polarized Sunglasses

Costa del Mar Inlet Polarized Women's Fishing Sunglasses are stylish sunglasses that provide all-day protection from the sun's harmful UV rays while also enhancing vision.
The rugged nylon frames are fitted with spring hinges for a secure and comfortable fit.
The Inlet sunglasses feature scratch resistant 580P polarized lenses that provide 100% UV protection and glare reduction. The lenses are designed to enhance your vision by blocking out yellow light which helps improve contract and clarity.
These performance sunglasses are comfortable, come in a variety of styles and lens colors, and definitely worth checking out.
Shop Online for the Costa Del Mar Inlet
Oakley Split Time Sunglasses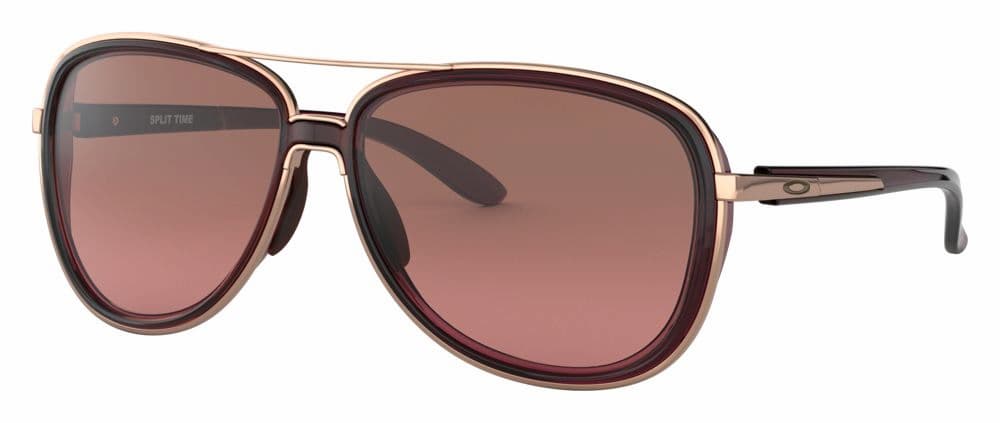 Oakley Split Time polarized sunglasses are lightweight, fashionable and polarized to maintain a clear, crisp view. These sunglasses have optics specifically tuned by Prizm to maximize your vision and bring out fine detail.
The Oakley Split Time polarized sunglasses are made with C5 alloy and O Matter which are lightweight and strong. Designed for small to medium faces the Split Time have a flattering pilot silhouette.
The Oakley Split Time's lenses, crafted out of Plutonite, are polarized and provide complete glare and UV protection against harmful sun rays.
Style meets performance in these Oakley sunglasses for women.
Shop Online for the Oakley Split Time
Costa Del Mar Gannet Sunglasses

The Gannet is a beautifully empowered seabird that flies from New Zealand and travels over 1,800 miles to Australia. Celebrate this adventurous spirit with the Costa Del Mar Gannet Sunglasses.
Made from durable plastic, these sunglasses are lightweight, impact and scratch resistant with a C-WALL coating that helps repel water, dust, and oil. The polarized 580P lenses reduce glare, protect you from harmful UV rays, and provide clear vision.
Shop Online for the Costa Del Mar Gannet
Calcutta Outdoors Steelhead Sunglasses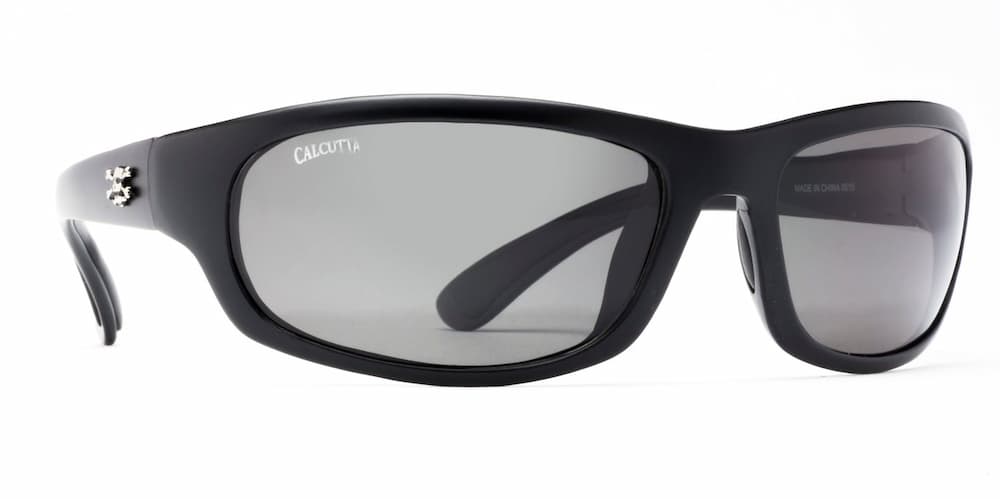 If you're in the market for budget polarized sunglasses, the Calcutta Steelhead sunglasses fit the mark quite well.
Offering a comfortable fit, the Steelheads are fitted with rubber ear and nose pads providing a secure no slip fit. The Triacetate polarized lenses provide adequate glare reduction as well as 100% UV protection.
The frames and lenses are available in a variety of color options.
While not equipped with all of the bells and whistles of the other women's sunglasses, if you're just looking for a simple pair of polarized sunglasses, you can't go wrong with the Calcutta Steelhead sunglasses.
Shop Online for the Calcutta Outdoors Steelhead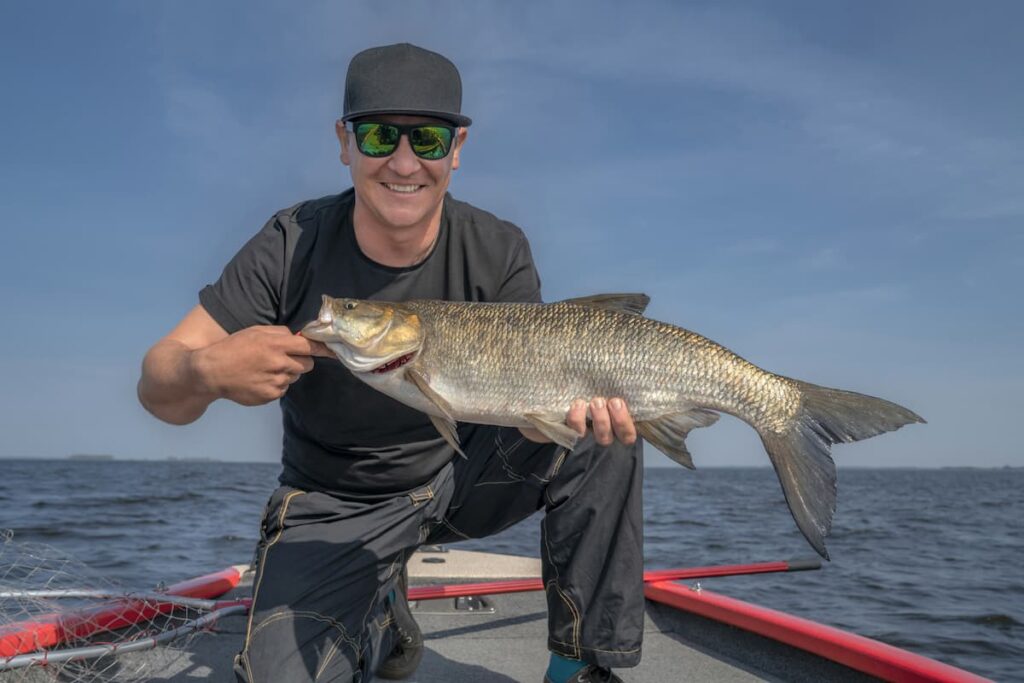 What To Look For In Fishing Sunglasses
When researching the best pair of fishing sunglasses to buy, there are two primary parts that you will need to consider:
We will examine the most important features of both in this section.
There is nothing more important than the lens on a pair of sunglasses. The lenses provide your eyes protection as well as enhanced vision. Finding the right pair for the job is essential.
So what do you want to look for in the best pair of sunglasses for fishing?
Polarized lenses are an absolute must when you're out on the water fishing. Unpolarized sunglasses may work for other situations, but when you're working in high glare environments, polarization becomes essential.
How Does A Polarized Lens Work?
Polarization is a filtering technology that is designed to cut out certain light waves. Light coming from the sun is reflected off of objects and surfaces around you changing from vertical to horizontal light waves. These horizontal light waves are what we typically refer to as "glare."
Traditional sunglasses can work fine against vertical light waves, but nothing against the glare causing kind. This is where polarization comes in.
Polarization is designed to isolate the horizontal light waves and block them before they're able to reach your eyes.
By filtering out these waves, the polarization of your fishing glasses drastically reduces sun glare which significantly improves the visibility of your surroundings as well as offers greater protection to your eyes.
According to NHS Choices, glare accounts for up to 80% of the eye strain felt while on the water. That's a lot of eye strain!
This is why polarized lenses are an absolute must for fishing.
You'll find there are 2 primary lens materials used in fishing sunglasses
Both of these have advantages and disadvantages to them, but for most people it's going to come down to personal taste.
Here are some of the details for both materials.
Glass lenses are a very popular option for fishing sunglasses. They provide a lot of contrast and a slightly better clarity than polycarbonate lenses. They are typically fairly scratch resistant, even without a special coating.
The downside of glass lenses is that they are more fragile and can be easily broken by an impact or dropping them on the ground.
Polycarbonate is a different type of material. It is a plastic lens that has been stretched and molded into the shape of a lens. It's the same material that is used to make bullet-proof glass.
Polycarbonate is a great material for fishing sunglasses because of its impact resistance and lighter weight. Making them more durable and a better fit for fishing.
However, sunglasses with polycarbonate lenses typically do not provide the same clarity and contrast as glass lenses.
In our opinion, there really isn't a right or wrong when it comes to lens color. We have some friends who are extremely opinionated about this point, but the reality is we all perceive colors differently. The lens of your eye may react differently to different colors than mine would.
So our best advice in this portion is to find a color that you like.
The following are some general guidelines though that can help you out.
Gray lenses are typically the most common lens color. Why? Because they offer great functionality regardless of the fishing application. Whether you're fishing on the lake or the ocean, gray lens will work great.
Yellow lenses can be a great option for your fishing sunglasses. This lens color works well in most fishing applications, but this color really shines during low light conditions.
Amber or copper lens are also another option. They seem to help further reduce glare and can be a great addition when sight fishing.
Blue lenses are another color option that will works well in nearly all fishing applications. However, blue lenses are probably the best lens color for offshore fishing. The blue color on the lenses helps to further cut the glare of the light reflected off of the blue colored water.
We typically stick with one of these four colors, despite that though, if there's a color option that you like and works well with your eyes, go with that 100% of the time.
The following are some general guidelines though that can help you out.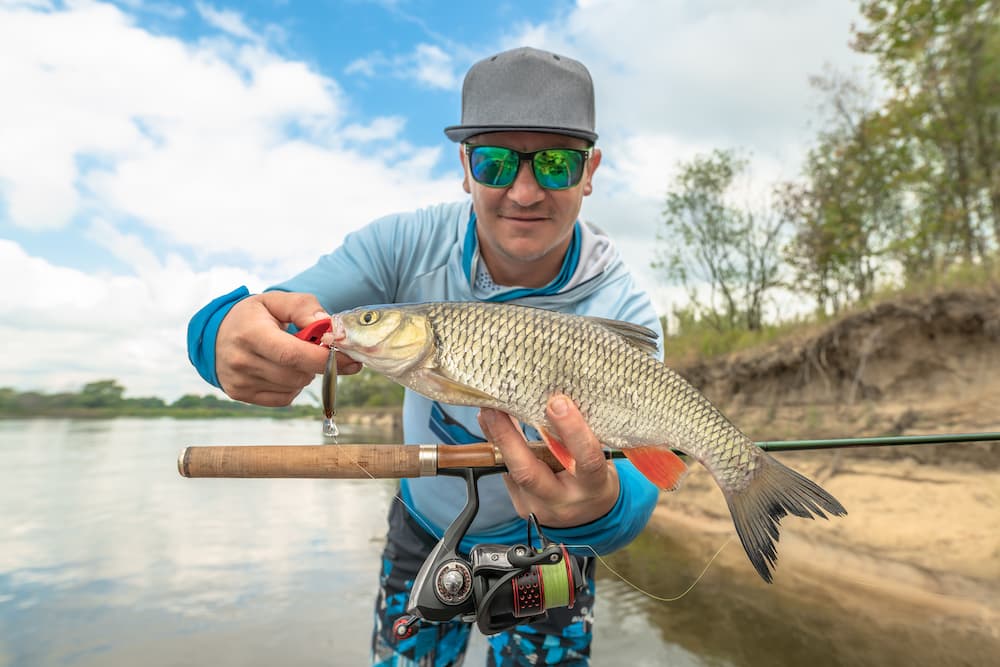 The most important lens treatment that you will find on fishing sunglasses is UV protection. UV protection is a coating that helps block harmful UV rays from reaching your eyes.
Over exposure to UV rays are one of the main causes of eye damage. So it's incredibly important to get sunglasses from a reputable manufacturer that are rated for 100% UV protection to protect you from the harmful rays of the sun.
Mirrored lenses are a popular thing for sunglasses. They are often desired by people that want to look stylish, but they also do serve a purpose.
Mirrored lens are designed to reduce the amount of light that comes through the lens. This is typically done by reflecting a wave back into itself. This can provide extra glare protection, but not as much as polarization. If you have to choose between mirrored lenses or polarized lenses, polarized win every time.
However, if you find a good pair of polarized sunglasses that also have mirrored lenses, it can be a nice little added bonus.
Hydrophobic lens coatings are another bonus feature that many fishing sunglasses have. These can be used to reduce water spots and smudges on the lens when it gets wet. When water gets onto the coating, it beads up, instead of streaking on the glasses. This makes cleaning the glasses much easier.
Hydrophobic coating is especially important when fishing in saltwater conditions. Since the salt in the water can be abrasive to your lenses, it's important to use fresh water on them first before cleaning them. This extra step can make keeping your glasses clean a real hassle.
Instead, with hydrophobic coating you can simply dab the beaded up water droplets and be good to go.
Clean glasses and no scratches.
While polarized sunglass lenses may be the piece of the product that actually protects your eyes, they wouldn't be anything without a quality casing to hold them on your face. Which is why the frames on your sunglasses play a big role in how well they will work while you're fishing.
There are a few factors you'll want to take into consideration when choosing your fishing sunglasses. You'll want them to cover your face well, constructed with high quality material, and fit comfortably to your face.
Let's look at each of these considerations below.
The material that is used for your frames is also another important consideration. For the best fishing sunglasses, you'll want frames that are made from a durable material that will hold up well through the abuse of fishing.
Materials that will hold up well in fishing conditions will be nylon and resin.
Some companies produce glasses using propriety frame materials that are usually a nylon or resin hybrid.
Due to the wet conditions, it's typically best to avoid metal frames so that your glasses don't rust.
When selecting out your frames, you want to consider how well the frames themselves protect your eyes from the sun.
You'll want frames that wrap around your face and that are thicker around the top so that they meet your temple.
The wrap around design offers better peripheral vision so that you can see clearly as if you're not wearing glasses. The thicker framed top helps block the sun and prevent it from getting in outside the lenses.
Your frames should absolutely fit to your face well.
Fishing is often a very active sport. Whether you're standing on end or leaning over the side of your boat, you'll want frames that will stay on your face and not fall off.
The way you ensure that your frames will stay on your face is by getting frames that fit your face well and are adjustable.
Many fishing sunglasses are available with an adjustable nose pad and hinges so that you can adjust them to fit your face. Proper frame adjustment is necessary so as to avoid loosing your sunglasses or constantly having to reposition them.
When choosing the best pair of fishing sunglasses, there are a lot of different things to consider.
Hopefully our list will help shortcut you to the best pair, however if not, we've provided the information and guidelines you need to find the right pair for your exact needs.
We've looked at the different types and styles of fishing sunglasses. We've looked at the different lens options that you have to choose from. And we've looked at frame options as well.
Now that you have the scoop on sunglasses, it's time to go get you the best pair for the job!
As an Amazon Associate I earn from qualifying purchases.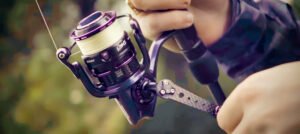 Designed by Mike Iaconelli, the Abu Garcia Revo Ike spinning reel is an extraordinary reel that can compete with just about any newly released spinning reel on the market. With features like Rocket Line Management System, Rocket Spool Lip Design, and Carbon Matrix drag system, it's perfect for bass fishing. Read our full review to see if this spinner is worth its premium price tag.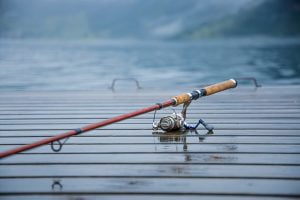 Despite being one of the most important factors for fishing success, many people overlook choosing the right fishing rod. Want to maximize your success on the water? Take a few moments to find the perfect bass spinning rod.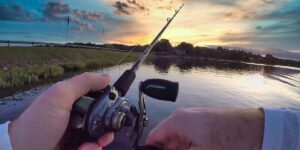 The Pflueger President XT is a good reel for the price, and is worth checking out. It has some nice features like a micro click spool tension adjustment, ergonomic palm shape, and a high number of ball bearings. While it is missing some features we'd like to see, it's still a very capable reel that's worth taking a look at.