Best Fishing Line For Bass On The Market in 2023
Having the right fishing line can make the difference between a great or bad day on the water. Taking the time to learn about the best bass fishing lines available will help you choose the right line for your needs whether you fish from shore, an airboat, fishing kayak, or a bass boat. Find out the best bass fishing lines you need to maximize your catch rate on your next day out on the water.
The Top 9 Best Bass Fishing Lines
There are a lot of bass fishing lines on the market today and selecting the right one can be a difficult and confusing task.
Although there are many similar sounding lines, there are also many differences. The right fishing line is not only a personal preference, but also one that depends on where and how you fish.
It can be easy to simply select the line based on the brand you've always used. Companies like Berkley, Shimano, and Trilene have dominated bass fishing line for years. While these are great brands, there are a lot of bass fishing lines on the market today that are not only superior to the traditional lines, but also a better value.
We've compiled a list of our favorite bass fishing lines, and broken them up into 3 categories: braided, fluorocarbon, and monofilament.
While there are some really great lines that we haven't listed, we wanted to keep it simple which is why we limited it to 3 from each category.
Best Braided Fishing Line for Bass
Braided fishing lines are more popular now than ever before, and for good reason. They are strong, abrasion resistant, naturally float, and are just plain tough. Most braided lines are constructed with a number of different fibers. The most common being nylon, polyester, and sometimes a mixture of several fibers.
Think of it like a chain where the strength and toughness comes from the outer wrapping, rather than the core.
Braid is perfect to use when fishing in and around heavy cover as it provides the strength needed to pull your topwater lure and topwater baits through foliage without breaking.
Power Pro Spectra Fiber Braided Fishing Line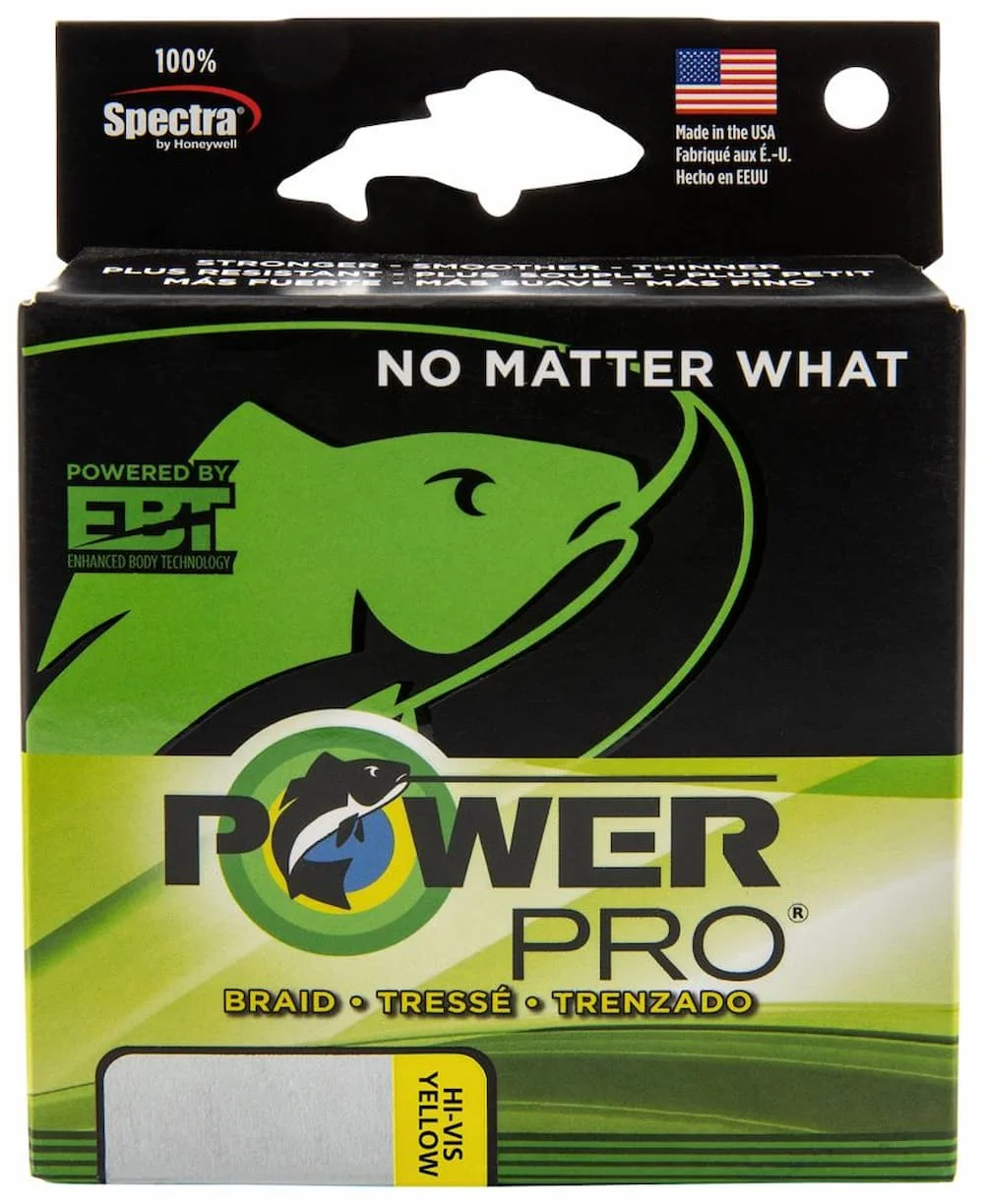 PowerPro Spectra fishing lines are ultra-strong braided lines that resist abrasion and deliver terrific sensitivity. These lines are easy to spool and can be spooled directly from their factory sealed box. They are constructed with high-visibility line colors.
This braided fishing line is made of microfilament material that has one of the highest strength-to-diameter ratios available for smooth, long casting and sensitive hook sets.
The PowerPro can be used in fresh or saltwater applications. Available in multiple spool sizes with pound test options from 5 lbs up to 200 lbs.
PowerPro Spectra is one of our favorite braided fishing lines. It does an excellent job in all of the fishing applications we've thrown at it. Whether you're fishing through rough cover or distance casting for long retrieves, PowerPro's up for the challenge and well-equipped to bring in those monster bass.
Shop Online for the Power Pro Spectra Fiber Braid
Sufix 832 Advanced Superline Braid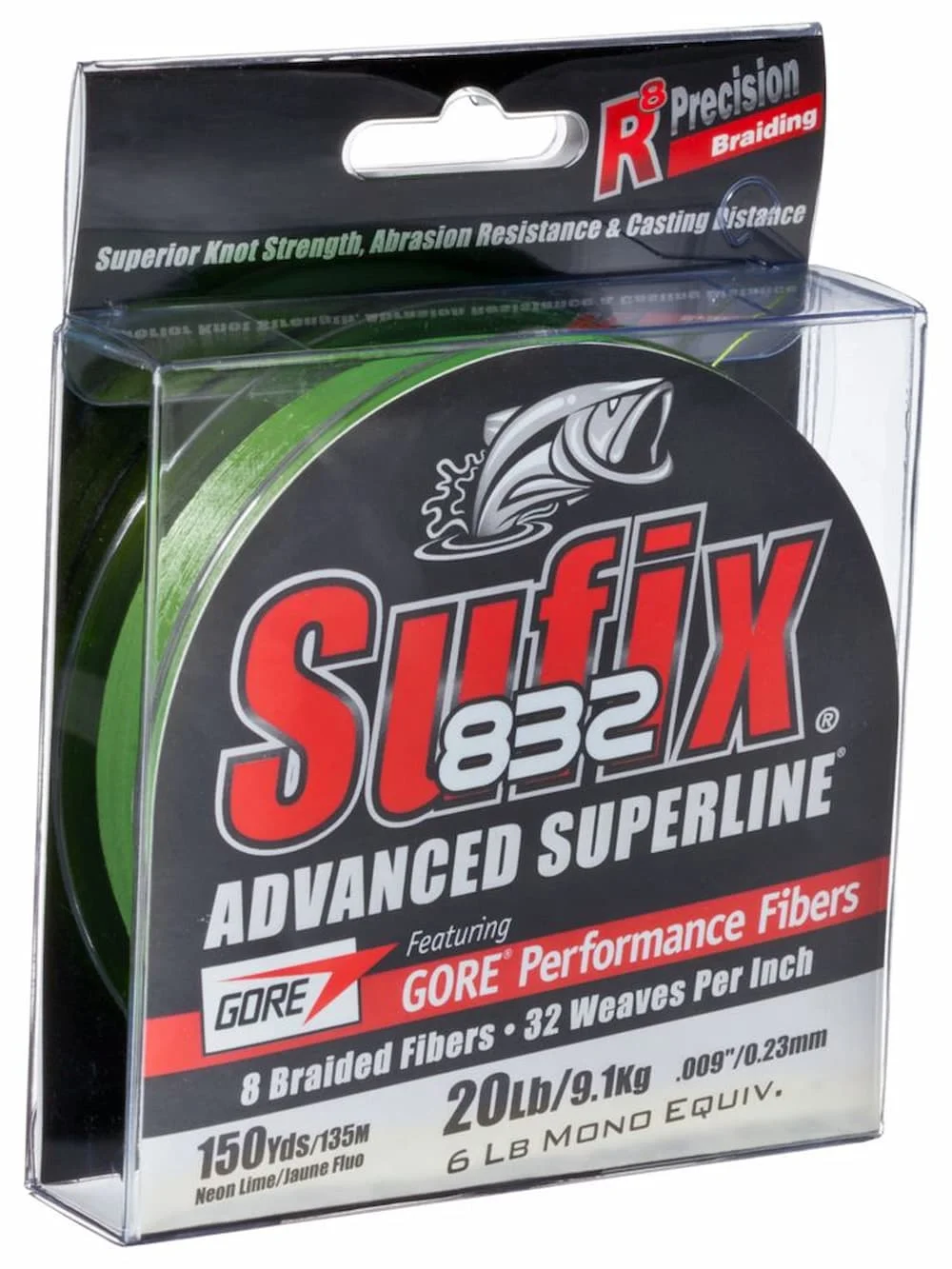 One of the strongest braided fishing lines on the market, the Sufix 832 Superline line features 8 carriers plus 1 GORE Performance Fiber per strand. This combination of fibers creates a line that is 30% stronger than others in its class, yet provides sensitivity, roundness, consistency, and low memory.
It also offers enhanced abrasion resistance, increased casting distance and accuracy, and reduced line vibration.
Available in 6 lbs to 80 lbs pound test the 832 Superline is a great choice for finesse or big game bass fishing.
The Sufix 832 is one of our go to braids.  It holds up well, it casts well, and it keeps knots snug.  Overall, we haven't had any major issues with this line. Like some others, we've noticed that if you get a colored model, the color does fade faster than some other braid out there, but the pros of this braid far outweigh its small cons. 
Shop Online for the Sufix 832 Advanced Superline Braid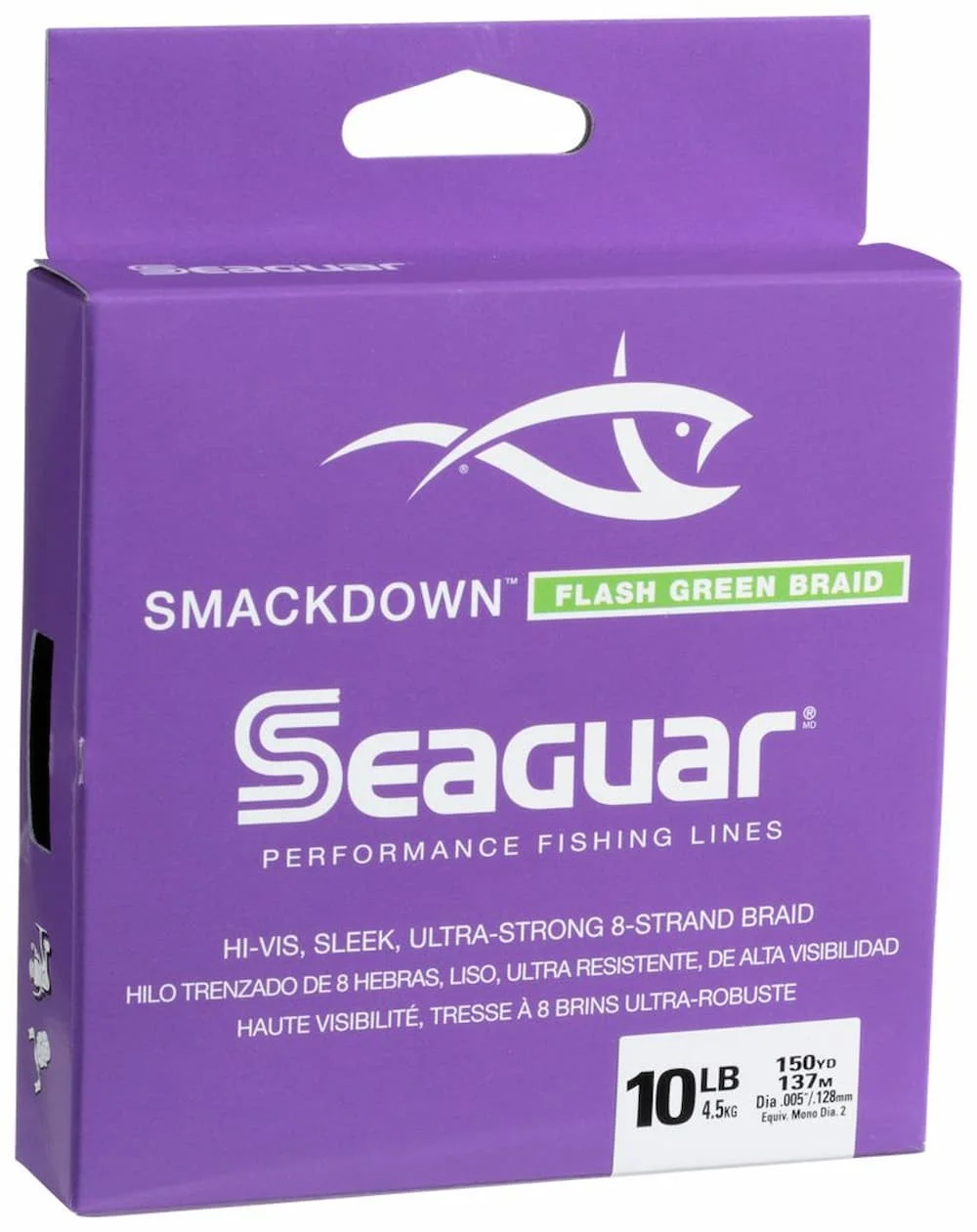 The Seaguar Smackdown Braided Line offers a thin and smooth construction, which enables competitive anglers to easily produce laser-like casts. The Seaguar Smackdown Braided Line has practically no stretch, which provides superior feel, as well as exceptional knot and tensile strength.
Boasting a unique surface finish, this braid prevents the line from digging into the guides and spool when setting the hook. And, the Seaguar Smackdown Braided Line Flash Green stands out in the water, which enhances performance techniques that require visual bite recognition.
For all these reasons and much more, the Seaguar Smackdown Braided fishing line is a great braid choice for bass anglers looking for a strong line that's easy on their gear.
Shop Online for the Seaguar Smackdown Braid
Best Fluorocarbon Line For Bass Fishing
Fluorocarbon fishing lines are a popular choice for bass fishing. Fluorocarbon lines are nearly invisible when underwater, have little stretch, naturally sink, and are very sensitive. 
Fluorocarbon lines are great to use when fishing clear water conditions and when using diving lures.
Seaguar Invizx Fluorocarbon Fishing Line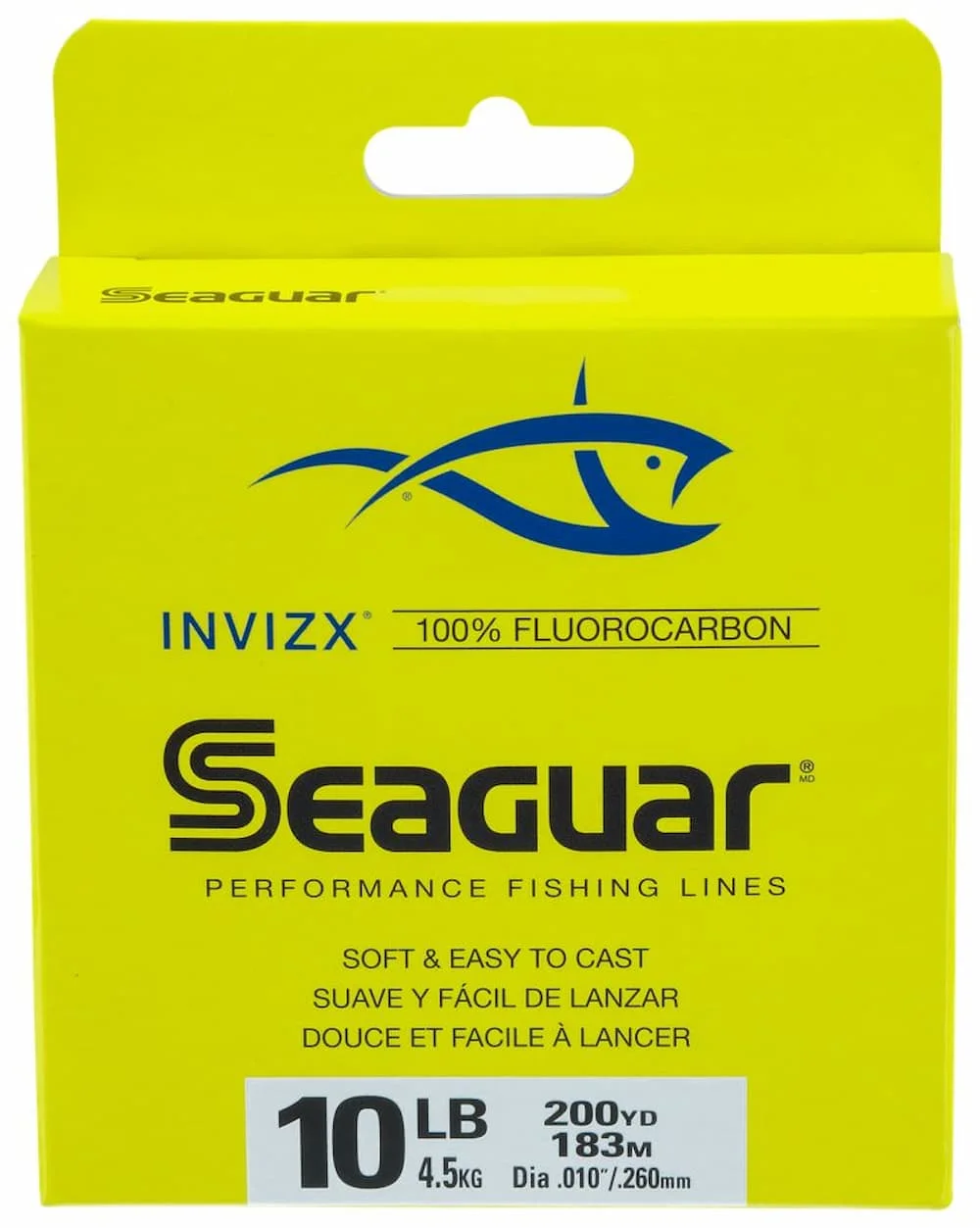 Seaguar Invizx is a high-performance fluorocarbon fishing line that features the most advanced technology to date to maximize performance and super-charge your fishing success.
The line is soft, strong, and virtually invisible under the water.
Seaguar's exclusive extrusion process used to create the Invizx fluorocarbon line ensures that it is stronger and more abrasion-resistant than ever before.
Invizx Fluorocarbon offers a high knot strength, superior casting distance, ultra-low stretch, vibration reduction, and superior sensitivity. INVIZX is the ultimate fluorocarbon line for anglers who demand the very best.
There's no wonder the Seaguar Invizx has become so popular. A very nice combination of sensitivity and manageability, this line is one of our first choices when we're spooling Fluorocarbon.
Shop Online for the Seaguar Invizx Fluorocarbon
Sunline Super FC Sniper Fluorocarbon Fishing Line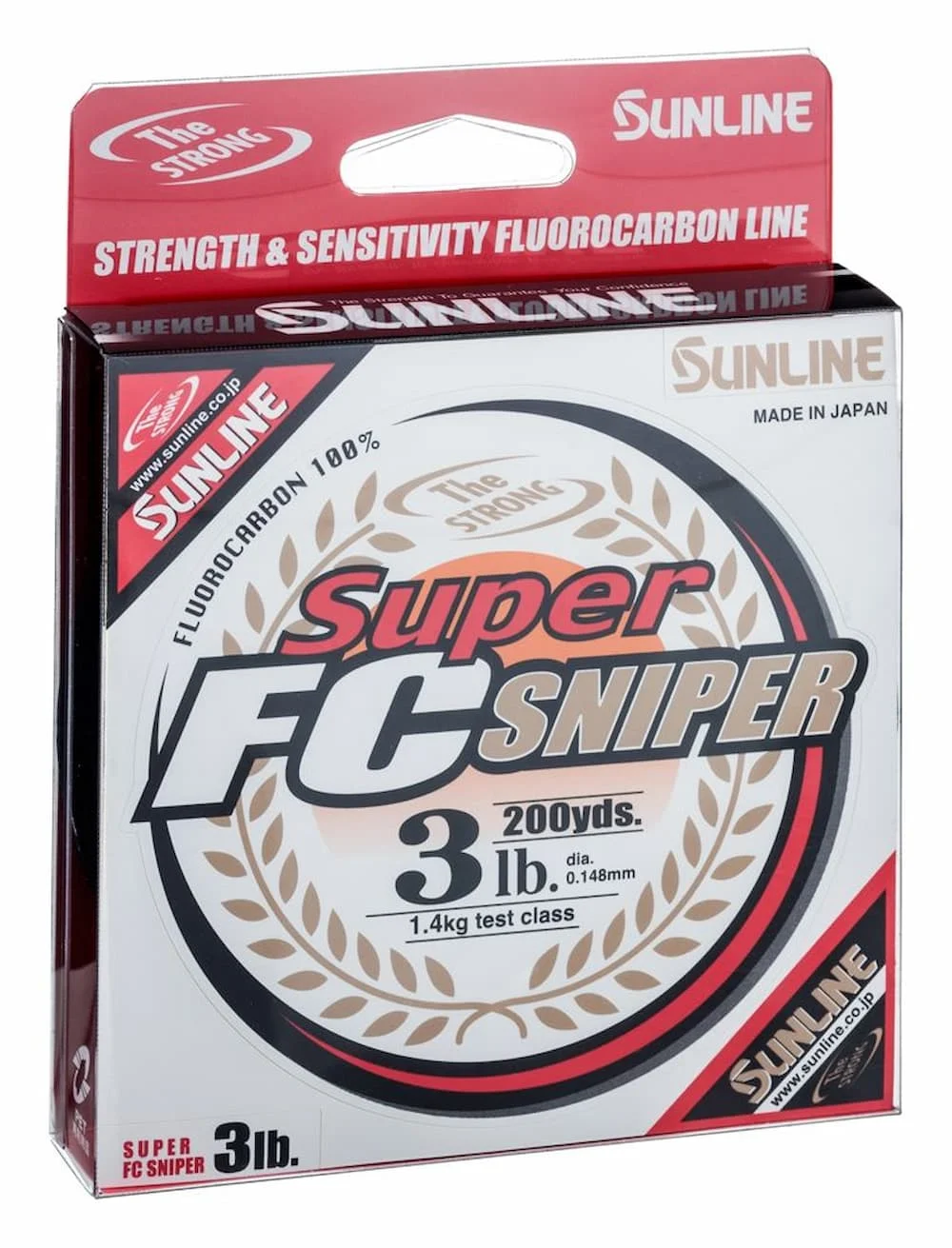 As anglers, we know that every fish counts. But sometimes, fishing pressure makes it tough to keep up with everyone else. Sunline Super FC Sniper Fluorocarbon Line is the secret to staying ahead of the crowd.
This special line was created for the most precise, stealthy presentations.
Super FC Sniper was created in Japan, but its reputation has been earned among Americans who fish in clear lakes and rivers that are typically crowded by competitors. The special formula of Super FC Sniper was designed to help anglers present their lure with a sniper like stealth.
Super FC Sniper is nearly undetectable to fish, and its high particular gravity ensures your bait will sink fast to the bottom of the water column, so you can pick off those deep-water bass.
Its low diameter, high abrasion resistance, and incredible sensitivity keep this line on the top of our fluorocarbon list for bass fishing.
Shop Online for the Sunline Super FC Sniper Fluorocarbon
Googan Squad Fluorocarbon Line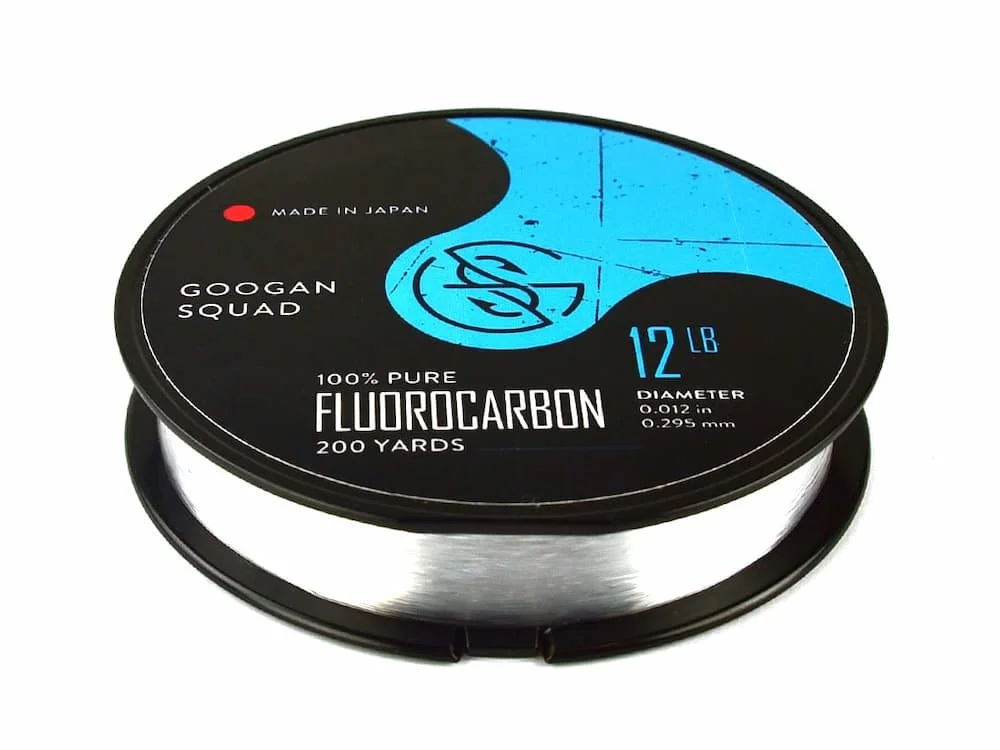 The Googan Squad Fluorocarbon Line was designed in collaboration between Googan Squad, top anglers and some of the best Japanese manufactures to develop a line that is incredibly dependable. Ehether you are throwing crankbaits, chatterbaits, or spinnerbaits, the Googan Squad Fluorocarbon Line is equipped for the job.
The line is engineered to cast long distances, have the proper weight to sink for various conditions, and delivers a solid abrasion resistant strength.
The Googan Squad is 100% fluorocarbon and is just about as invisible underwater as you can get.
Though not our go to, we've never been disappointed when using Googan Squad Fluorocarbon in the past. If you've used our other two recommendations before and looking to try out a new fluorocarbon fishing line you should definitely give the Googan Squad a go.
Shop Online for the Googan Squad Fluorocarbon
Best Monofilament Fishing Line For Bass
Monofilament is the most widely used fishing line material.  Because monofilament is generally affordable, easily handled, and suitable for most fisherman's needs, it has dominated the fishing market.
Berkley Trilene Sensation Monofilament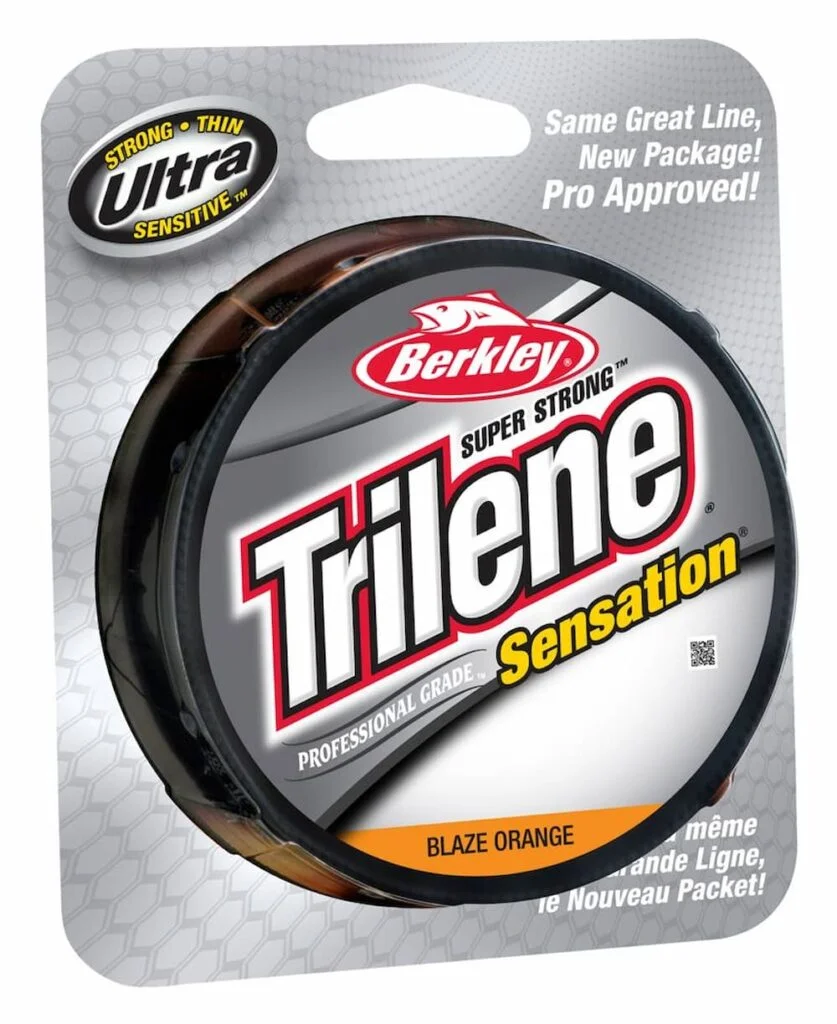 The Berkley Trilene Sensation is a monofilament fishing line that is designed with a unique polymer combination that delivers superior strength and sensitivity. This monofilament has low memory that allows the line to run fluidly with little backlash which provides a great fishing experience.
Transparent by design, the Trilene Sensation is not as invisible as a Fluorocarbon, however, it does blend in better underwater than many other monofilament lines.
The Trilene Sensation does not disappoint with its high abrasion resistance, despite incorporating such a small diameter form factor.
If you're looking for an amazing all-purpose monofilament, the Berkley Trilene Sensation is one we recommend checking out.
Shop Online for the Berkley Trilene Sensation Monofilament
SpiderWire Ultracast Ultimate Monofilament Fishing Line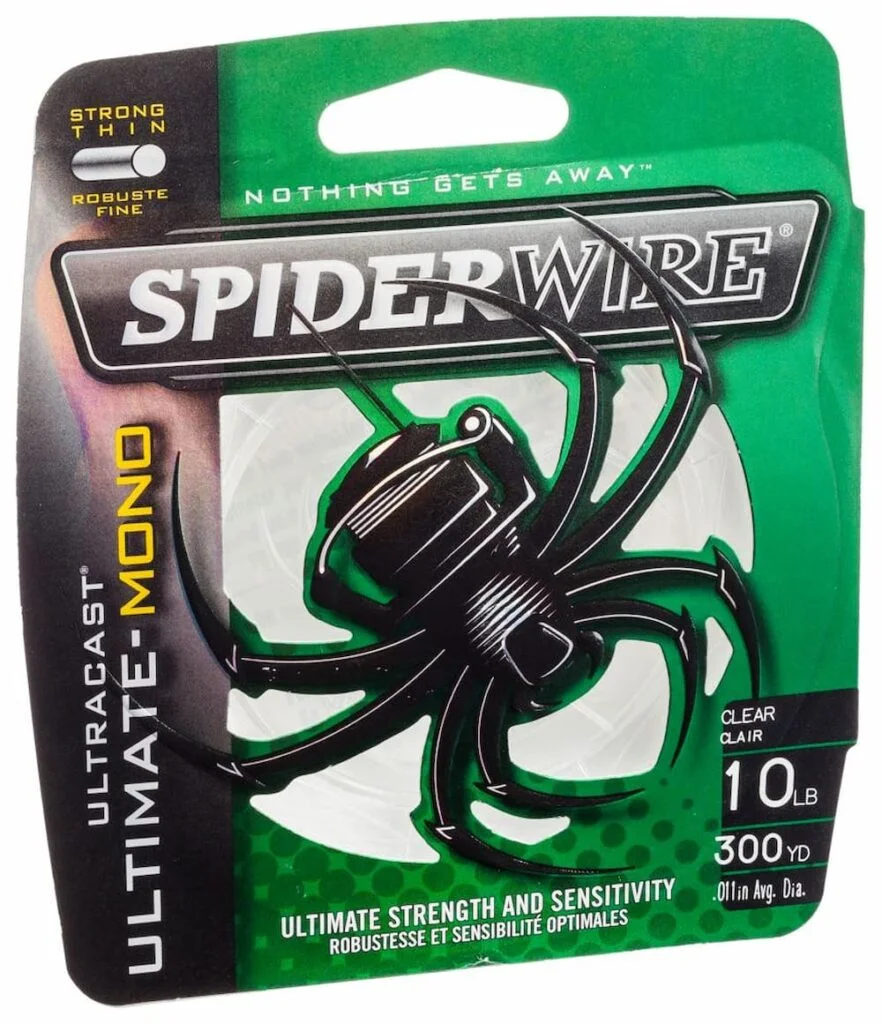 The Ultimate In Sensitivity. SpiderWire Ultracast Ultimate Monofilament Fishing Line is made with extra strong, thin, and sensitive co-polymer.
SpiderWire boasts that Ultimate is 33% stronger and 15% more flexible than the average mono. Ultimate's Breakthrough X-tra thin diameter stretches 33% less and cast 35% farther than the average monofilament.
Ultimate's XTRA Sensitivity allows you to feel more bites and detect more structure. Its thin diameter and excellent knot strength make it a perfect choice for both baitcaster and spinning reels. There is no kinking or tangling with Ultimate, and it keeps its tight knots even when wet.
Ultracast Ultimate is one of our top choices when purchasing monofilament line.
Shop Online for the SpiderWire Ultracast Ultimate Monofilament
Sufix Siege Monofilament Fishing Line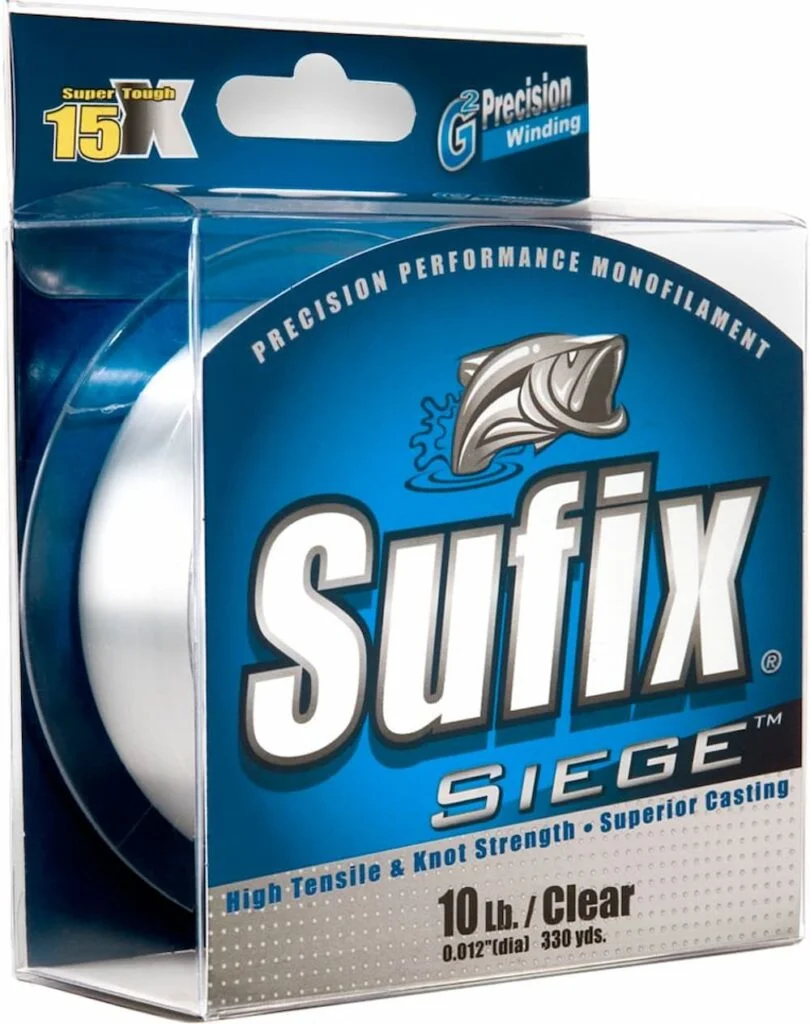 Sufix Siege is a high-performance fishing line that has been engineered to outperform other monofilaments when fished in heavy cover.
Utilizing their patented Xtra Tough 2 (XV2) technology, the Sufix Siege incorporates a nano coating that wraps around the nylon fiber adding exceptional strength and abrasion resistance.
The Sufix Siege is engineered for extreme applications making it the perfect choice when fishing near cover, but still wanting to use a mono line.  The line has a low diameter and smooth handling characteristics, making it easy to cast far distance with accuracy.
If you're looking for a strong monofilament fishing line, this is one to keep on your short list.
Shop Online for the Sufix Siege Monofilament
Types Of Bass Fishing Lines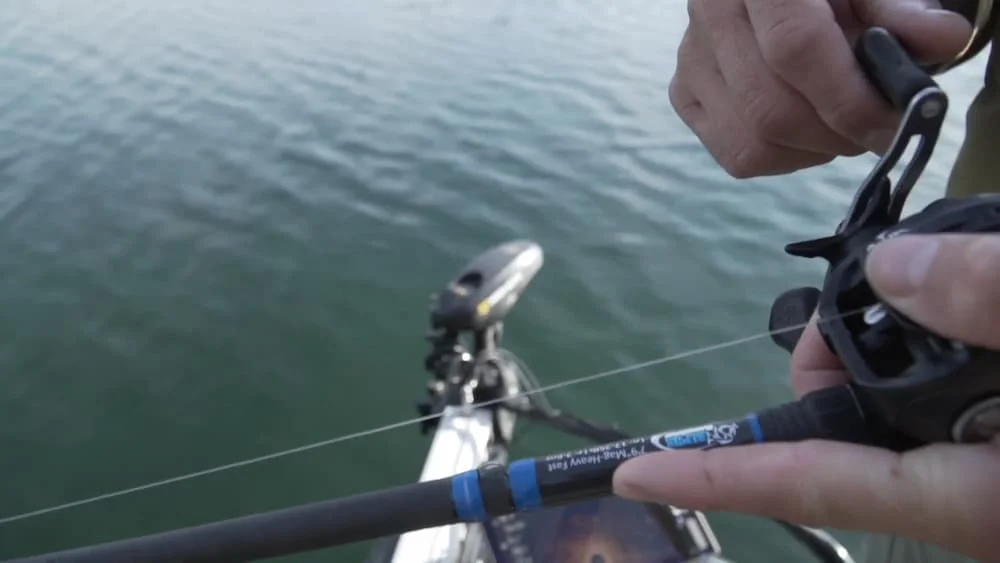 Braid, as its name suggests, is composed of multiple fibers woven together to create a single fishing line. The outer wrapping of these fibers are what makes the line so strong, while the core of the line is what gives it its flexibility.
Braid is generally used for bass fishing in and around heavy cover as well as having the strength needed when fishing large swimbait or crankbait.
It's famous for being a line that has the strength needed to pull a big fish from a snag without breaking.
When choosing a braided line for a bass spinning reel, it's important to choose a line that has a round diameter. Due to the overall strength of braid, it can actually cause damage to your fishing rod guides or your reel's line roller if the braid is designed with rough or square edges.
Depending on the type of bass fishing you're going for, it's best to get a line in the 30-50 pound test range.
Abrasion resistant
Extremely strong
Floats
Different weights available
Works well when fishing around heavy cover
Expensive
Not the best line to use in clear water
Hard to see underwater
Bass fishing lure that works well with braid:
Topwater Lures
Buzzbait
Plastic Frog
Spinnerbait
Lipless crankbait
Texas rig in cover
Umbrella rig
Swimming jig
Fluorocarbon Fishing Line
Fluorocarbon is a relatively new line of fishing line that is beginning to gather popularity.
Fluorocarbon is an advanced type of fishing line that was invented to mimic the look and feel of monofilament. Fluorocarbon lines are nearly invisible under water, have very little stretch, and naturally sink. Fluorocarbon lines are also more sensitive than traditional monofilament lines.
Fluorocarbon lines are a great choice when fishing clear water conditions and when using diving lures.
Additionally, some anglers will use a fluorocarbon leader backed by a mono line. There are various reasons to do this, however, the main benefit to this is the cost savings. Since you're typically only using the last 60-100 yards of fishing line, it can be considered a waste to spool your entire reel with the more expensive fluorocarbon. However, the choice is up to you.
For finesse fishing you'll likely want to choose a line within the 8-12 pound test range. However, if you're fishing near cover, you'll likely want to increase to 15-20 pound test.
Nearly invisible underwater
Has little stretch, and is sensitive
Naturally sinks
Works well with diving lures
Expensive
Can have higher line memory
Greater change of bird nesting
Bass lure that works well with fluorocarbon:
Deep diving crankbaits
Carolina rig baits
Jigs
Plastic worms, senkos
Creature baits
Swimbaits
Jerkbaits
Shaky head
Monofilament Fishing Line
Monofilament Fishing Lines are the most commonly used type of fishing line. Their strength, low cost, and versatility make them perfect for the majority of fisherman.
Monofilament fishing lines are made of a single strand of extremely strong nylon. The nylon monofilament is then wrapped with an even stronger transparent polyethylene coating.
Mono has a natural stretch to it, which can be ideal for certain fishing presentations, but should be known as it could also be a negative for others.
For most fishing presentations, you'll likely want to choose a 8-12 pound test mono. However, if you're fishing in or around cover, you'll likely want to increase this to 15-20 pound test.
Affordable
Neutral buoyancy
Can be found in nearly any sporting goods store
A lot of different sizes and strengths available
Lasts a long time
Works well for nearly any fishing conditions
Thick weight to strength ratio
Not an ideal line for fishing heavy cover
Absorbs water
Lures to use with monofilament line:
Shallow crankbaits
Suspending stickbaits
Jerkbaits
Crankbait
Lipless crankbaits
Spinnerbaits
Swimbaits
Frequently Asked Questions About Fishing Line
Can I use any of these fishing lines with spinning or casting gear?
Yes, when it comes to your fishing reel, you can use all three types of line on your spinning or baitcasting reel. However, since fluorocarbon is stiffer, it can be difficult to load an entire spinning reel with it which may require the use of a fluorocarbon leader backed by a mono or braid line.
As far as rods go, the primary consideration to keep in mind is the difference in rod guide directions between a casting rod and spinning rod.
Since spinning rod's fishing guides face down, the line comes into more direct contact with the center of the fishing guides. When fishing with the stronger and more intense braid, the braid's movement over the center of the guide can end up causing grooves to form into your guides.
This is why it's important to choose a braided line that is round versus square in shape.
What is fishing line memory?
Fishing line memory is when a line has a natural tendency to return back to its original shape and any kinking or bending will cause the line to become "permanently" kinked.
Line memory can be a major problem as it increases the likelihood of line twist and birds' nests. It's best to find low to zero memory fishing line.
Does Fishing Line Color Matter?
Fishing line color can play an important role in how well you can see your line in the water. Fishing line can be different colors to help make it more visible in different water conditions.
Fluorocarbon lines are generally transparent and are best used when fishing in clear water.
Monofilament lines are normally a lighter colored line which makes them useful for fishing in stained or muddy water.
Braided lines are generally a dark color which allows them to be more easily seen when fishing in and around heavy cover.
What Does Abrasion Resistance Mean?
Abrasion resistance is the ability to resist fraying or wearing along the surface of the line. Stronger lines are able to resist more abrasion than weaker ones. The stronger abrasion resistance the line has the better it will be able to withstand friction put onto it from normal fishing use as well as contact it will come into with objects in the water.
We've taken the time to break down the different types of fishing lines available. While there are a lot of differences between braided, monofilament and fluorocarbon lines, they all have their different strengths and weaknesses.
When it comes to selecting the right line for your fishing needs, it's important to look at what kind of lures you will be using and what kind of water you plan on fishing in. For example, if you plan to fish around heavy cover, the braided line will be the right choice.
If you are fishing in clear water where visibility is not an issue, the fluorocarbon line will be a better choice.
That said, the best fishing line for bass is really going to come down to the individual preference of the bass angler. If you've never tried braided fishing line then give it a shot. It's worth the investment to be prepared for those times when you can't get the lure into the strike zone.
As an Amazon Associate I earn from qualifying purchases.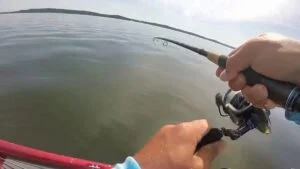 Cadence is a newer brand in the fishing industry, and you may have never heard of them, but based on the quality of their products, I don't think they'll be unknown for long. The CR7 rod is one of their top of the line products, and it's easy to see why. If you're in the market for a new rod, you may want to check the CR7 out. Read our full review.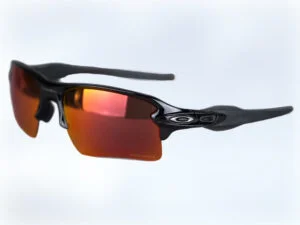 Do you need a new pair of sunglasses? If you are an avid fisherman, then you might want to consider the Oakley Flak 2.0 XL Sunglasses. These sunglasses are designed to provide enhanced protection from the sun and offer superior clarity and vibrancy of colors. Let's take a close look at the Oakley Flaks and see if they are worth purchasing.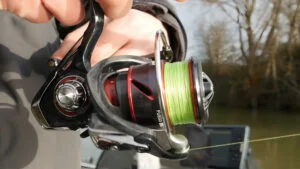 The Daiwa Fuego LT Spinning Reel offers great value for an affordable price! Braid ready, DigiGear technology, Magsealed Main Shaft and more make this reel an awesome choice for freshwater bass fishing. Read the full review here.